C Train Subway Surfer Caught on Video in Clinton Hill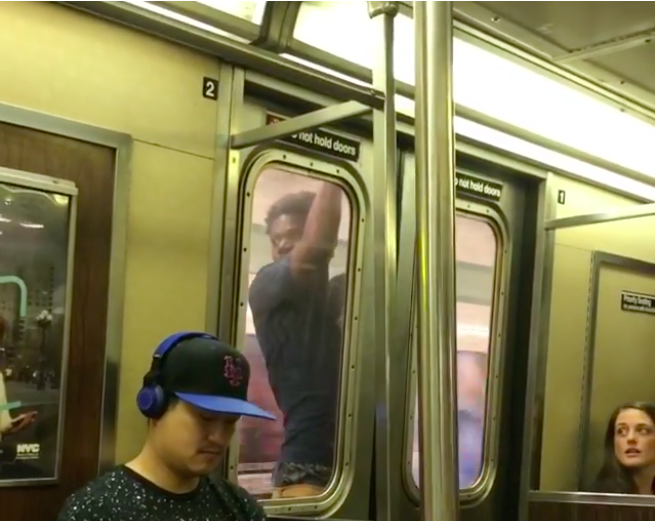 CLINTON HILL – A subway surfer on the C train shocked commuters Friday morning—and one straphanger caught it on camera.
Subway rider Matt Beary posted the video to his Instagram on Saturday.
"I'd never seen anybody do it before," Beary told the New York Post. "I've seen warnings about it on the subway. I just wanted to take the video because I thought it was awesome and also scary as hell."
In the video, the nonchalant subway surfer hops on the outside of the C train at Clinton-Washington and rides the outside of the car to Lafayette Street. One passenger looks shocked, while another seems to hardly notice—just another day in the New York subway, apparently.
Of course, subway surfing is forbidden under the MTA Rules of Conduct Section 1050.9 (d), which states: "No person may ride on the roof, platform between subway cars or on any other area outside any subway car or bus or other conveyance operated by the Authority."
Though some subway riders still move between cars, especially if they accidentally enter a non-AC car in the summer, surfing on the outside of the train is a whole new level of dangerous.
Luckily, this subway surfer arrived at his destination unscathed. But other thrill-seeking Brooklynites haven't always been so lucky…
Last September, a 13-year old was seriously injured after riding a southbound F train the length of the platform at Neptune Ave, then striking a "Do Not Enter" sign an falling to the roadbed.
And in 2016, a daredevil photographer from Sunset Park, 25-year old Christopher Serrano, fell to his death from the roof of an F train at the 4th Av/9th Street stop in Gowanus.