Subway Fare Sign Is Unfriendly To Tourists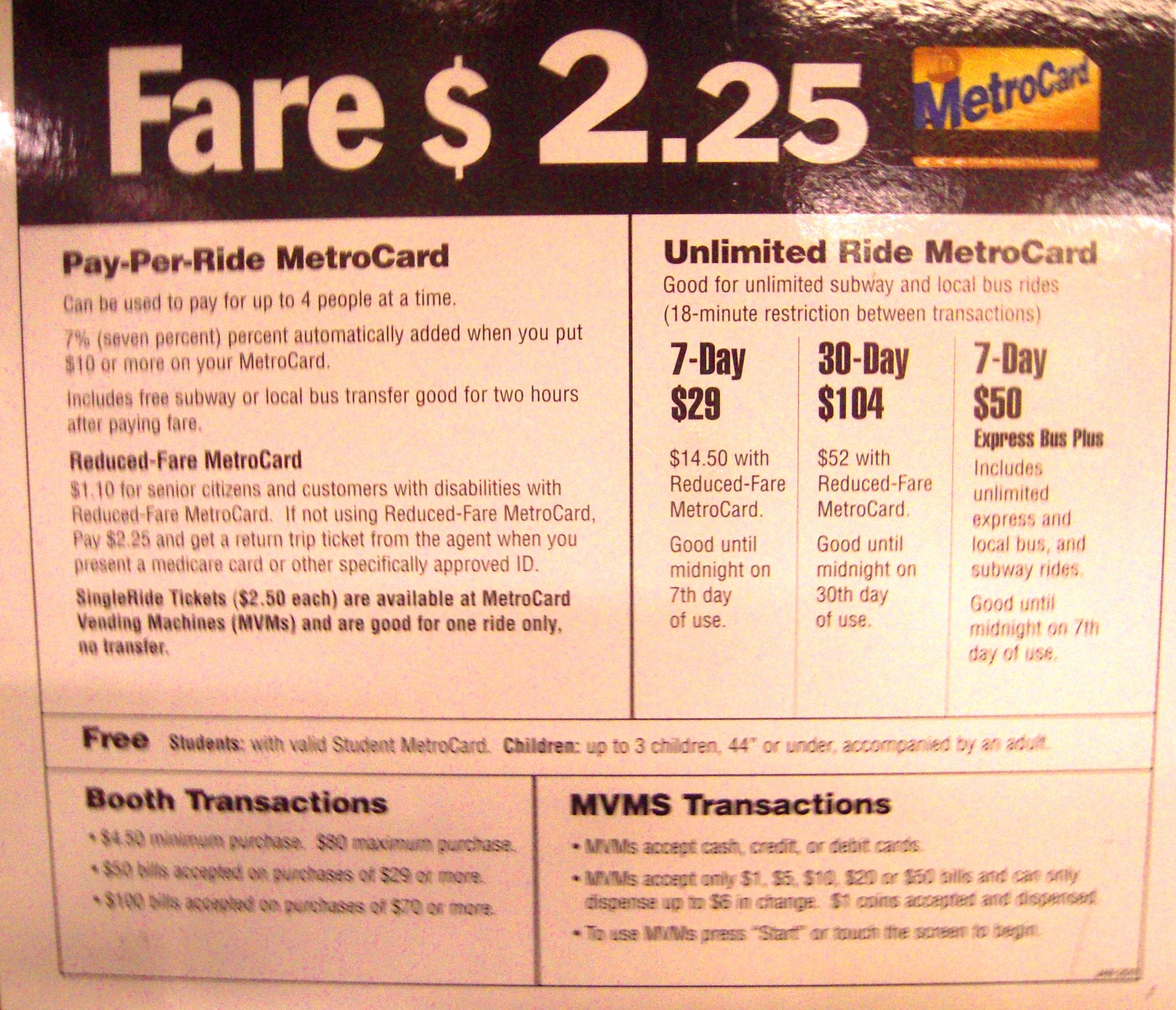 THE COMMUTE: Most New Yorkers do not notice the sign in the station booths explaining the fare, except perhaps to check the price of a seven- or 30-day pass. However, to a tourist, it is essential that this sign be clear and self-explanatory. They were clear until the MTA discontinued MetroCards for a one-way subway trip and replaced them with "SingleRide Tickets," available only at MetroCard vending machines, costing an additional 25 cents at the time of the last fare increase.
Now it costs $2.25 to ride a bus if you pay cash, but $2.50 for a one-way subway trip. Not that much of a big deal. However, for tourists unfamiliar with the system, it is extremely confusing when they enter the subway and see the fare notice sign on the booth proclaiming in large black and white print that the fare is $2.25 when in fact a one-way trip costs $2.50 if you do not already have a MetroCard. That fact is revealed in the third paragraph, in much smaller print, much like a legal document, where it states that a SingleRide ticket is "good for one ride only." That is also technically incorrect since a SingleRide ticket permits you to transfer to as many subways as you need as long as you do not leave the system passing through a fare control device. What it does not allow is a free transfer to a bus. The sign only ambiguously states "no transfer" when it really means no transfer between a subway and a bus. A "SingleRide Ticket" should be more aptly named a "One-way Subway or Bus Ticket." Nowhere does the sign state that  the minimum MetroCard purchase is $4.50.
When I was taught to write, I was told to gear my writing to my audience. That means unless you are writing a technical article or a legal document, you assume your audience knows little or nothing about the subject. When I write my Sheepshead Bites articles, I assume readers have only very basic knowledge about transit in Sheepshead Bay. I have often been complimented that my writing style is very understandable.
By the same token (or should I now say MetroCard), the sign describing the fare in the subway stations should be geared to tourists who have little or no knowledge of the system — not to your typical New Yorker who already knows how to pay his fare and rarely consults the sign.
This fare sign will only become even more confusing when the fare increases to $2.50 in March and a new $1 surcharge for the purchase of a MetroCard takes effect at station booths. Replacing expired cards will be exempt from the surcharge as will out-of-system purchases of MetroCards at authorized MTA vendors. Will that be stated on the sign or that you can also avoid the additional surcharge by refilling an old card? How many unsuspecting tourists will purchase new cards because they unknowingly threw away their old ones when they ran out? Time will tell, but my guess is that other than changes to the dollar amounts and that the bonus begins at $5 instead of $10, the new signs will probably just have an additional line reflecting the new card surcharge.
Imagine Your Confusion Having Just Arrived in New York City
You board a bus realizing you need at least nine coins, soon to be 10 (unless you have half-dollar or dollar coins, which are no longer in common circulation), because buses do not accept dollar bills. You discover you do not have the required change and get off because no passenger can make change for you. If your MetroCard has insufficient funds, you cannot combine cards for a single transaction and still need to find change, and you need twice the coinage for express buses. Instead, you go downstairs to the subway. You see the sign stating the fare is $2.25 and you don't bother reading the rest. You give the attendant $2.25 expecting something in return that permits you to enter the turnstile.
Instead, you are informed that the minimum MetroCard purchase is $4.50 but you do not want to make a round trip. You are then told to go to the MetroCard vending machine (MVM) to buy a single ride ticket. There you are informed that it is only good for one ride. If your trip involves another train, not knowing you can transfer between subways for free, you instead purchase a $4.50 MetroCard, which you may not need. Starting in March 2013, $6 will be the minimum MetroCard purchase ($5 to ride plus a $1 surcharge for the card). The fare sign now probably will boldly state the fare is $2.50 and, in much smaller print, $2.75, for a SingleRide ticket. The sign will appear more like a bait and switch scam rather than a clear explanation of the fare.
Another Scenario
You read that a seven-day pass costs $29 and then calculate you must make at least 13 one-way trips to save money. However, you also read you can get a seven percent discount by purchasing an ordinary MetroCard for at least $10, so now you are uncertain what your break-even point will be for a seven-day card. You are further confused by the fact that for $50, instead of $29, you can add express buses to the mix but decide against it. You do not even know what an express bus is and it almost doubles the cost. You end up gambling, and make your choice hoping you made the correct one.
Now your trip to New York is nearing its end. If you opted for the pay-per-ride card, you may have overbought and are left with money on a card you will never use again. You either throw it away, save it — hoping to use it in the future before the expiration date — or give it to a friend. If you have enough remaining for a partial trip, you can add to the card to complete your final trip, but only if you are near a subway entrance with an attendant. On an MVM, you only can only add the minimum amount required, which may be more than you need to spend. You can also completely use up your card if your last trip is by bus, but only if you have the correct amount of change to complete your transaction. If you opted for the seven-day card, you may find that you never reached your break-even point. How many tourists will return home after the new fare and MetroCard surcharge take effect, believing they were cheated by the MTA?
One Final Note
Some of you are thinking the higher subway fare is still a bargain and that I am just looking for something to complain about. However, a friend visiting from California suggested this topic because he was amazed that, after an eight-year hiatus from New York, buses still do not accept dollar bills, especially since tokens were discontinued, and how inconvenient that is.
Other cities are more tourist-friendly. In Chicago, for example, there are 1, 3, 7, and 30-day passes with no additional charges for purchasing the card, for express buses, or for a one-way subway/El trip. A bus transfer costs a quarter but a transfer to a second bus is free and their fareboxes accept coins, bills, transit cards and even smart cards. That is certainly not difficult to understand.
Here, a bus-subway transfer is free but only if you pay by MetroCard — not cash or SingleRide Ticket, except that, at one location (in Canarsie), it is free for everyone. A subway-subway transfer is not free at all locations, and a subway and two buses cost a second fare, except where you can take three buses, or a subway and two buses for one fare. Express buses cost twice as much but a transfer to a local bus or subway is included.
Of course, all that complexity will not fit on one little sign. However, with these signs needing replacement soon, the MTA has the opportunity to not mislead by stating the fare is less than what is required to make a one-way subway trip. The new signs should not state in big bold print that the fare is $2.50 with an explanation in much smaller print that a "SingleRide" is really $2.75. The bold print in the subway stations starting in March should state "Round Trip Fare $5." Below, it should state the necessary information about one-way fares, reduced fares, and bus transfers. It should note that a "One-Way Subway or Bus Ticket" not a "SingleRide Ticket" costs $2.75, and are available only at MVMs, and that it does not include a transfer between subway and bus, not merely stating "no transfer." It should also note you can avoid the $1 MetroCard surcharge by refilling a card. There should not be obvious errors like "MVMS" when you really mean "MVMs." But since the new signs probably have already been sent to the printer, I wouldn't hold my breath for clearer signage.
The Commute is a weekly feature highlighting news and information about the city's mass transit system and transportation infrastructure. It is written by Allan Rosen, a Manhattan Beach resident and former Director of MTA/NYC Transit Bus Planning (1981).
Disclaimer: The above is an opinion column and may not represent the thoughts or position of Sheepshead Bites. Based upon their expertise in their respective fields, our columnists are responsible for fact-checking their own work, and their submissions are edited only for length, grammar and clarity. If you would like to submit an opinion piece or become a regularly featured contributor, please e-mail nberke [at] sheepsheadbites [dot] com.