Five Stunning Aerial Videos Of Southern Brooklyn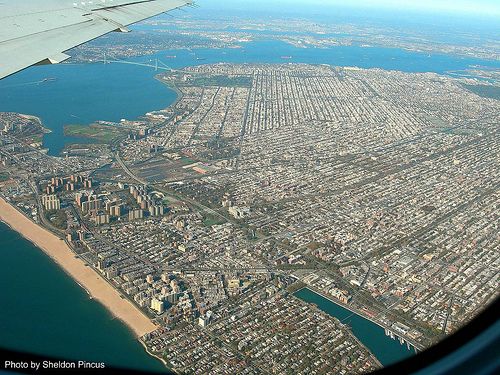 From the ground level, New York City is sort of an infinite space with unlimited destinations, all connected by endless streets and filled with millions of people. From the sky, the scope of the city is reduced, allowing for a single flyby to take in all its wonder in a matter of minutes. Its massive population is rendered nearly invisible under the shadows of its colossal skyscrapers.
That's why I find these aerial movies of the city so mesmerizing. While we've all seen flybys of Central Park, the Brooklyn Bridge and the Statue of Liberty, it's rare that we get to take in Southern Brooklyn's glory from a bird's eye view. While there isn't much of it available on YouTube  I managed to find a couple of beautiful short film flybys for you to enjoy.
This video was uploaded by Knightmare6 and features awesome slow swooping flybys of Seagate, Coney Island, Brighton Beach and Sheepshead Bay. You get great views of the beach and attractions on Coney including the Wonder Wheel and the Parachute Jump.
This video features a cool and relaxing trip over the Verrazano and Hudson River, past lower Manhattan. The clip is set to the dulcet tones of City Never Sleeps by Death Ships, what a spooky name. Thanks to Carl Tyler for uploading it.
This is a short and sweet clip of the Coney Island coastline. The shaky cam attached to the craft here really gives me a sense of hovering in the sky going along for an adventure. The video was produced by Hector Mosley of the US Army Corp of Engineers.
A warning first before playing this one. The volume is a little loud and ragged, so make sure your speakers aren't set too high. This video is still worth watching because someone attached a Tony Hawk Helmet Cam to a Firebird Freedom RC plane and set it loose over the coast of Brighton Beach. The video is courtesy of sebasitsme, and that person did a fine job of dropping in references to famous landmarks like the Verrazano Bridge, Coney Island and Staten Island as they jet their model plane high off the coastline.
This last clip is less Brooklyn focused but really cool nonetheless. Skycamusa uploaded this beautiful footage of New York City which was amazingly taken from an RC helicopter. Set to the Chemical Brothers song Galvanize, the little RC copter scopes shots of the beautiful Coney Island shore, Astroland and my dearly departed Shea Stadium in Queens.
I hope you enjoyed this virtual trip through Brooklyn's southern skies, and if you have any new aerial videos of the area, please share them with us.