Stringer: Pothole Complaints To 311 Are Disappearing!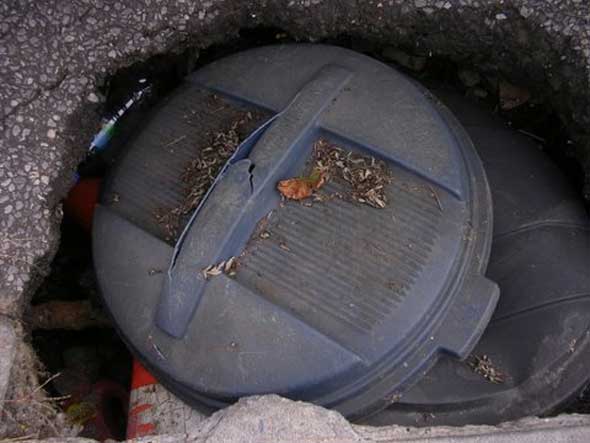 Potholes. Freakin' potholes.
Pedestrians don't like them because they can cause trips. Drivers don't like them because they can damage cars. The city doesn't like them because they have to fix them.
Oh, wait, apparently, the city doesn't have to worry about them. Because they never have to hear the complaints. Because they simply vanish from the 311 system.
One of the most common complaints to 311 is a pothole service request. Manhattan Borough President Scott Stringer has issued the results of an investigation conducted by his office into the efficiency of 311, logging 280 specific pothole complaints around the borough. Nearly half of those – 134 – were made using 311's online complaint form. Stringer's office then followed up on the complaints by making calls and inquiring to the status, using the service request reference numbers given at the time of complaint.
Shockingly, every single one of the online complaints vanished from the system, along with nine percent of the phone complaints.
"It would appear that online 311 pothole complaints are, in fact, falling into a black hole," Stringer said. "The fact that these complaints are being lost raises questions about what other types of calls may be falling through the cracks."
The Manhattan beep says the vanishing act is raising serious questions about the service's integrity, and of the contractor's accountability. When pressing a 311 agent over the phone, the agent disclosed to Stringer's office that disappearing complaints is one of several ongoing issues with the online system.
To help address constituents' concerns, Stringer has issued a letter to the Department of Information Technology and Telecommunications (DoITT) to provide additional information about problems the service faces, the service tracking protocol, and remedial measures to fix the problem. Stringer has also made a Freedom of Information Law request to the department for copies of contracts with the company overseeing the service, named Accenture, which his office will review for potential improprieties.
"I think the situation raises additional concerns about the level of oversight that DoITT is providing over Accenture and other outside contractors responsible for maintaining and expanding the 311 system. The Accenture contracts, in particular, appear to have grown significantly over the last five years, based on the limited information that is publicly available," he wrote in his letter to DoITT. "In many ways, the system has succeeded admirably, fielding more than 122 million calls since its inception in 2003. But taxpayers deserve to know that contractors charged with maintaining and improving the system are held accountable."