Street Seats Installation Coming To 7th Avenue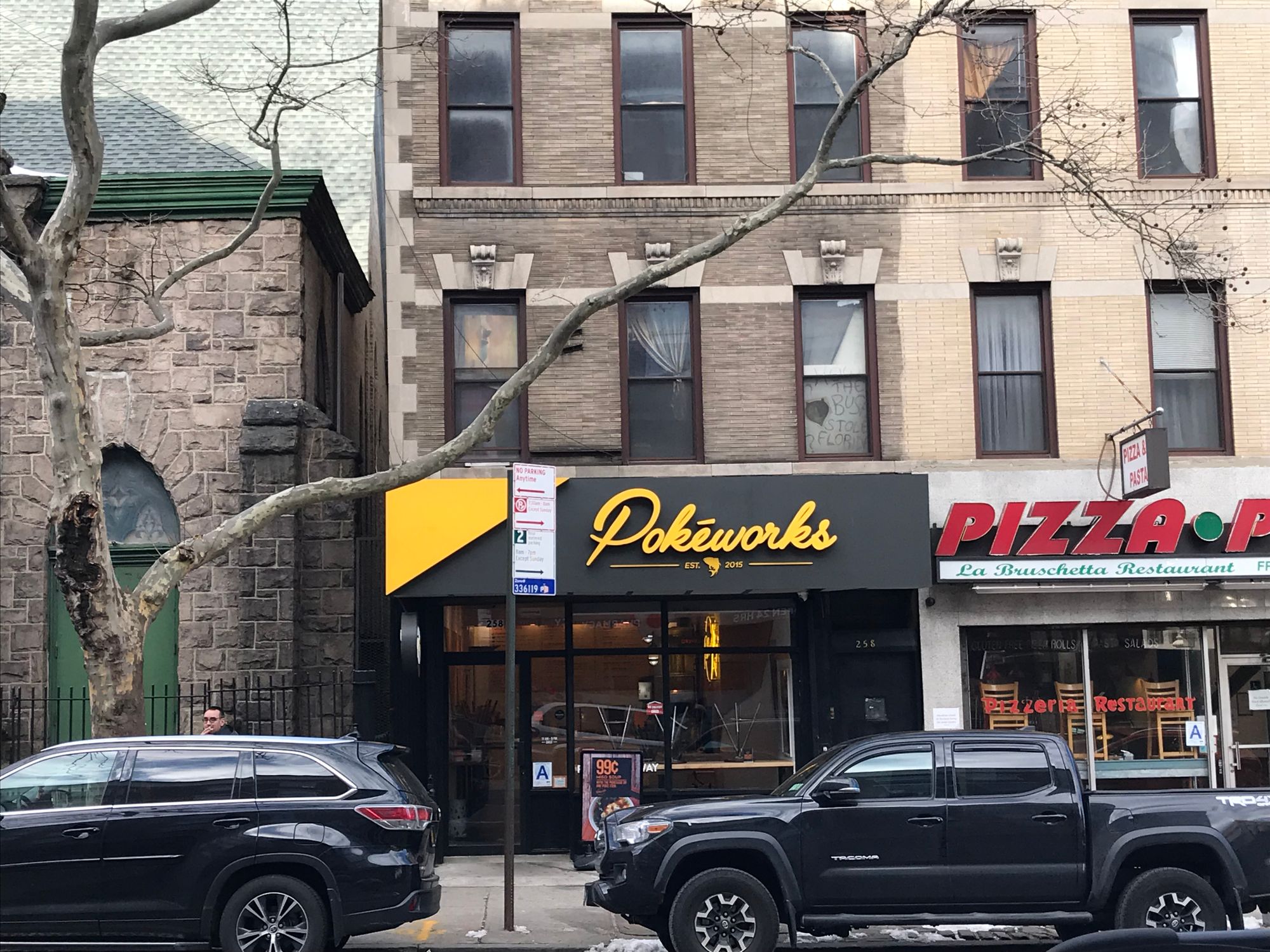 PARK SLOPE – An outdoor public seating area will be coming soon to the curbside space in front of Pokéworks on 7th Avenue between 5th and 6th Streets.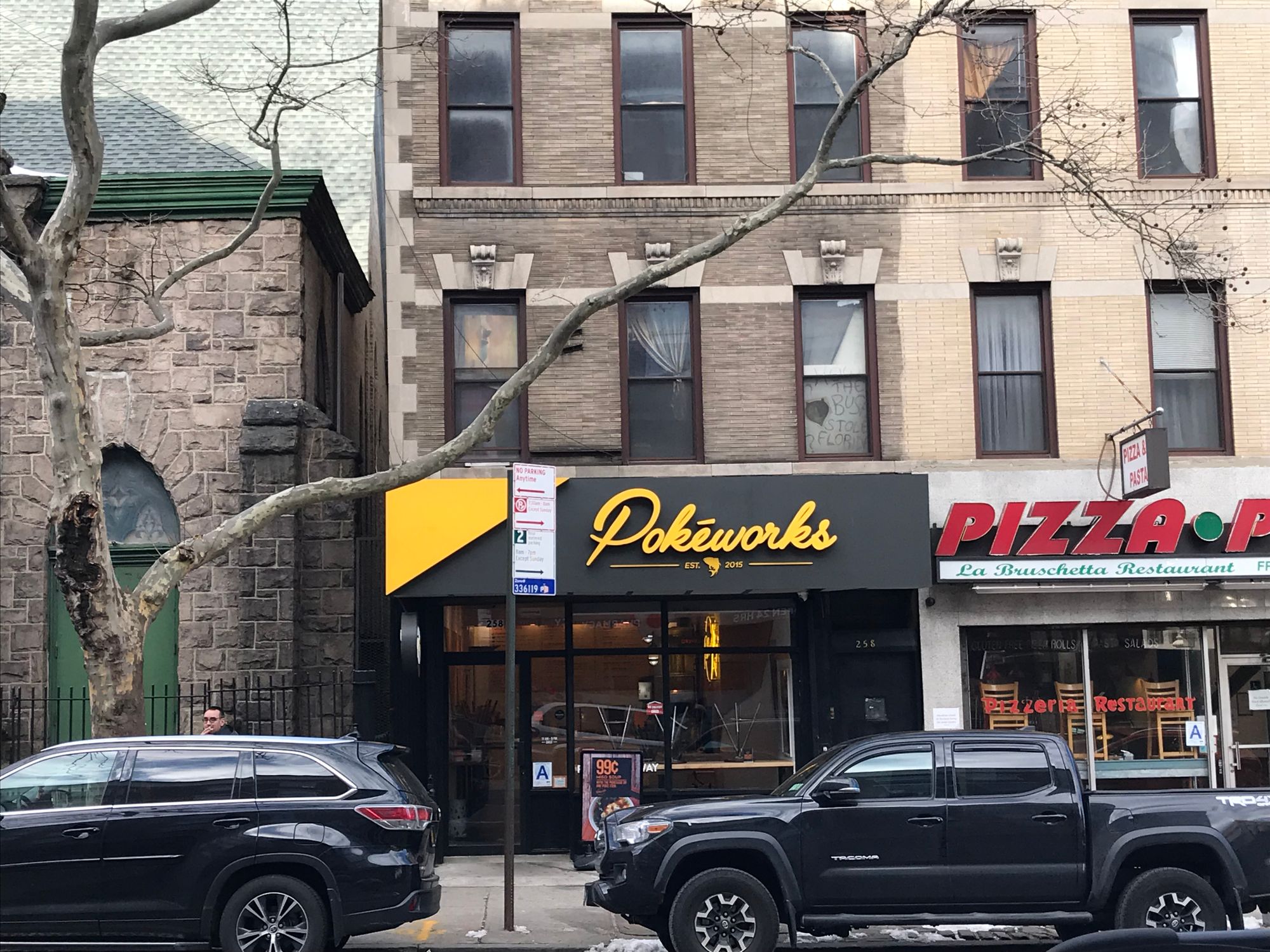 The national fast-casual poke bowl chain opened at 258 7th Avenue just northwest of NY-P Brooklyn Methodist Hospital last November. This location recently applied to participate in the NYC Department of Transportation's (DOT) Street Seats program. Brooklyn Community Board 6 voted on the application at its general board meeting last Wednesday, February 13.
Launched in 2015, the Street Seats program partners with local business owners to "transform underused streets into vibrant, social public spaces between the months of March through December (the Season). Street Seats are installed in the roadbed along the curb line or on wide sidewalks to create an attractive setting for eating, reading, working, meeting a friend or taking a rest," according to the DOT website.
A partnering business designs the seating area, which must meet DOT requirements, and maintains it throughout the season—keeping it clean, caring for the plantings, and storing the furniture at the end of the day. DOT provides signage, wheel stop bars, parking lane striping, and temporary plastic bollards.
Eric McClure, Co-Chair of the CB6 Transportation & Public Safety Committee, noted at last week's board meeting that the district currently has one Street Seat location in front of SkyIce at 63 5th Avenue (at the corner of St. Marks Avenue). Installed about a year and a half ago, the 5th Avenue site has "proved very popular at that location," McClure said.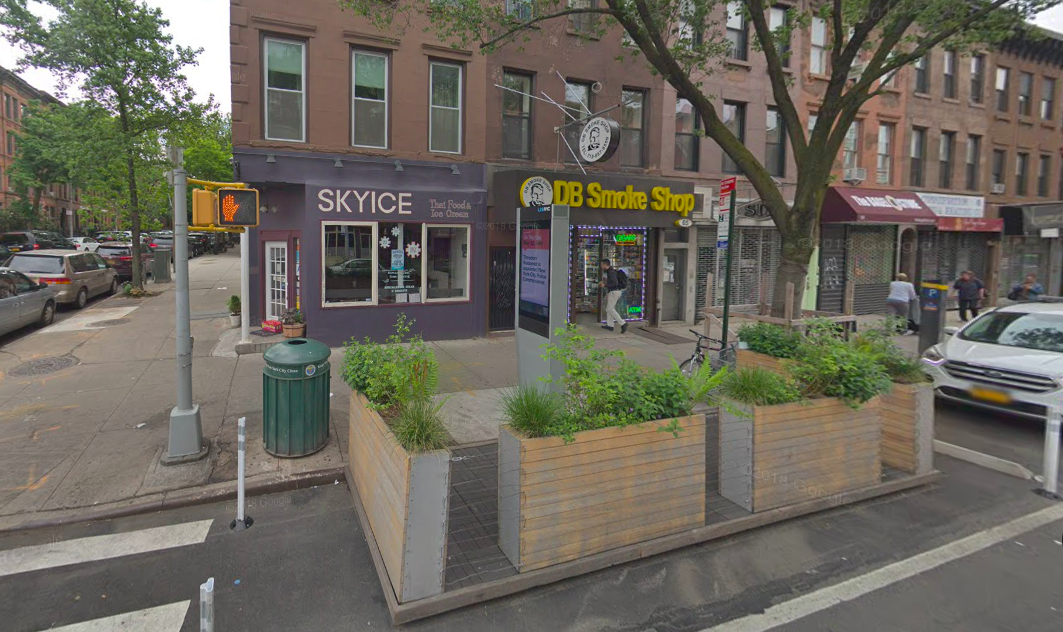 There were 16 Street Seats installations throughout NYC in 2018 (8 in Brooklyn) and DOT is planning to expand to 25 locations in 2019, McClure explained. The benefits of the program include a more active street life, the transformation of a parking space into a community space, improved visibility, traffic calming, "and hopefully some economic boosts."
Street Seats areas are open to the public and are "not exclusive to the sponsoring partner," he added. The spaces prohibit alcohol, smoking, and commercial activity (e.g., waiter service).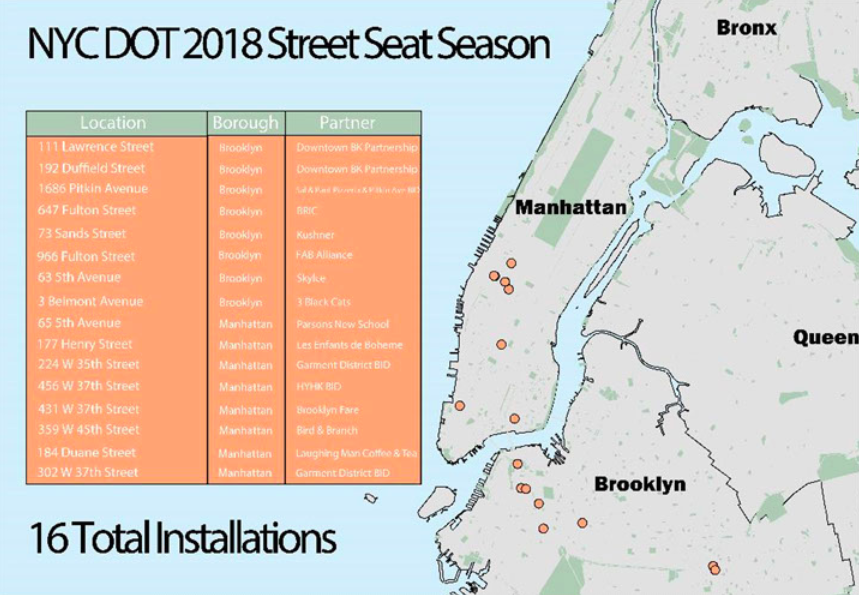 Like the 5th Avenue location, the 7th Avenue Street Seats site would occupy one and a half parking spaces in front of Pokéworks—one metered parking spot and a small portion of the neighboring Greenwood Baptist Church's (461 6th Street) no-parking zone. McClure said that the church supports the Pokéworks application.
While board member Robert Levine noted the impact of the loss of a parking spot on a corridor where "it's impossible to get a parking spot. People go bananas looking for a spot to enter the hospital or enter the doctor's building," he added other concerns. "It's a busy, busy street with buses, with Access-A-Ride buses, they make it hard to see people…. To put people into traffic in the street on that block, I say it's dangerous. And kids running across from John Jay [educational campus at 237 7th Avenue] is dangerous."
Several community board members agreed with Levine's comments about parking and traffic, with one stating, "I will vote against it for all the reasons that Bob was just saying. People going to hospital…need to park their car…. I just think this is not the right spot. It's pretty, but I just think it's not a good place for it."
"I will point out that the parking garage at the hospital will have about 900 spaces when it's completed and also a large pick-up and drop-off zone inside the campus," McClure said in response to those unhappy about the loss of a parking spot. He also added that the owners of Pokéworks decided to apply for the Street Seats program "because of input they got from their customers, many of whom work at the hospital and said that they would love to have a place to sit outside to eat in nice weather."
"I think it's a lovely idea," another board member commented. "I think it would be a great space for the kids coming out of the high school to have. There's not a lot of public space in that area."
Though longtime CB6 member, Pauline Blake, was initially concerned about parking when the owners of SkyIce installed their outdoor seating area a few doors away from her home, she noted, "I have to tell you, that the community is really enjoying that site."
"There are so many people on 5th Avenue that if they go and buy a slice of pizza, they have no place to eat it. This is the perfect spot," Blake added.
"Under half of all Brooklynites own cars and we need to make amenities that work for everyone," Joanna Smith added. "There are plenty of parking [spots]. You may have to look hard for it because it shouldn't be free because our streets are shared public space…. We should be providing this space for people to relax, get to know their neighbors," she said.
Following the discussion, the board took a vote via roll call. It was close, with 16 voting in favor of Pokéworks proposal and 13 voting against it.
"Streets are not just traffic thoroughfares or free car storage," board member Kathy Park Price told Bklyner following the meeting. "Streets are for people too, and they reflect the spirit and values of a neighborhood. The life of a street shapes a community. A vibrant street is good for business, safety, a sense of community and makes a neighborhood feel welcoming and alive.  Free car storage does not improve the vibrancy of a community…."
"I am very happy that the members of CB6 voted yes to the Street Seats proposal on 7th Avenue at 6th Street," she added. "People reclaiming a microscopic bit of city street, we are declaring as a community that people make a neighborhood, not the cars and buildings."
After a business applies for the NYC DOT Street Seats program and receives community board approval, the next steps include design (approximately 4 months) then fabrication and installation (approximately one month), according to DOT, so 7th Avenue could potentially see the new outdoor seating by late summer.