SkyIce Sweet & Savory Strives For Street Seats, Joining Other Actively Engaged 5th Avenue Businesses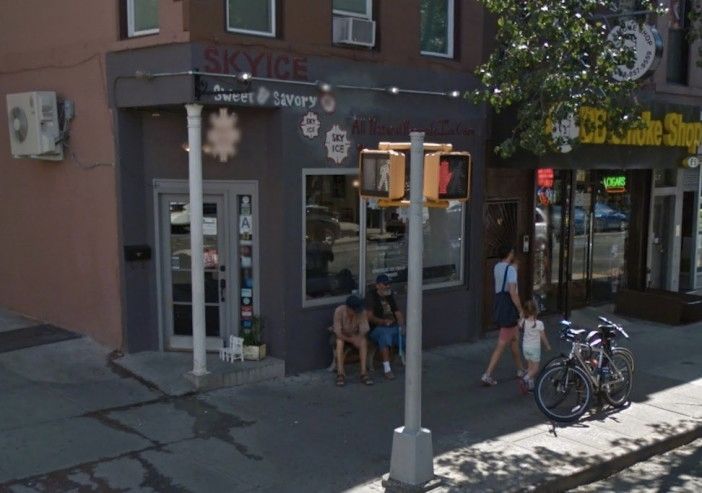 Fifth Avenue is often a bustling scene, home to many delightful eateries and cafes, attracting locals and visitors alike. Many restaurants are quaint with limited seating. While some boast an outdoor seating area, that area is reserved for patrons only.
The outdoor public seating is limited along the 5th Avenue. Not for much longer though, as Jonathan Bayer and Sutheera Denprapa — the owners of SkyIce Sweet & Savory (63 5th Avenue at corner of St. Marks Avenue) — have initiated the process to participate in the city Department of Transportation's Street Seats program.
According to the DOT's website, "Street Seats are installed in the roadbed along the curb line to create an attractive setting for eating, reading, working, meeting a friend, or taking a rest. The applying partner selects the design and maintains the Street Seat. DOT provides operational elements, such as signage, wheel stop bars, striping on the parking lane, and/or temporary plastic bollards."
According to DNAinfo, Street Seats has installed similar 20 foot by 6 foot mini plazas in 9 locations throughout the city. The seating area is enclosed in a three-walled structure. The structure is placed on the roadbed and takes up about one and one-half parking spots.
Street Seats is a commitment and serious undertaking, SkyIce is not only footing the bill — they are responsible maintaining the structure, removing the chairs and tables every evening, and planting and maintaining any greenery.
While there can be a slight spike in business having a Street Seat location outside, that is not the reason Bayer and Denprapa chose to invest in the project. Bayer feels strongly about creating a green space in the community as outlet for residents to be able to rest and relax for a short spell. "This is something I am fully prepared to take on," Bayer says, "although if anyone wants to contribute that's fine too!"
At last Thursday night's CB6 committee meeting, the proposal was moved forward. Bayer spent time in preparation for the meeting by collecting over 150 signatures from local residents and businesses supporting his initiative.
"It was a very productive meeting," comments Bayer on the evening's proceedings, "[and]  there was a positive response from the community, and by the end the motion to approve was granted."
With the initial approvals granted from the DOT and community board, there are still steps in the process before the structure can be built.
If approved and installed, Street Seats is still a temporary structure. The DOT will review the findings at the location and can determine if they will allow the structure to be renewed for the following year. Regardless, the structure will be removed for at least two months during the year.
Park Slope resident Zac Martin, founder of Trellis (a non-profit connecting organizations to do good together), is excited about this project. "This is a really interesting public/private initiative that allows residents access to an innovative place to rest, talk, and enjoy all that the local businesses have to offer," Martin explains, "while also providing a collaborative and creative way for business owners to bless the neighborhood."
Which is exactly what Bayer and Denprapa had in mind when they started this venture. "Park Slope is an amazing neighborhood," Bayer says of giving back and taking on the financial burden of installing the Street Seats, "My main motivation is to help the community — why not us!"
Businesses on 5th Avenue have been engaged recently in other programs to improve the experience of 5th Avenue customers and neighbors. DOT's Bike Corral program grew by two businesses after both al di la Trattoria (248 5th Avenue at Carroll Street) and Behind Bars in Brooklyn (610 5th Avenue between Prospect Avenue and 17th Street) worked to have them installed. Gorilla Coffee (97 5th Avenue at Park Place) had theirs installed in 2012, and Rosewater (787 Union Street near 6th Avenue) have maintained their corral since 2013.