Street Renamed To Honor Notorious B.I.G.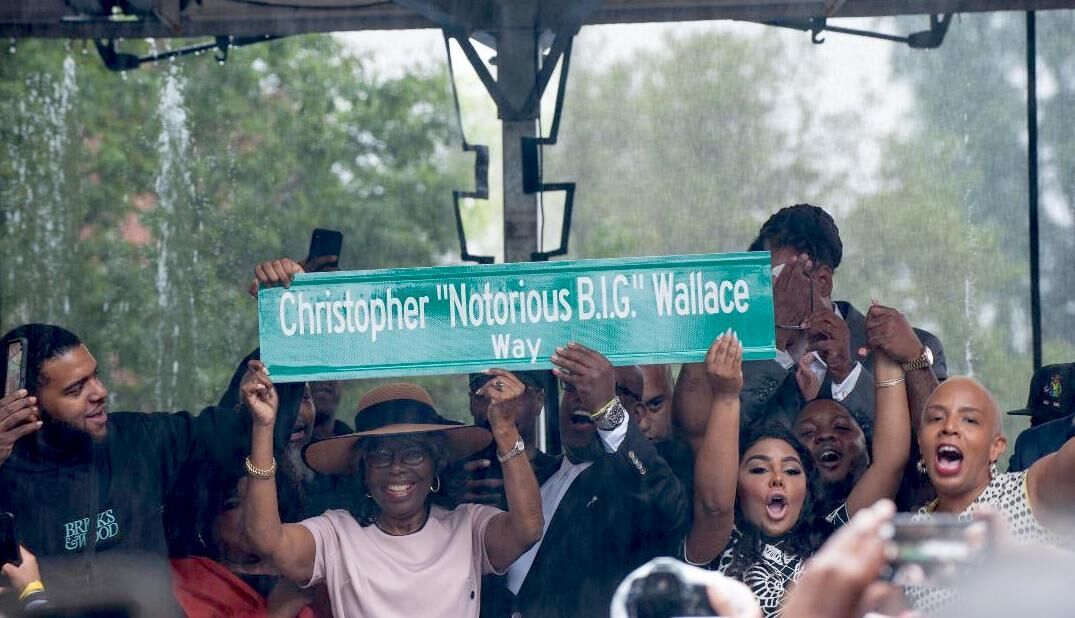 CLINTON HILL – Despite the pouring rain, fans of rapper/lyricist Christopher "Notorious B.I.G." jammed St. James Place at busy Fulton Street where his mother, Voletta Wallace, her family, musicians, and elected officials announced that the intersection— where the rapper once lived—was officially renamed Christopher "Notorious B.I.G." Wallace Way in a ceremony attended by musicians and entertainers.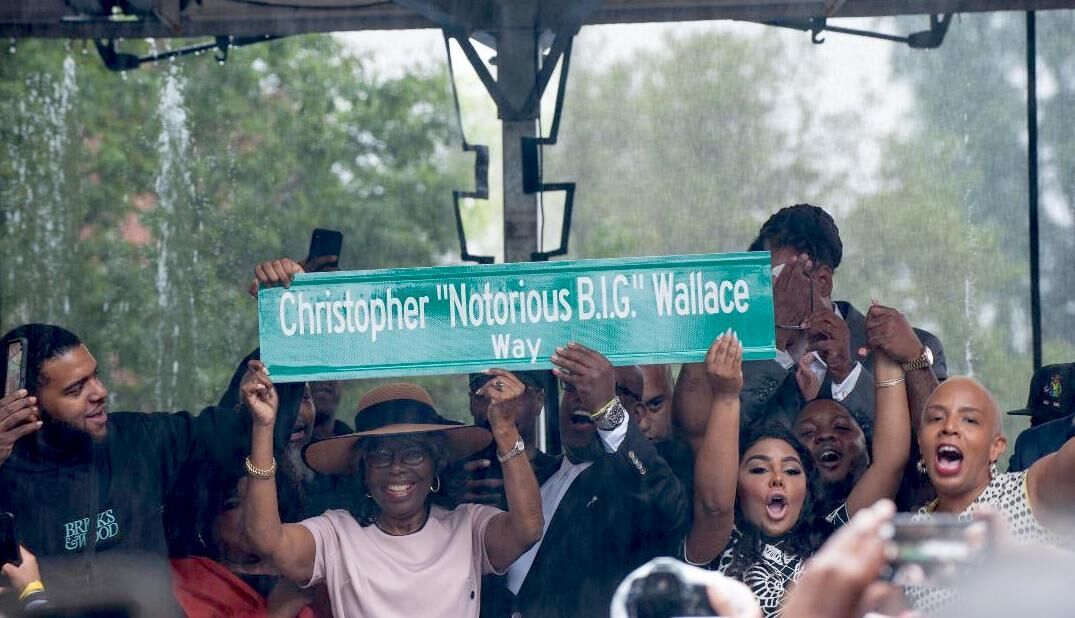 It was 22 years ago that the rapper was killed, gunned down in a still-unsolved drive-by murder in Los Angeles. The ceremony harkened to the day, March 18, 1997, when the streets of Clinton Hill/Bedford Stuyvesant were filled with thousands of fans of Wallace, also known as "Biggie Smalls," for the massive funeral procession in front of his home. In keeping with his violent lyrics, he had been shot to death days before (March 9) in a blood feud. It was in keeping with the times for the "gangster rapper" who often, as many rappers did, feuded with fellow rappers and musicians—and he wouldn't back down.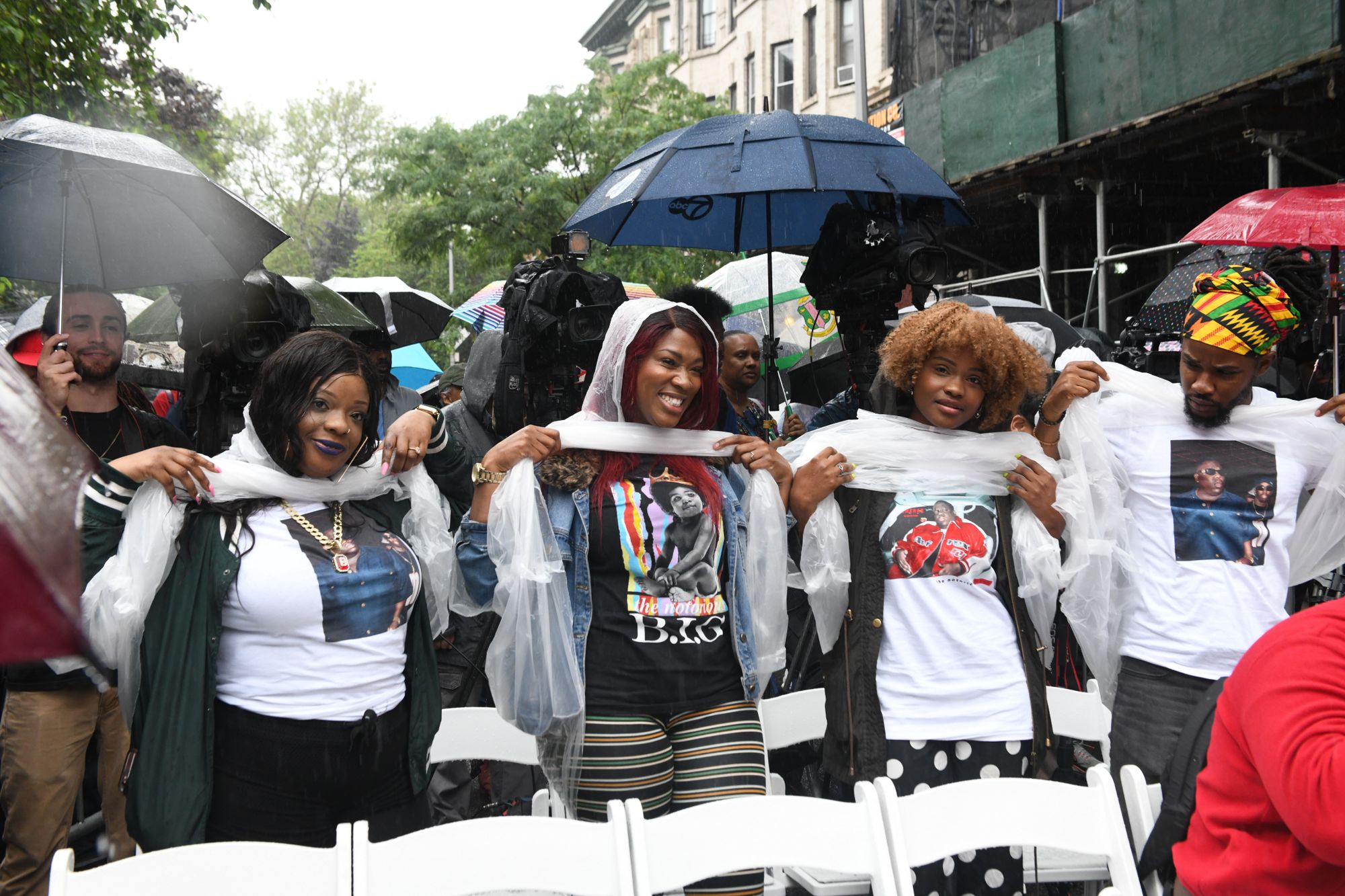 Wallace had a message that was enlightening to his fans and to observers as street violence was still the norm and crime was high. He grew up in that underclass among the poor black youth who often lashed out at society for the continued injustice of society that offered few jobs and even less opportunity.
And then, the fans went wild that day—dancing on top of parked cars, breaking windows, and throwing objects at the throngs of police sent to keep the peace. You knew you were initiated in the hood that day when you were pepper sprayed, eyes burning with every blink.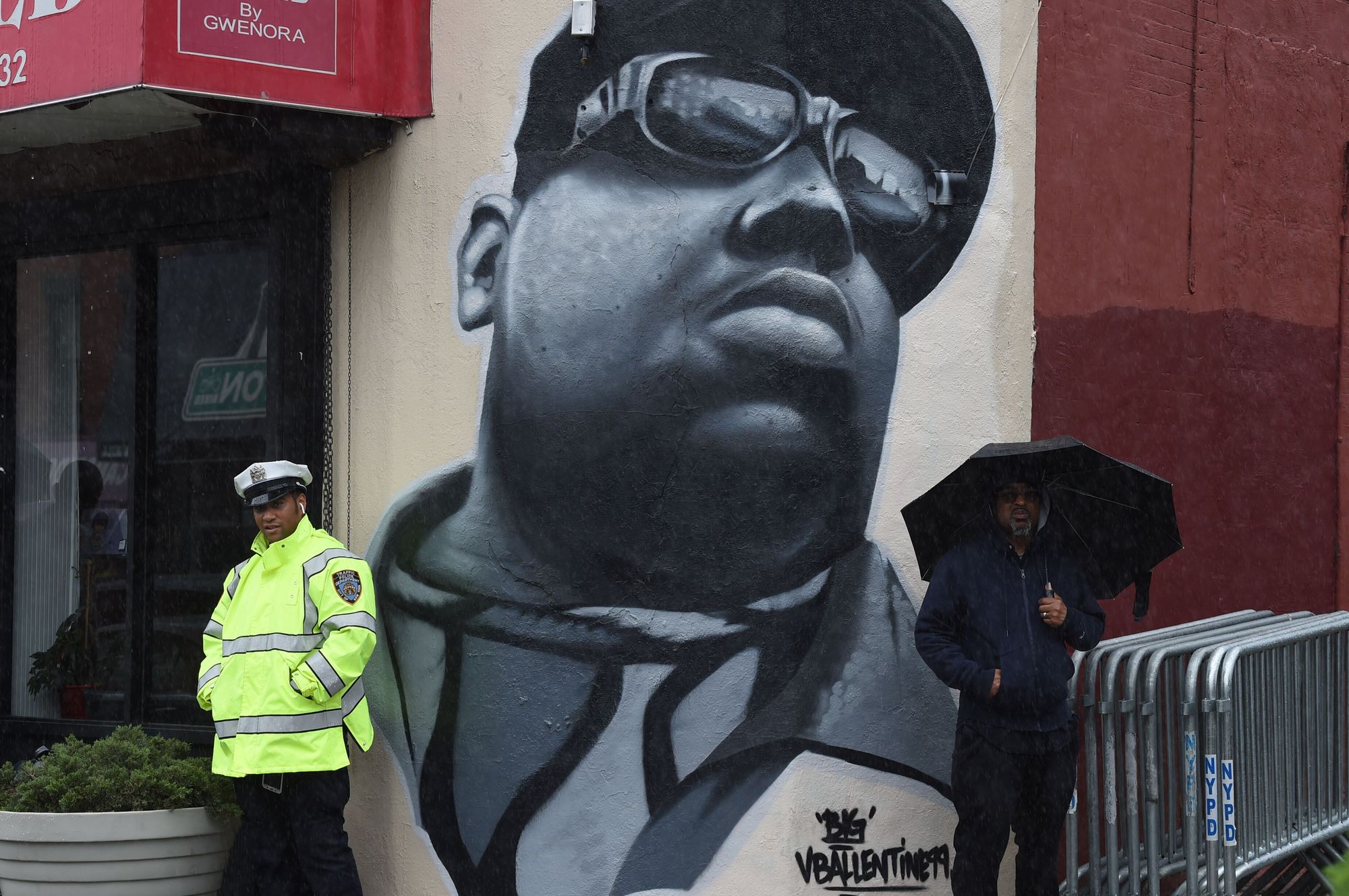 On Monday, his fans returned to commemorate the message—the difficulty of growing up in a violent culture where what might've been a fist fight, would quickly escalate into a shoot-out—something that still occurs today but to a lesser extent. The message was clear, those violent lyrics were really a demand for change, a safer community free of that very violence that Wallace rapped about.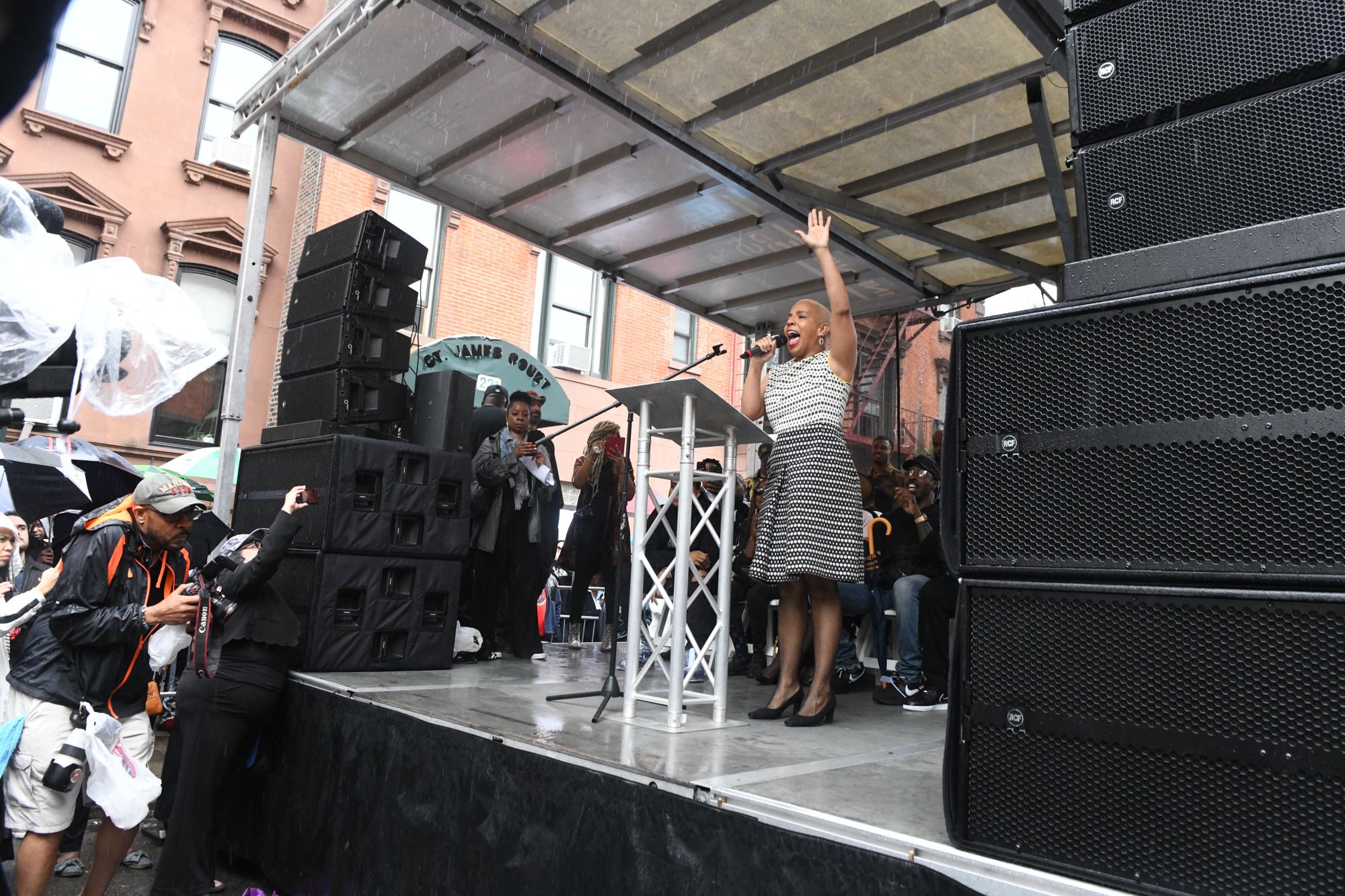 Councilmember Laurie Cumbo made her case for the renaming of St. James Place and Fulton Street "Notorious B.I.G. Way" as an identity of the community, even as some on the council and city opposed it—some not understanding that Wallace's story taught a lesson that has led to a safer city, but also a cautionary tale as that same neighborhood has become "yuppified" bringing in a new class of residents that she said threatens to shove out those who have lived there for generations because of rising rents and living costs
"My parents grew up had Malcolm and Martin. We had Biggie and Tupac [Shakur – also murdered in 1996], the most influential musicians and lyricists of our time, the greatest minds and greatest speakers of our time," Cumbo said. "It is undeniable when you hear the story of Brooklyn that we have a story that no other city in the world has. It is a story of triumph Brooklyn, New York, we have had challenges—during the time when Biggie created masterpieces—this neighborhood was redlined. People didn't want to live here, people moved out of the neighborhood. They had left us to die. But there were people that struggled, people that fought, and now it is the highest place and everyone in the world wants to come to Brooklyn, and now the people who have lived here are being forced out and we will not allow this to happen."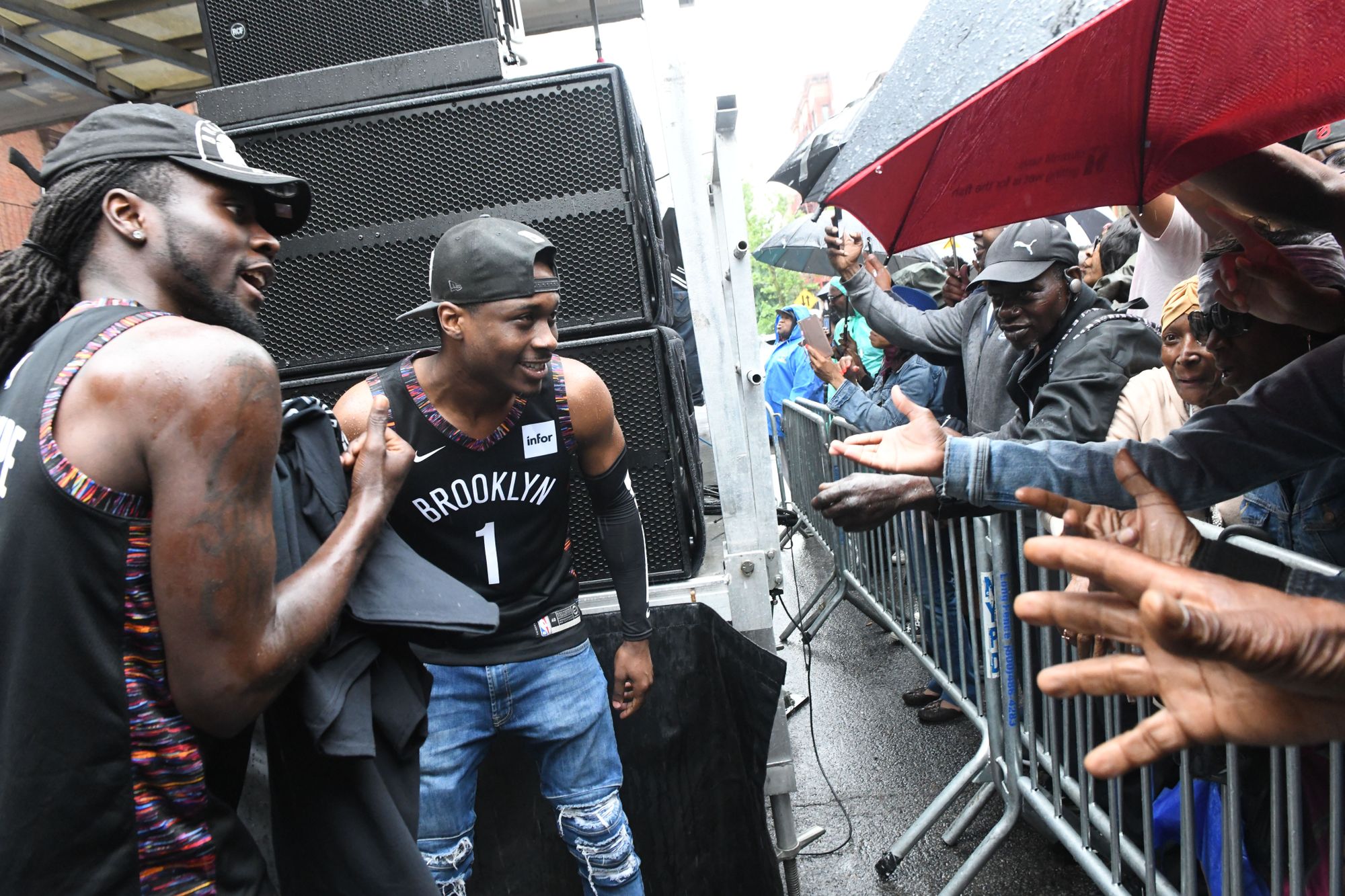 Brooklyn Borough President Eric Adams spoke about raising himself up from the streets from a "D" student to becoming a police captain and now borough president.
"Where you are is not who you are," Adams said. "Biggie came from streets of Brooklyn on St. James Place when people were leaving Brooklyn because we were waking up to gunshots instead of alarm clocks. I was arrested as a child, only to come back to this precinct to patrol when Biggie was growing up here. I understood where I was as a child being arrested was not who I was as a person, and I came back here as a police officer. I was a 'D' student in school and that was not who I was as becoming the first black borough president of Brooklyn. Biggie showed us to rise up."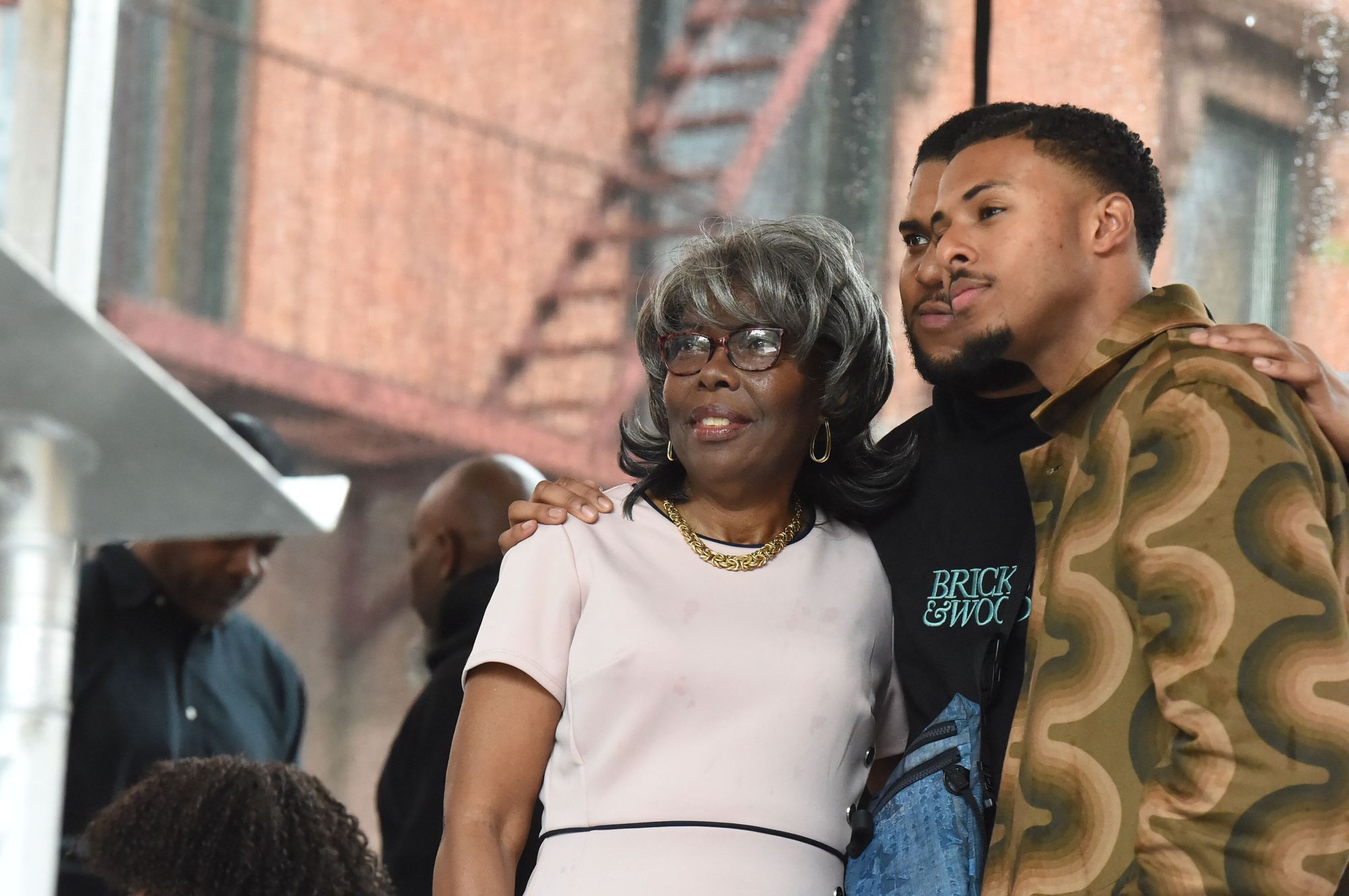 Biggie's mother, Voletta Wallace, recalled facing throngs of mourners at the corner on St. James Place 22-years ago after learning her son had been murdered.
"It was a sad day," Wallace said, recalling that moment. "And when I saw the crowds, tears came to my eyes. And I said to my friend, 'My son was well-loved.' And today, even in the rain, the crowds here showed they really loved him."
"Biggie is crying right now, tears of joy, seeing all of you out here today," Cumbo said as rain poured down on the packed street.
Also on hand were singer Lil' Kim and rapper Lil' Cease who both spoke during the ceremony in honor of the late rapper.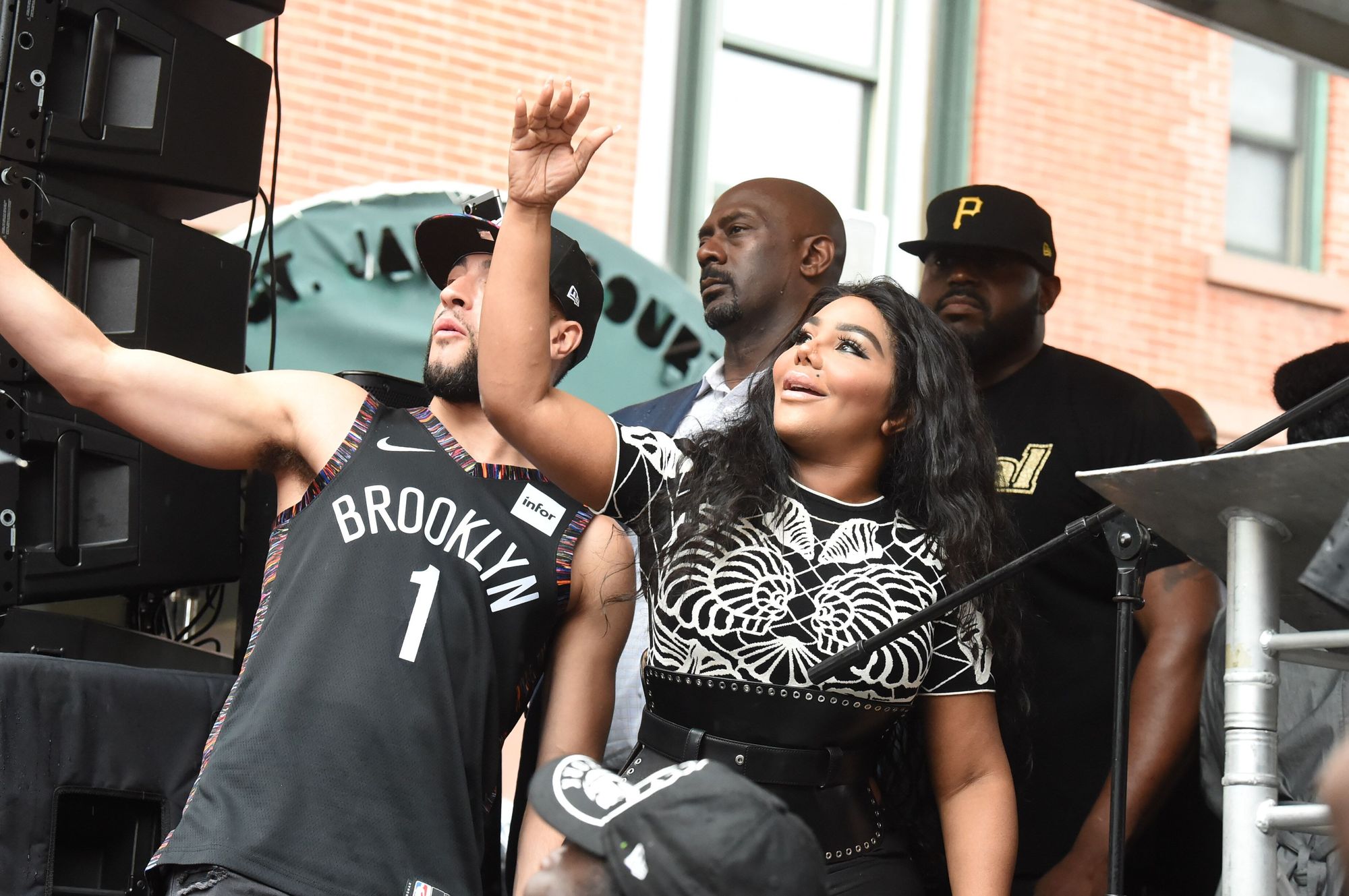 "I always knew this day was gonna come," said Lil' Kim, a Grammy Award-winning rapper who was discovered by the Wallace back in 1994. "I used to dream about a street being named after Biggie, because it was only right."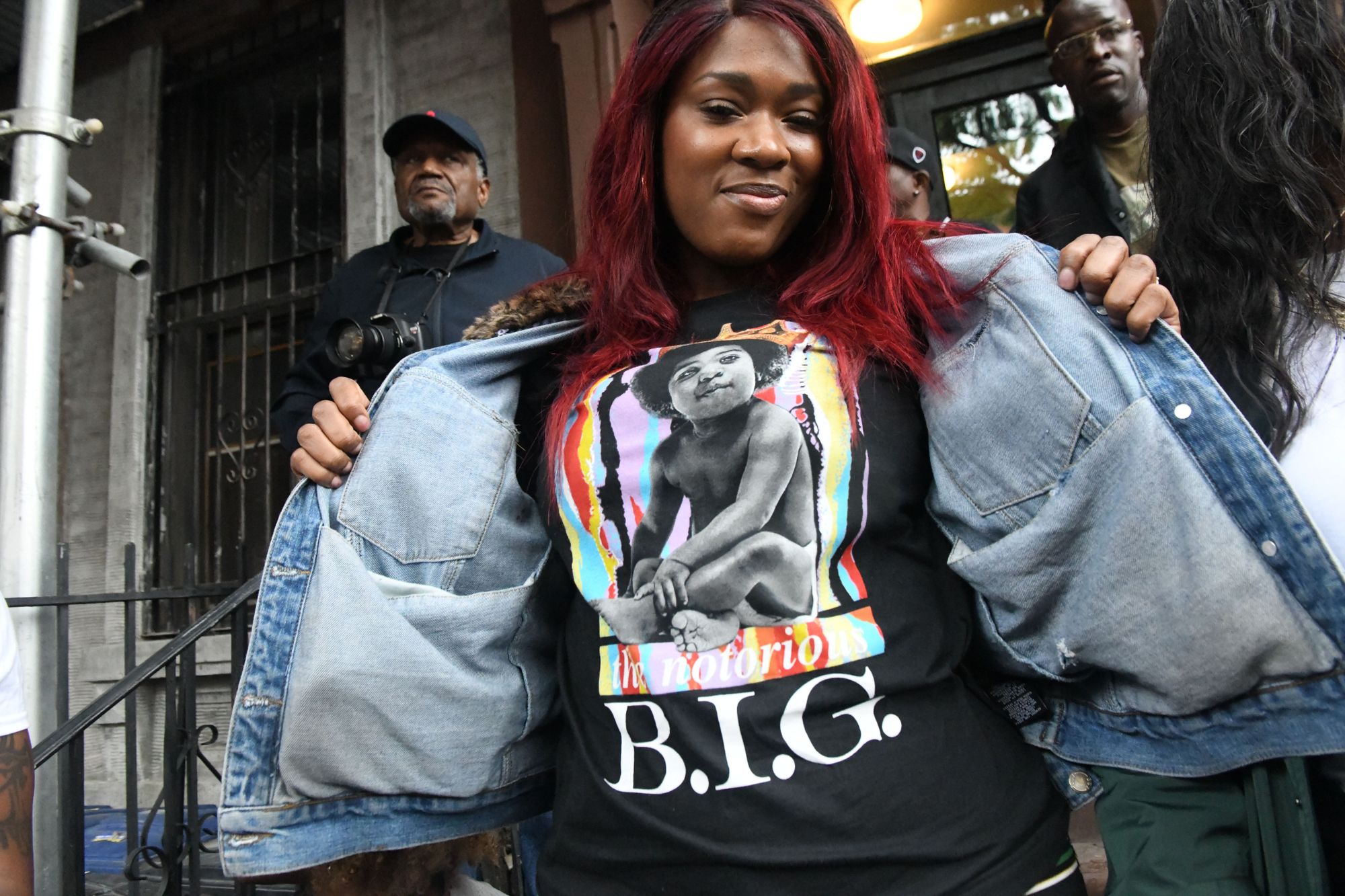 Fans braved the rain to help rename the street, many wearing t-shirts with Wallace's picture.
"I loved Biggie and he spoke the truth," said one fan. "It is appropriate for his name to live on here on this street because he told a story that taught us all a lesson that lives on today."