Coney Island Street Co-Named To Honor Fallen NYPD Officer Leon Fox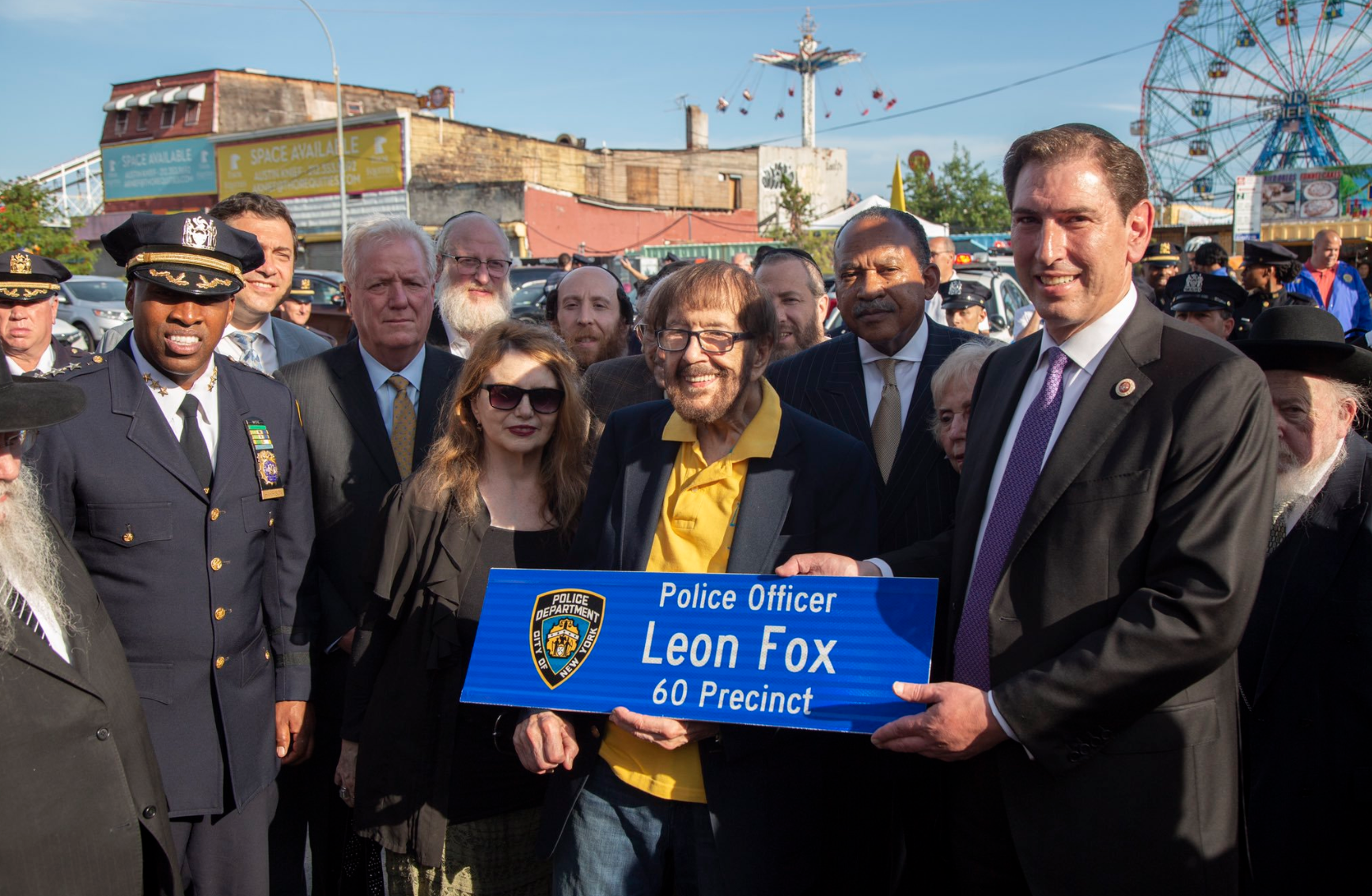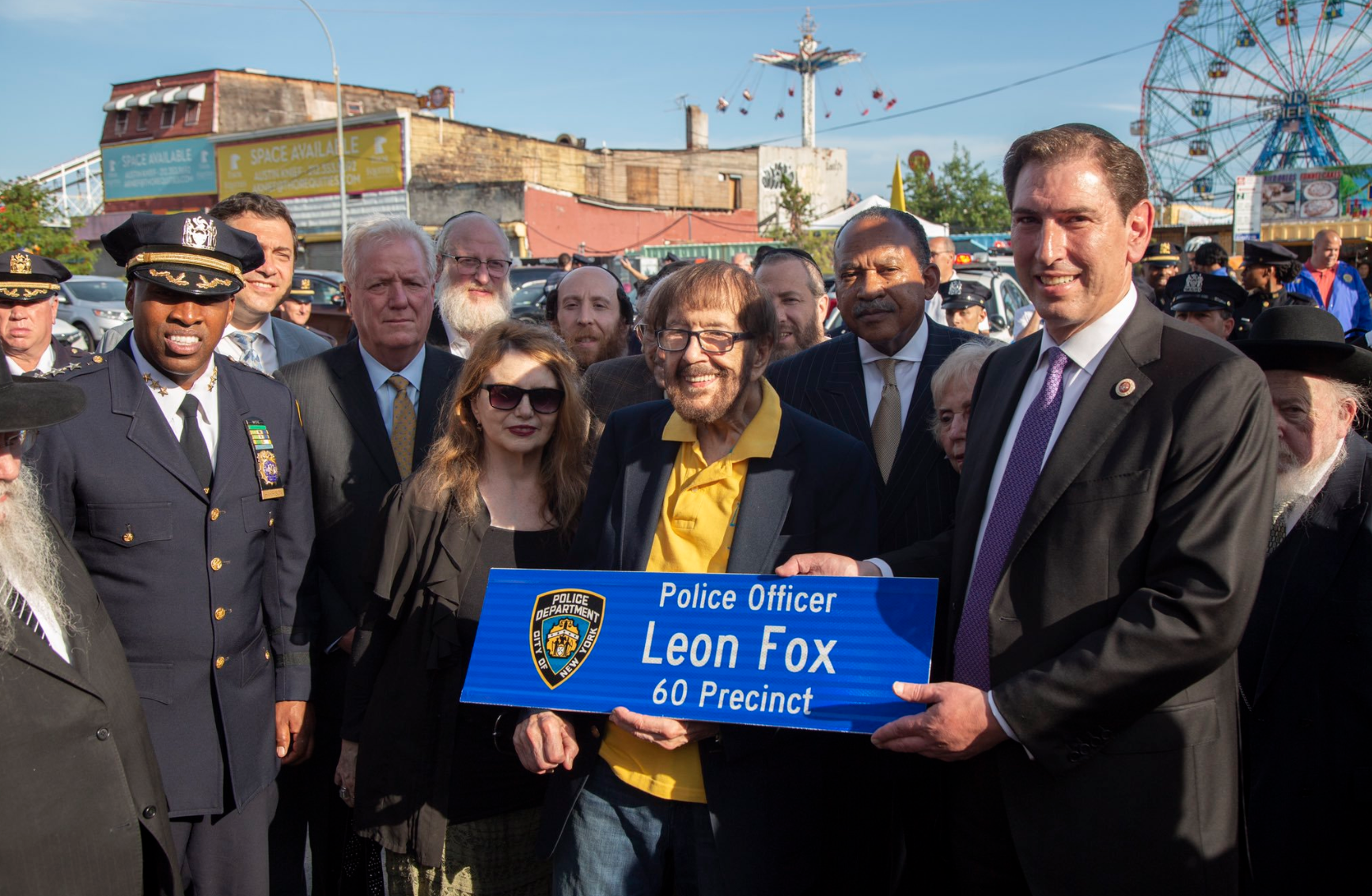 CONEY ISLAND – The intersection on Surf Avenue and West 12th Street has officially been co-named after NYPD officer Leon Fox who was killed while on duty in 1941.
On February 15, 1941, Fox was gunned down near the old Coney Island movie theatre during work. He had been a cop for ten years and was assigned to the 60 Precinct, and it was another cop from the 60th Precinct – Officer Albert Mammon – who suggested to Deutsch that this would be a great way to honor his memory. On June 15th, that is what happened.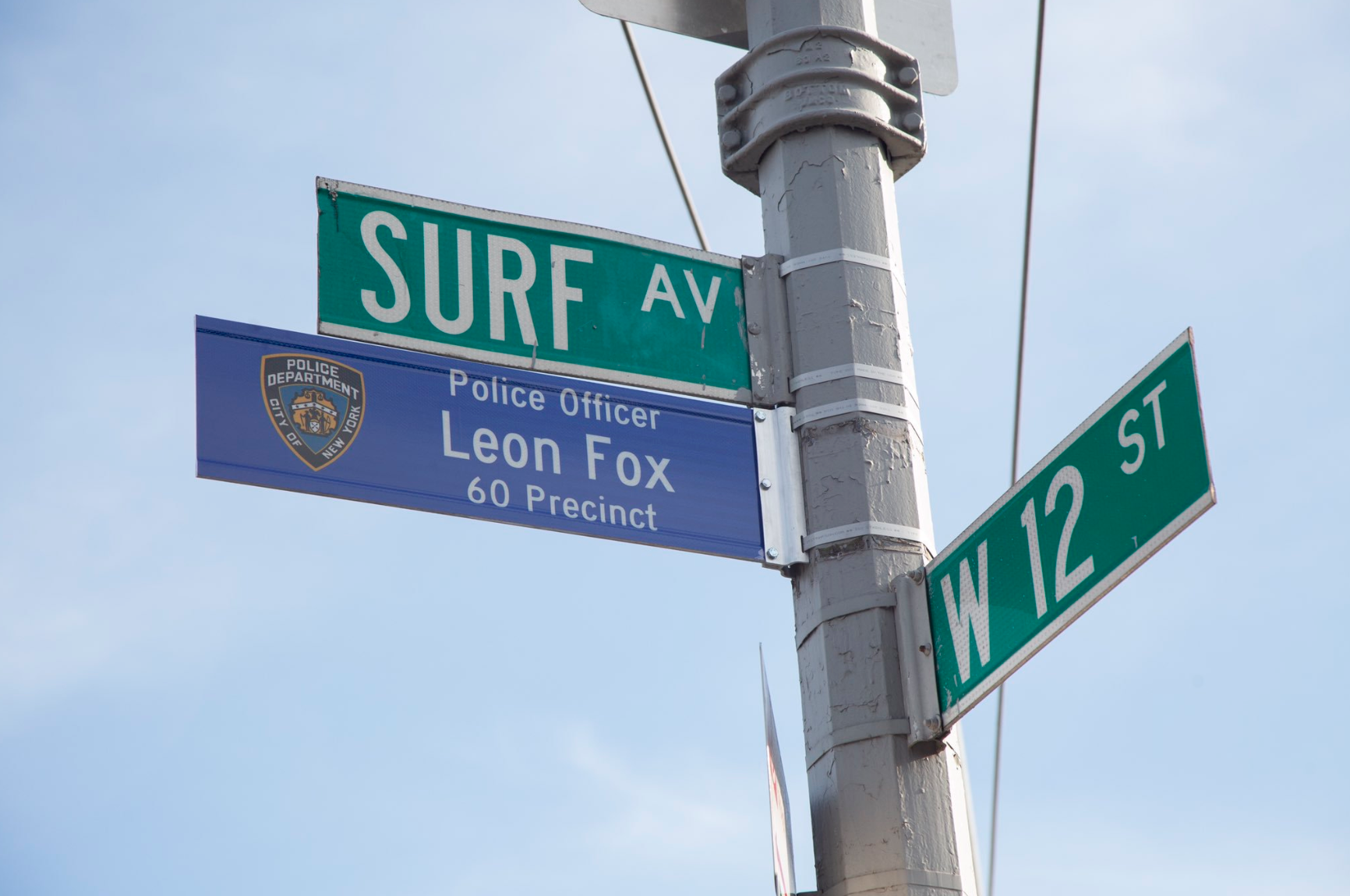 "We're here to celebrate the life and legacy of one of New York's finest," Deutsch said at the ceremony. "Today is an important day for Fox's family, but it's also an important day for NYC. At a time when police officers are under so much scrutiny when their every movement is questioned and controlled, it is so important that we show our respect and gratitude for the difficult job they do each and every day."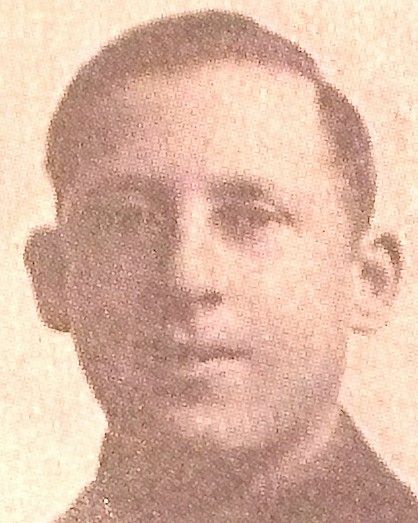 At a time before designated crossing guards, officers would help students cross the street. Leo Katz, now 92-years-old, still remembers Officer Leon Fox would be on the corner of P.S. 225.
"His smile, his caring for us, his friendship, had a great impact on my life and other kids," he said at the ceremony. "He was our big brother."
First Deputy Commissioner Benjamin Tucker attended the ceremony and said it was important to co-name the intersection after a good man.
"Leo Fox served at the time when the city was very different," Tucker said. "It was his work and the work of his colleagues back then in 1941 that made NYC that we have today possible."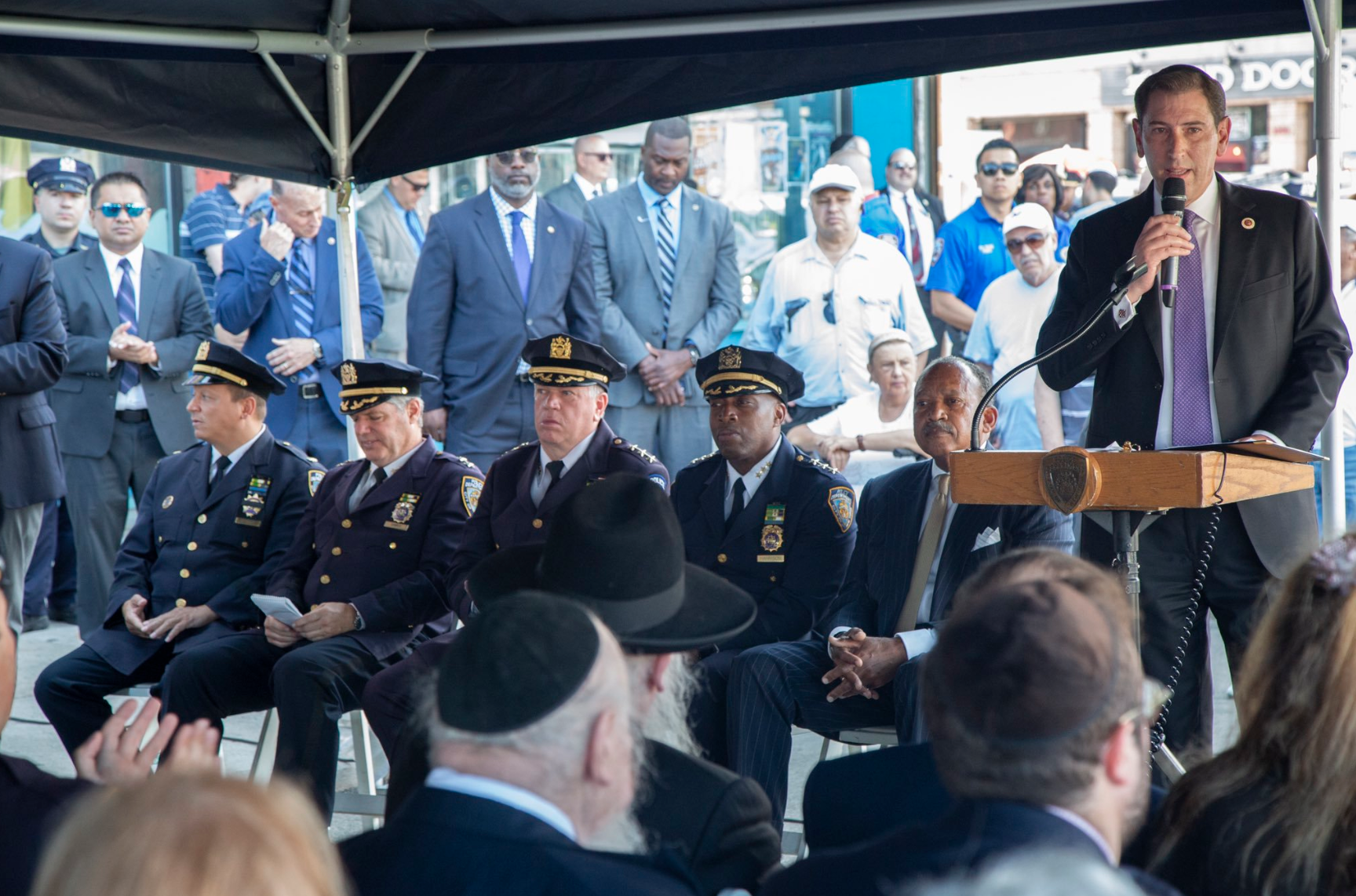 He continued to say, "His death is a reminder of the dangers that our officers face every day when they go out to work. It's also an example of the supreme courage of the men and women of this department."
"Everyone who passes this intersection will see this sign and they will read Leon's name and wonder. And each time that happens, it's another opportunity for us to tell his story," he said. "It's our job to tell his story and the stories of all who gave their lives in the line of duty."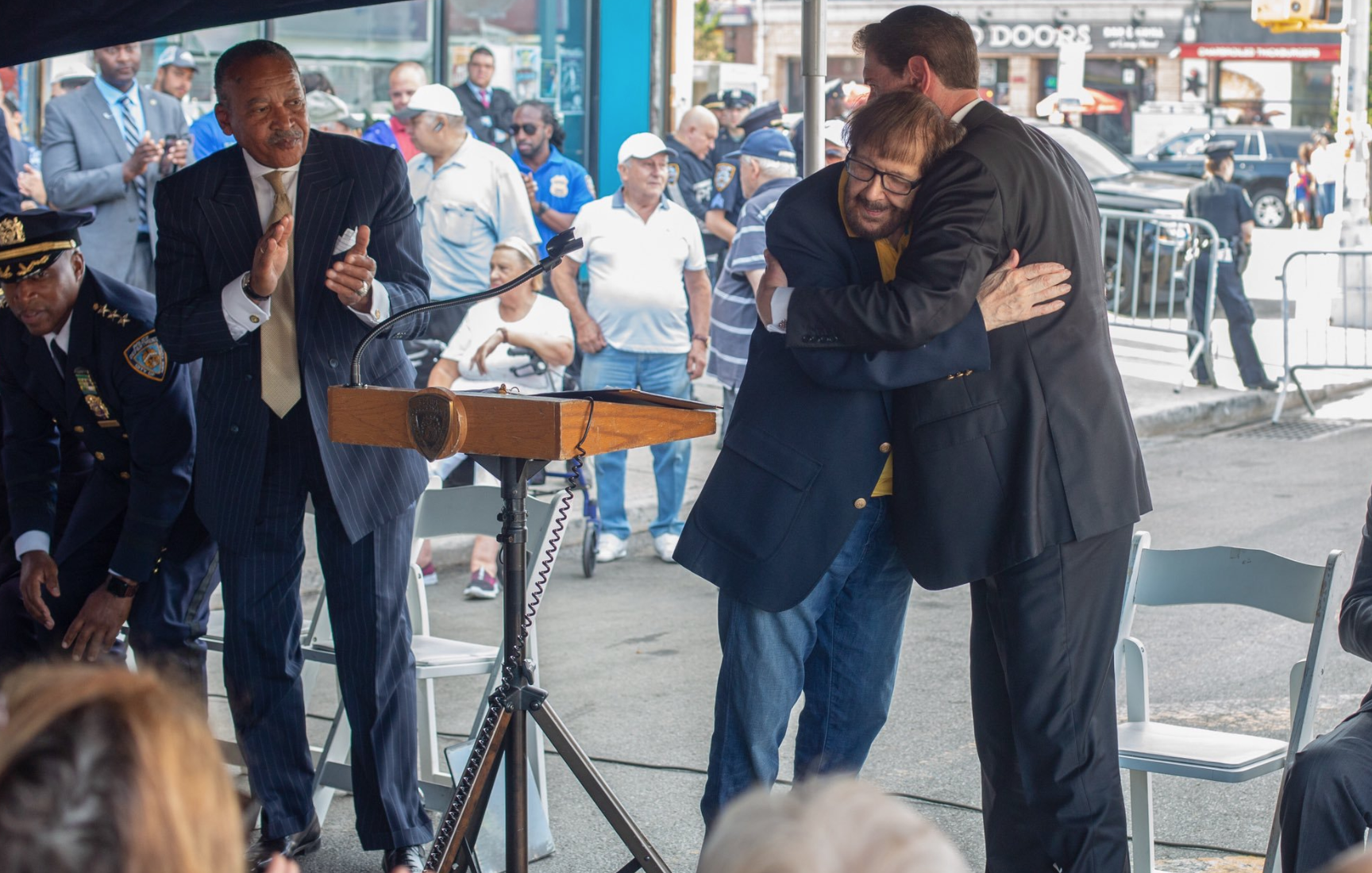 Fox had one son named Gerald Fox who was at the ceremony with his wife. He said that though his mother re-married, she always loved Fox until the day she died.
"My mother remarried, but she was never able to find anyone like my father," he said. "One of her last words were, 'Remember your father. He was my first and only true love.'"
Toward the end of the ceremony, Mammon recited the Kaddish, the Jewish prayer of mourning.
"Police Officer Leon Fox was known to be a good man and good cop who left a significant positive impact on his fellow Southern Brooklynites," Deutsch said. "That legacy and commitment and devotion to NYC will never be forgotten and that street sign will make sure of it."