Strauss Auto Declares Bankruptcy Overnight, 45 Stores Shuttered, 700 Laid Off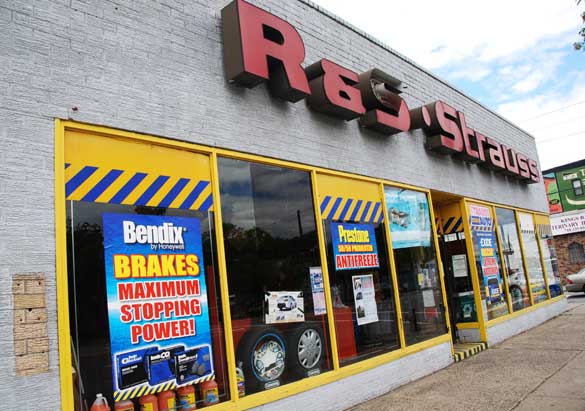 SHEEPSHEAD BITES SCOOP: Venerable metro-area auto repair and supply store Strauss Discount Auto declared Chapter 11 Bankruptcy last night, spurring the surprise closure of more than 50 45 locations and laying off approximately 700 workers.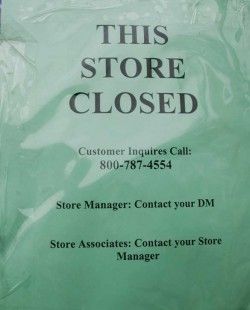 Employees and customers of the chain were equally surprised this morning to arrive at locations in New York, New Jersey and Pennsylvania to find gates down and signs in the windows declaring stores closed, and directing customers to call 800-787-4554, and employees to call supervisors. The chain's website has been taken down and replaced with the same number for customer service.
Sheepshead Bites' phone call to the company was answered by a merchandising rep taking calls on behalf of customer service. She informed us that the company had declared bankruptcy overnight, and that all branches were closed. She did not have specifics about the number of employees, but estimated it as more than 700 chain wide.
The company had nine stores in Brooklyn, 22 19 stores citywide and 53 45 stores in the entire metro area, according to a list of stores on an archived version of its webpage.
"That's horrible," said a frequent patron of the 2570 Coney Island location, who said he was friendly with the staff. "I pass by them everyday. They were just open yesterday. No one knew nothing."
Two of the stores were in Sheepshead Bay. The following are all the Brooklyn locations of Strauss Discount Auto:
3720 Nostrand Avenue
2570 Coney Island Avenue
183-207 Empire Boulevard
225 McGuiness Boulevard
527-39 4th Avenue
208 Union Avenue
2011-2031 Utica Avenue
832 Pennsylvania Avenue
2686 Atlantic Avenue
Customers with a car still held by Strauss Auto can call the above customer service numbers. Regional managers will be spending the next few days returning vehicles to their owners, the rep told Sheepshead Bites. The stores still appear to be fully stocked and untouched, with items lining the shelves.
Strauss Discount Auto was founded in 1919 in Newark, New Jersey, as Roth & Schlenger Home and Auto Supplies. It became the full-fledged chain New Yorkers know when it merged with Brooklyn-based Strauss stores in 1983, which owned five stores and a warehouse. The merger formed the largest retailer in the Northeast, consolidating about 70 stores, according to an archived page of the company's history.
In 1987, the company acquired Penn-Jersey Auto Parts with location in Philadelphia and Delaware, and was later acquired by Merril Lynch Capital Partners.
The management team changed the company name to Strauss Discount Auto in 1995. Ownership changed hands several times until October 2010, when SDA Inc. acquired Strauss Auto, promising to "aggressively focus on Service, Tire and Repair segments," with headquarters located in South River, New Jersey.
UPDATE (5:27 p.m.): The great hyperlocal site CliffviewPilot.com, based in New Jersey, picked up our report and added the following background about the company's history with bankruptcy:
[In 1999], it filed for Chapter 11 after majority owner Japan's Autobacs Seven Co. Ltd. stopped investing and called in its loans. Strauss listed assets of $75 million and liabilities of $72 million at the time.
The company was acquired in 2010 by SDA Inc., based in South River (Middlesex County), which promised to "aggressively focus on Service, Tire and Repair segments."
It received certification for a joint reorganization plan from the U.S. Bankruptcy Court for the District of Delaware, received a $10 million revolving line of credit from a Connecticut bank and set to work.
Employees at the time were protesting a two-year wage freeze and loss of pension funding.
The number of Strauss retail locations and automotive service centers in New York, New Jersey and Pennsylvania dropped from 73 in 2009 — and 86 just a few years earlier.
Strauss CEO Glenn Langberg called the reorganization plan "a key milestone in our ongoing restructuring efforts" and "the start of a new chapter in the history of Strauss Auto."
CliffviewPilot.com also has the number of stores at 43, not 53. We're looking to verify that number now.
UPDATE (6:02 p.m.): CliffviewPilot.com obtained the number of stores from a more recently archived page than we did. The number of stores on that page is actually 45. The story above has been updated to reflect the change.