Storobin Says Fidler Is Ducking Debates, Fidler Team Says He Was Never Invited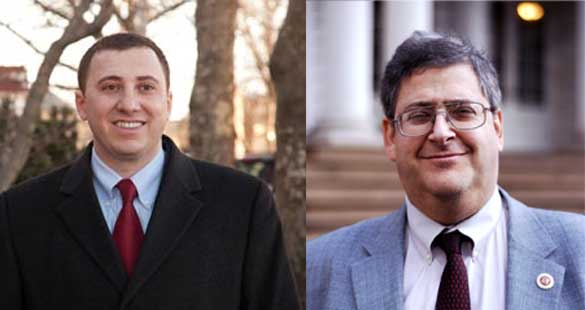 Republican State Senate hopeful David Storobin sent out a press release today accusing Democratic opponent Councilman Lew Fidler of "ducking" debates in the Orthodox Jewish community. Fidler's campaign, though, said no such invitations were ever extended.
Storobin's release claims Fidler refused debate invitations from two prominent Jewish groups: Agudath Israel and the Council of Jewish Organizations of Flatbush. He claims the councilman is "ducking" the debate, though he has no "problem trolling for votes" in the Orthodox community.
The councilman has agreed to two debates already, one of which he says is sponsored by the League of Women Voters (though, actually, it's sponsored by the Canarsie Courier) and another by the Manhattan Beach Civic Association.
"Councilman Fidler is turning his back on the Orthodox Community. He's playing favorites by agreeing to one debate and not another. This is not what the people of the 27th District are looking for in a state senator."
According to Fidler's team though, Storobin's got it all wrong. They say there was no such invitation from either organization.
However, the councilman is being forced to take a step back from the campaign trail by health issues. Before Storobin's release was sent, Fidler sent out the following statement today:
A few days ago I was admitted to the hospital with a severe allergic reaction to a prescription medication I take to treat Gout.  My physician has instructed me to be off my feet for the next few days.  I'm grateful to my constituents, staff and the wonderful volunteers who continue to spend day and night pounding the pavement for our campaign.  As soon as I have the permission of my physicians – and my wife – I intend to return full steam to the campaign trail.  Of course, my district office will continue actively handling the day-to-day needs of my constituents.
It does not appear, however, that the health concerns will cause a cancellation of any of the scheduled debates.
Sheepshead Bites has contacted Agudeth Israel and the Council of Jewish Organizations of Flatbush to confirm whether or not an invitation had been sent to Fidler. However, our calls went unanswered, likely because of the Sabbath.
UPDATE: We just received this update from Kalman Yeger of Councilman Fidler's office….
David Storobin continues to drag this campaign to the gutter with lies and deceit, this time inventing an imaginary debate.  The fact is that Councilman Fidler agreed to every single debate offered in this campaign.  Mr. Storobin obviously invented this imaginary event, to which we were never invited.  If Mr. Storobin had any class, he would have offered traditional 'refuah sh'laimah' ('full recovery') wishes, instead of launching another lie-filled attack.
And from David Simpson in Mr. Storobin's office…
I understand that the Fidler camp is denying there was an invitation to debate. Keeping in mind that invitations don't always come in an embossed envelope, let me say this for the record.
Rabbi Shmuel Lefkowitz who is with the Council of Jewish Organizations invited us to debate sponsored by that organization and Agudath Israel. We agreed, and it was our understanding that Fidler's camp also agreed. After that, emails and phone calls went back and forth trying to firm up a date and logistics. Then, this afternoon (Friday), Lefkowitz got back to us and said Fidler had pulled out.
I will make every effort to get you in touch with representatives from the Council of Jewish Organizations to back up our claim, but it's probably not going to happen until later in the weekend. I have made several phone calls and no one is answering because Shabbos has already begun.
That said, Fidler's response skirts the issue. He's deflecting onto whether or not a "formal" invitation exists instead of saying whether or not he agrees to an Orhtodox debate. Does he or doesn't he? We were told he said no and we're sticking by that.
For our part, we are still committed to doing this debate. If Fidler is waiting for a formal invitation (whatever that is), he should first tell the organizations who are trying to host it that he is willing to debate, as Storobin has. Then we can send formal invitations to everyone.
We'll let you know more as this develops.