Storobin Demands Fidler Apologize For White Supremacist Remarks, Fidler Doubles Down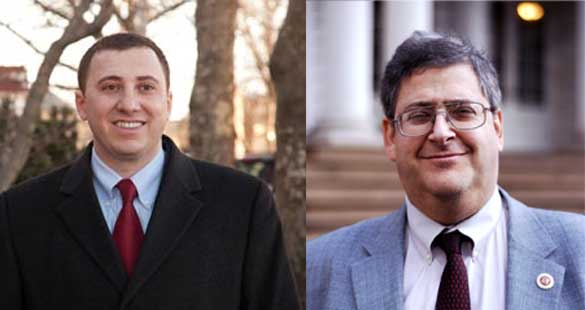 It looks like our post from two weeks ago, in which we caught video of Councilman Lew Fidler saying Republican opponent David Storobin has "ties to skinheads and neo-Nazi groups and white supremacist groups," is causing a stir in the local political scene.
After floating around quietly for a while, the video was deployed by the Storobin campaign yesterday when the Brooklyn GOP vice chair held a press conference with several Jewish representatives demanding an apology from Fidler for "false and malicious remarks."
"I demand that you [Lew Fidler] stop using the memory of dead and persecuted Jews to make false and slanderous attacks as a political ploy in your campaign," Storobin said. "And you must apologize to the people of this community whom you offended deeply with your untrue remarks."
Storobin's campaign claims the allegations from Fidler's campaign are an attempt to "score political points," and noted that Storobin is a "devout Jew whose family escaped the former Soviet Union from religious persecution and whose extended family were victims of the Holocaust."
Fidler made the claim in a pep-rally style speech during a meetup of Brooklyn Young Democrats on January 18. Seeking to energize the group, Fidler was slamming the Brooklyn GOP for backing a candidate that they knew little about. Fidler was referring to recent revelations that, while editor-in-chief of an online publication called Global Politician, Storobin wrote numerous pieces (such as one uncritical post on the Afrikaner Independence Movement, which advocates for an autonomous state in South Africa to advance white Afrikaner interests) that were linked on white supremacist hate sites.
Storobin's articles have since vanished from the site.
During the press conference – and in several e-mail blasts afterwards – Storobin's campaign presented several local Jewish leaders who said they were offended by Fidler's allegations.
Gedaliah Weinberger, Chairman of Agudath Israel of America, a well known national Jewish organization with a long history in Brooklyn, called on Fidler to retract his statements and apologize to the entire community for his offensive remarks.
"We are here to strongly protest what I consider to be an egregious act that was committed by Mr. Fidler. I strongly protest the terminology used by Mr. Fidler. For him to say that Mr. Storobin has ties to [quote] 'skinheads, neo-Nazis and white supremacists' is not only false, it is an insult to all of us," Weinberger said.
… Rabbi Mordecltai Tokarsky, head of the Brighton Beach Jewish Center Synagogue where Storobin attends Shul, also demanded a retraction from Fidler.
"David Storobin is a devout member of our synagogue. His ancestors, like many of ours, were wiped out by the Nazis, and he himself fled the former Soviet Union to escape religious persecution because of his faith. No one can in good conscience suggest that he has ties to Nazi sympathizers. The very notion is offensive," Tokarsky added.
But Fidler wasn't feeling very apologetic yesterday. Instead, his campaign shot back at Storobin for offering "no denial or explanation as to the connection between himself and why these writings appear on hate websites" during his press conference.
"Mr. Storobin should stop hiding his true beliefs," said campaign spokeswoman Jenn Krinsky. "If there was nothing offensive in any of these writings or interviews, then why did Mr. Storobin delete them from his website, and leave us only the writings that still exist on white supremacist and hate sites, such as Stormfront, American Renaissance or Phora?"
That got the Storobin campaign roiled up. Storobin spokesperson David Simpson said the claims of white power ties are "bullshit and [Fidler] knows it's bullshit."
"David [Storobin] spent some time as a journalist before he was an attorney and he wrote for some websites, and just because someone links to it…you have no control over that," Simpson told Sheepshead Bites. "[Fidler's campaign is] trying to take that exact thing and make it appear as if he has some kind of sympathy to white supremacist groups and it's wrong and baloney."
Storobin himself told Crain's New York when the issue first came to light that he never took down the posting, and has no idea who did or why. He stands by his writings, though they have yet to be released to the public.
"My views have evolved over the years, but there's nothing I've been ashamed of," he said. "I'm very proud of the stuff I've written."
Those writings, though, have become the stuff of scrutiny as the issue evolves. Gatemouth, a Democratic-leaning blogger who first wrote about the disappearing blog posts, has been digging up archived versions and dissecting them. In his latest article, Gatemouth examines Storobin's writings about the conflicts in Bosnia and Kosovo, in which Storobin was critical of U.S. support of Bosnian Muslims, arguing that both sides committed atrocities.
Gatemouth slammed Storobin for being the equivalent of a Holocaust denier.
"To say, as Storobin does, that there were atrocities committed on both sides, would be like saying atrocities were committed by both sides during the Warsaw Ghetto Uprising," writes Gatemouth.
Gatemouth, for his part, has also criticized Fidler for likening online links to Storobin's articles from white nationalist websites to actual ties to white nationalists, saying that it wasn't justified by the facts. However, he also wrote that the content of Storobin's articles and others were of a nature that invited frequent linking on such websites.
"If one strews the sidewalk in front of one's house with stinking, rotting decaying offal and animal feces, one should really not claim surprise when one attracts rats, flies and maggots," writes Gatemouth.
Storobin's campaign, though, maintains that it's all hogwash, and that their candidate is the one better-suited to represent the Jewish community.
"If Fidler wants to have a conversation about who he thinks is more representative of Jewish values and who is closer to the Jewish community, we're happy to talk about that. We're happy to talk about his heritage, and his history as a refugee and ancestor to Holocaust survivors," spokesperson Simpson said. "[Storobin is] against abortion, against gay marriage, for school vouchers – all the things that make Fidler out of step with the Jewish community."