Storobin Campaign Pushes Small Business Values With Posters All Over Sheepshead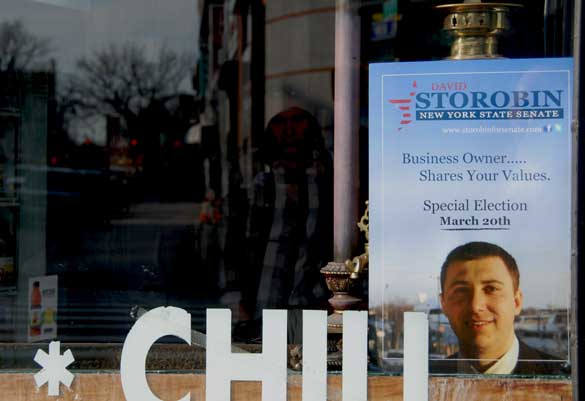 Campaign posters for Republican underdog David Storobin's State Senate campaign have popped up all over the neighborhood in the past week.  We spotted this one in the window at Coffee Spot Cafe (1617 Jerome Avenue), and we've also seen them in several businesses along Avenue U.
The poster gives us a good idea where Storobin might be headed with his campaign to replace disgraced State Senator Carl Kruger. With more than $112,000 in the campaign coffers (including $50,000 Storobin lent his own campaign), he's still a great distance behind his Democratic opponent, City Councilman Lew Fidler, who is sporting $406,000.
But Storobin's making an aggressive showing. His donor list has about 100 contributors, largely from within the Russian community. We spotted a number of local business owners' names on there. That, and the wording in the poster ("Business Owner….. Shares Your Values"), suggests Storobin's campaign will focus on a platform for small businesses.
So while Fidler's advertising has so far been limited to Orthodox Jewish newspapers, Storobin is building his support around local businesses – the owners of which are pretty disgruntled about new regulations that have driven up the cost of doing business in New York City.
Expect Storobin to start putting the blame for those increased costs on Fidler and his City Council colleagues.