Stork's Special Delivery: Two Hawk Chicks Born High Above Fort Greene
BY MICHAEL RANDAZZO
Last Monday, April 20, Gerri Hernandéz, who has been closely monitoring a pair of red-tailed hawks living in Fort Greene, noticed that the female hawk was "restless" after weeks of being rooted to her nest high above LIU Brooklyn's athletic fields. The reason: she had hatched two chicks earlier that day.
Hernandéz, who has regularly photographed the hawks since spotting them last February outside her 12th-floor University Towers apartment, was ecstatic regarding the successful arrival of the two newborn chicks. "I was really happy they survived," she said.
A hawk family located above an active intercollegiate athletic field — LIU's baseball team regularly sends balls screaming past the hawk's habitat while softball lacrosse and soccer are regularly played on the Astroturf below — is perhaps not that surprising, given the field's location proximity to Fort Greene Park, teeming with a veritable smorgasborg of small animals for the predatory birds to chose from.
"We understand why the hawks would choose to make our beautiful campus their home and we are following the advice of the New York State Department of Environmental Conservation's to not disturb the wildlife," said Gale Haynes, vice president, chief operating officer, and legal counsel at LIU. "In the meantime, the LIU Blackbirds and hawks are peacefully coexisting on our playing fields."
The nesting hawk family is federally protected by the Migratory Bird Treaty Act of 1918, which prohibits their removal or relocation.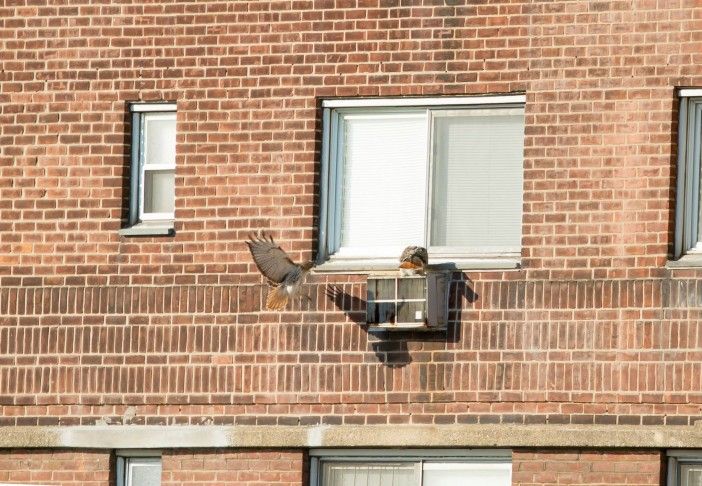 It's likely that the chicks will eventually encounter humanity lurking below. But Tom Stephenson, a member of the Brooklyn Bird Club, a local ornithology group, is sanguine regarding the realities of two predatory animals — hawks and humans — coexisting peacefully in urban Brooklyn.
"Red-tailed Hawks seem to tolerate humans fairly well," Stephenson said by email. "As top-level predators, they aren't as nervous as smaller species, which may help."
In Prospect Park there was a nesting pair for several years right at the edge of an active soccer field, which the birds seem to tolerate without issue. Peregrine falcons are another species that can co-exist with city life; and many have been successfully re-introduced, after being decimated by the insecticide known as DDT, on to the cliff-like rooftops of tall buildings and bridges in the city.
According to Stephenson, whose interest in birding began as a child under the tutelage of Dr. Arthur Allen, a legendary professor of ornithology at Cornell University who helped found the Eastern Bird-Banding Association, the newborns are safe and sound high above Willoughby Street.
"Chicks stay in the nest for about a month and a half after hatching. Towards the end of that time they become fairly active, walking on [tree] limbs and even taking short flights," he said. "Humans mistakenly think they've fallen from the nest and call rescue lines but it's definitely best to let them alone so that the bird and/or its parents will get them back where their nest."
One human who will be keeping a close eye out for the young family is Hernandéz, who watches over the nest like a — well, like a mother hawk.
"It was really neat to see the female hawk feeding them," she said. "Now lets hope that they survive any predators!"