Man Wanted For Sticking Up Four Stores In Brooklyn And Queens, Cops Say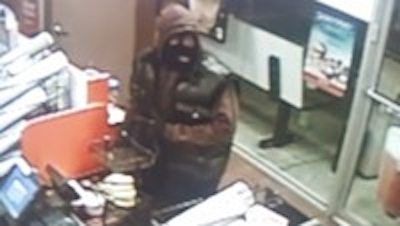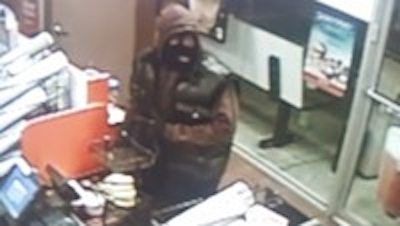 Cops are searching for an armed robber suspected of sticking up two local Subway sandwich shops, a Dunkin' Donuts, and another store in Queens during the last two months.
Police describe the suspect a black man, just over six feet tall, between 230 and 250 pounds, who wears a black ski mask, a black padded vest and carries a black bag. Cops provided a surveillance photo of the suspect.
The first robbery occurred on November 18 at a Bensonhurst Subway sandwich shop located at 86th Street and Bay 20th Street. The suspect pulled a gun on a 25-year-old employee and demanded cash from the register, according the NYPD. He fled the store with $220, police say.
Five days later, the suspect appeared at another Subway in Ozone Park, Queens. This time he made off with $483, according to authorities.
On December 19, police say the same suspect entered another Subway on Oriental Boulevard, right outside Kingsborough Community College. He allegedly drew his gun in two employees, a 44-year-old woman and a 28-year-old man, and asked them to hand over cash from the register. He escaped from the store with $320, according to the NYPD.
The last reported robbery involving the suspect occurred on December 26 at a Dunkin' Donuts on Coney Island Avenue, near Avenue N. Police say he pointed his gun at a 38-year-old woman working at the store and made off with $125.
Anyone with information is asked to call the NYPD's Crime Stoppers hotline at 800-577-TIPS. The public can also submit their tips by logging onto the Crime Stoppers website or by texting their tips to 274637 (CRIMES) and then entering TIP577.