Stay Fit And Have Fun: Five Sports Camps In Brooklyn
With baseball season just around the corner, it's a great time to talk about summer sports camps! If your kids have baseball, basketball, soccer, or anything with a ball fever, you won't have to look far for some great camp options. Here are five of our favorites from around the borough:
Camp Olympia
237 7th Avenue (between 4th and 5th Streets)
Expand the sports horizons of your kids with a summer at Camp Olympia. Campers take part in three different sports each day (baseball, basketball, volleyball, or soccer), with swim classes on Wednesdays, Thursdays, and Fridays. Weekly sessions begin on July 11 and run through August 12. Tuition is $300 per week. Hours are 9 am to 4 pm, with extended days available for an additional fee. Lunch is included, but children should bring their own snacks and water. For more information, visit the Camp Olympia website, call 718-748-7084, or email CampOlympiaNY@hotmail.com.
LIU Children's Academy
1 University Plaza (between Flatbush and DeKalb Avenues)
Take your sports camps to the next level with LIU Children's Academy. Blackbird Sports Camp, lead by LIU coaches and NCAA D-I athletes, offers kids ages 7 to 14 camps in basketball, soccer, and swimming. The five-day sessions ($350 – $400 each) run from 9 am to 3 pm, with extended day options available. Want to check it out in person? Stop by the April 2 open house, from 11 am to 1 pm. Coaches will be on hand to answer parent questions, and to offer tours of the facility. For more information, email childrensacademy@liu.edu or call 718- 488-1364.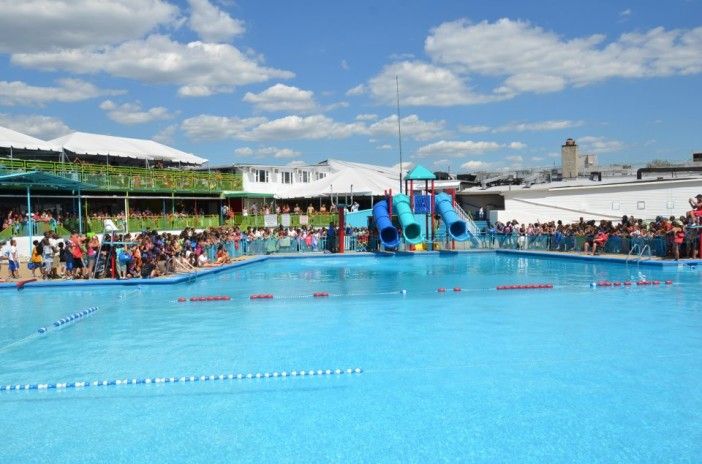 Mill Basin Day Camp
5945 Strickland Ave (between 56th and National Drive)
With swimming, sports, and outdoor adventures galore, Mill Basin Day Camp is all about making summer memories that your children will never forget. I mean, seriously – look at that wickedly awesome pool! For more information, or to reserve your spot at the April 3 open house (11 am to 2 pm), visit the Mill Basin Day Camp website.
Dodge YMCA and Prospect Park YMCA
225 Atlantic Ave (between Court Street and Boerum Place) and 357 9th Street (between 5th and 6th Avenues)
They YMCA is known for their awesome (and reasonably priced) summer camp, but did you know that they also offer specility sports camps? Both Dodge and Prospect Park YMCA locations have a two week sports camp session for kids ages 7 to 12. Campers will learn all about sports history, rules, fundimentals, and teamwork – not a bad combination. Sports camp at Dodge YMCA is $560 for members and $660 for non-members. Prospect Park YMCA runs a bit less – $520 for members and $595 for non-members. For more information, visit the Dodge or Prospect Park YMCA websites.