Democrat Justin Brannan Narrowly Beats John Quaglione in Contested Council Race
BAY RIDGE – Pledging to "fight like hell for everyone who calls this district home," the Democratic candidate for New York City Council District 43, Justin Brannan, claimed victory Tuesday night over his Republican opponent, John Quaglione, in one of the most closely contested races of this local election season.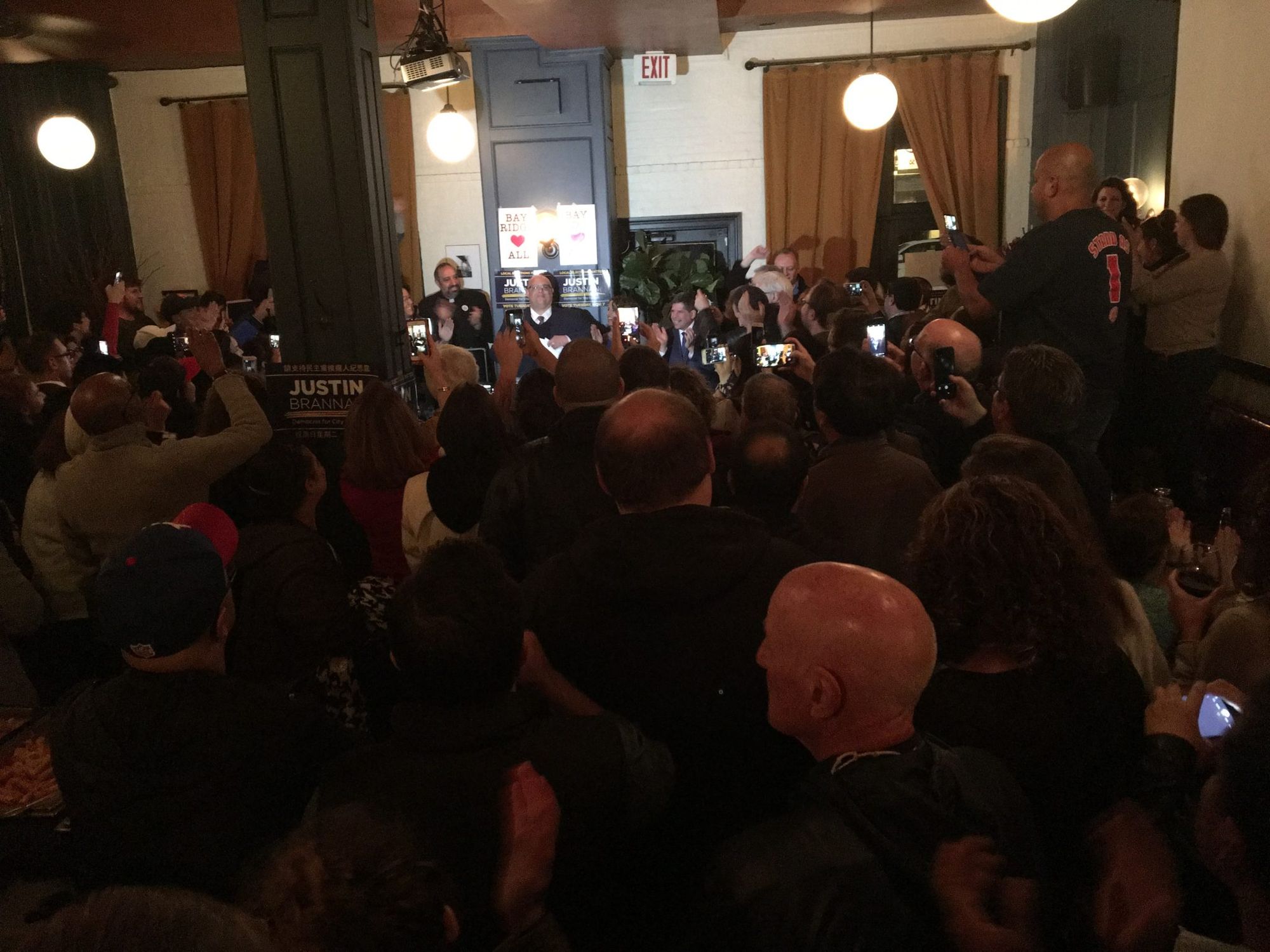 With close to 99 percent of precincts reporting, Brannan narrowly edged out Quaglione by just under 900 votes. The two were running to replace outgoing Councilmember Vincent Gentile (D), who is term-limited, for a seat that encompasses the southern Brooklyn neighborhoods of Bay Ridge, Dyker Heights, Bath Beach, and parts of Bensonhurst.
"This is your victory," Brannan told a packed room of cheering supporters at Cebu Bar & Bistro in Bay Ridge shortly after 10:30 PM on Thursday, after Quaglione had conceded. "Real change comes from the ground up, and that is what we did tonight."
After thanking his wife, Leigh, and mother, Mary, Brannan acknowledged the support he received from unions, including the Transit Workers Union, Teamsters, CFW, and 32BJ, many of whose members were in attendance at the election party.
He also thanked Rev. Khader El-Yateem, the local pastor whom Brannan beat in the Democratic primary in September, and who endorsed Brannan in recent weeks. Before Brannan's remarks, El-Yateem addressed the crowd, saying that Brannan would ensure a seat at the table for all.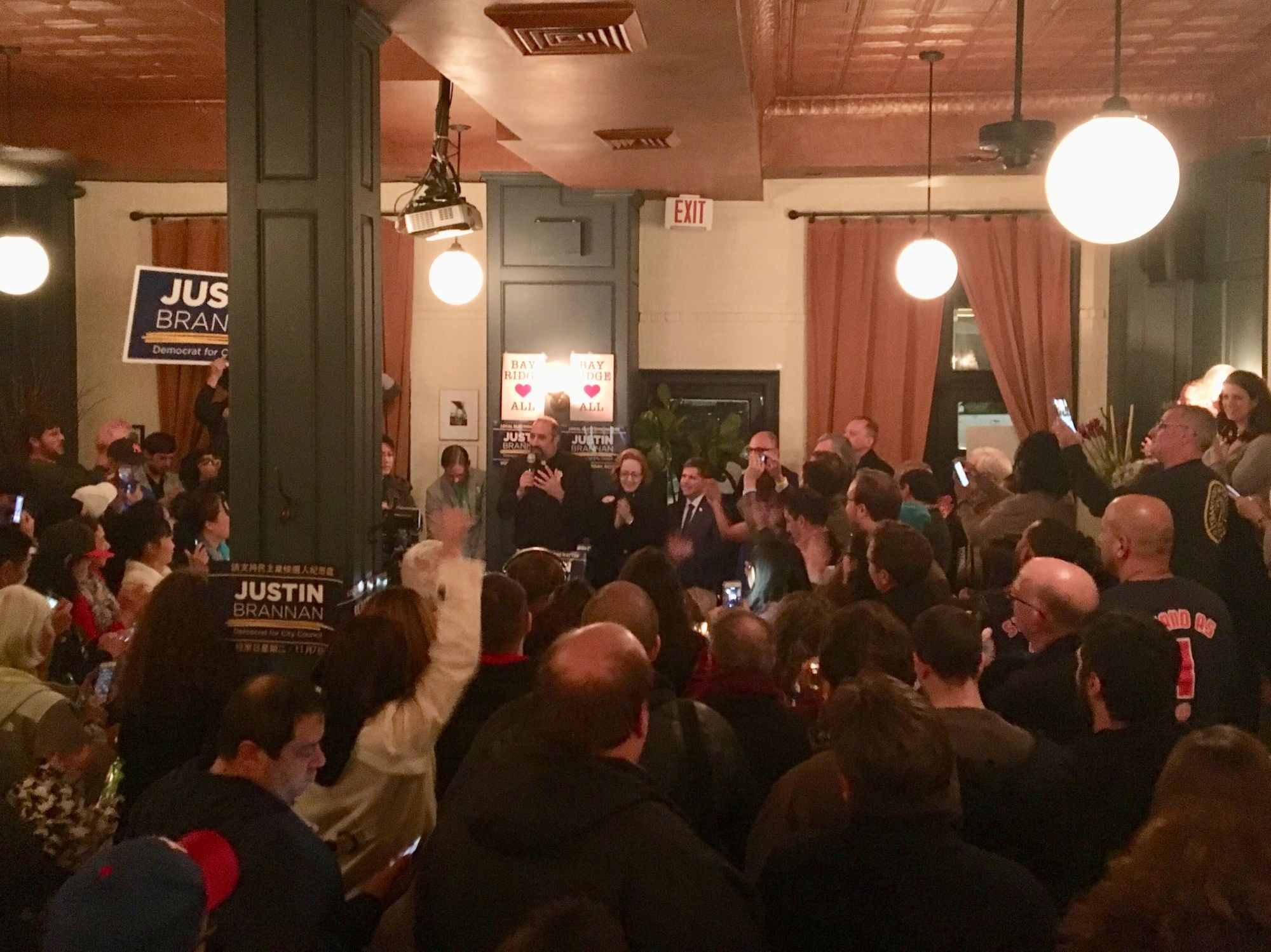 Brannan, a Bay Ridge native who worked in Councilmember Gentile's office as Director of Communications and Legislative Affairs and
spent a decade playing guitar in hardcore bands
, promised to be a champion for diversity within District 43, which is home to large numbers of Arab- and Asian-Americans.
"I don't care if you've been here since birth or you've been here since breakfast," he said.
Quaglione, also a Bay Ridge native, works as deputy chief of staff and press secretary to state Senator Marty Golden. The race was dominated by issues both specific to the area, like illegal home conversions and overcrowding in district schools, and of national concern, like immigration and healthcare.
As of midnight, the New York Board of Elections' unofficial results called 12,516 votes for Brannan (50.51%), and 11,621 (46.89%) for Quaglione. Third-party candidates Bob Capano (Reform) and Angel Medina (Women's Equality) each picked up 324 (1.31%) and 273 (1.10%) respectively. In all, 24,734 votes were cast.
Before he headed back into the crowd, Brannan issued one more promise to his supporters: "I'm never going to stop listening, and I'm never going to stop fighting."