Sprinklers "Explode" At Former Pathmark Site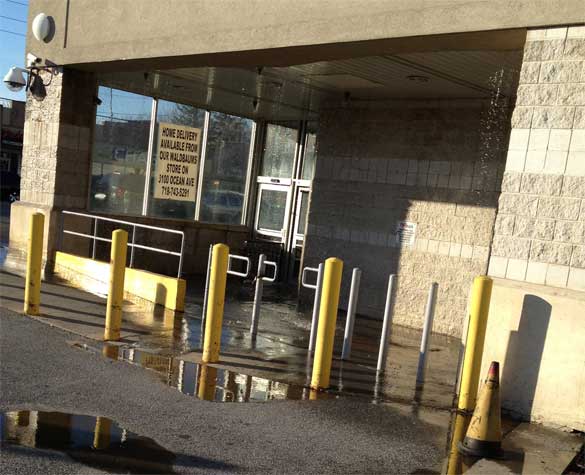 Reader Kevin L. was strolling by the former site of Nostrand Avenue's Pathmark (3785 Nostrand Avenue) when he noticed things were looking a little, er, wet.
"Looks like the sprinkler system exploded or something of the sort. Water is pouring from the ceiling near the entrance. Huge puddle. Gonna be a nice ice rink soon," Kevin wrote.  "If you look at the ceiling in the pic, it's bending. Looks like it's filled with water waiting to pop."
Kevin said it didn't look like the sprinklers were going off in the building, but said it was hard to tell.
Oh, and for those wondering what's going on, we've heard through the grapevine that there have been several near-deals with various smaller supermarket chains to take the property – Western Beef among them – but parties have backed out after being unable to agree on a fair rent.