Spice Up Your NYE Cocktails With Recipes From Talde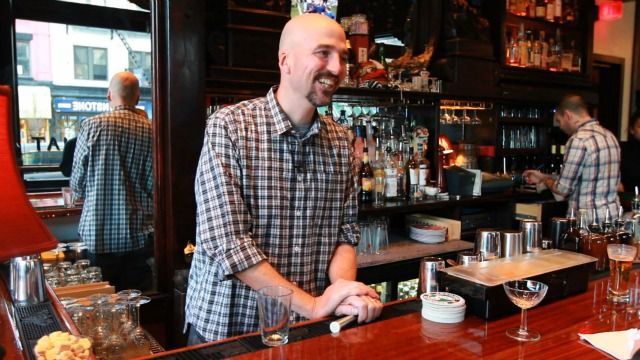 Still struggling with cocktail ideas for your New Year's Eve guests? Take a deep breath, and relax. Talde is here to help.
We sat down with beverage manager, Bill Riley, to find out what makes the perfect NYE cocktail.
"For me," Bill told us, "the perfect New Year's Eve cocktail is something that is a little out of the normal, and something that is celebratory. It's just a way to have what we normally do, but mix it up a bit for New Year's Eve."
"Get a good bubbly," he added, "pick one or two mixers, especially if you're having bubbly cocktails, and get a concentrated flavor, so that when you put it on the champagne or the Prosecco, you're there."
Ready to try your hand at some of Talde's choice cocktails? We've got the recipes, and a video demonstration on how to make the Sparkling Chinatown below.
Sparkling China Town
2 Brandied Cherries
1 Wedge of Lime
1 Lump of Brown Sugar
3 Dashes of Citrus Bitters
1 oz Diplimatico Rum
.5 oz Lairds Apple Jack
4 oz Prosecco
Fresh ground black better
In a dry shaker (no ice), muddle cherries, lime wedge, sugar, and bitters. Add rum, Apple Jack, and shake. Strain through a mesh strainer, and into a white wine glass. Add a wheel of lime, and top with Prosecco, and 1 grind of fresh black pepper.
Year of the Grouse
1 oz Famous Grous Scotch
.5 oz Carpano Antica Sweet Vermouth
3 Dashes Maple Bitters
1 Brown Sugar Cube
4 oz Prosecco
In a dry shaker (no ice), add Scotch, Vermouth, and Bitters. Shake. Strain into a white wine glass, and add the sugar cube. Top with Prosecco.
The Bubbly Monk
1 oz Brokers Gin
1 oz Lemon Juice
1 oz Benadictine
4 oz Prosecco
1 Twist of Lemon
In a dry shaker (no ice), add Gin, Lemon Juice, Benedictine, and shake. Strain into a white wine glass, and top with Prosecco. Garnish with a twist of lemon.