200 Volunteers Clean Up Trash-Ridden Bensonhurst Streets
On Saturday, more than 200 young volunteers worked to clean up Bensonhurst.
The clean-up event on Saturday, June 17, was a part of the bigger "Speak-Up & Clean-Up" campaign (launched in 2011) organized by Assemblyman William Colton, District Leaders Nancy Tong and Charles Ragusa, Councilman Mark Treyger, and Young Democrats of South Brooklyn.
Volunteers from many youth groups showed up to pitch in, including Midwood High School's Key Club and Stuyvesant High School's Red Cross.
"Every New Yorker deserves safe, clean streets, which are a sign of a thriving, caring and welcoming community," Treyger said. "It has been great to see so many teens and community members get involved and give back and it has had a tremendous impact on our neighborhood. We must continue with the same determination that has gotten us this far to make sure our neighborhoods can remain clean."
Sweeped streets included 86th Street between 14th Avenue and 26th Avenue, Bay Parkway between 82nd Street and Shore Parkway, Benson Avenue between 18th Avenue and 24th Avenue, Bath Avenue between 18th Avenue and 24th Avenue, and 18th Avenue between 84th Street and Bath Avenue.
About eight months ago, we reported on the overflow of trash plaguing the neighborhood. On February 2016, a flash flood in Bensonhurst brought attention to the litter and oil slick.
But this problem goes back even further. In 2012, angry Bensonhurst residents blasted the city's handling of garbage at a town hall. People who lived in the trash-ridden area complained about illegal dumping of supermarket waste, overflowing trash cans, and garbage pick-up schedules. At the time, Councilman David Greenfield pointed fingers at then-Mayor Bloomberg and his sanitation budget cuts.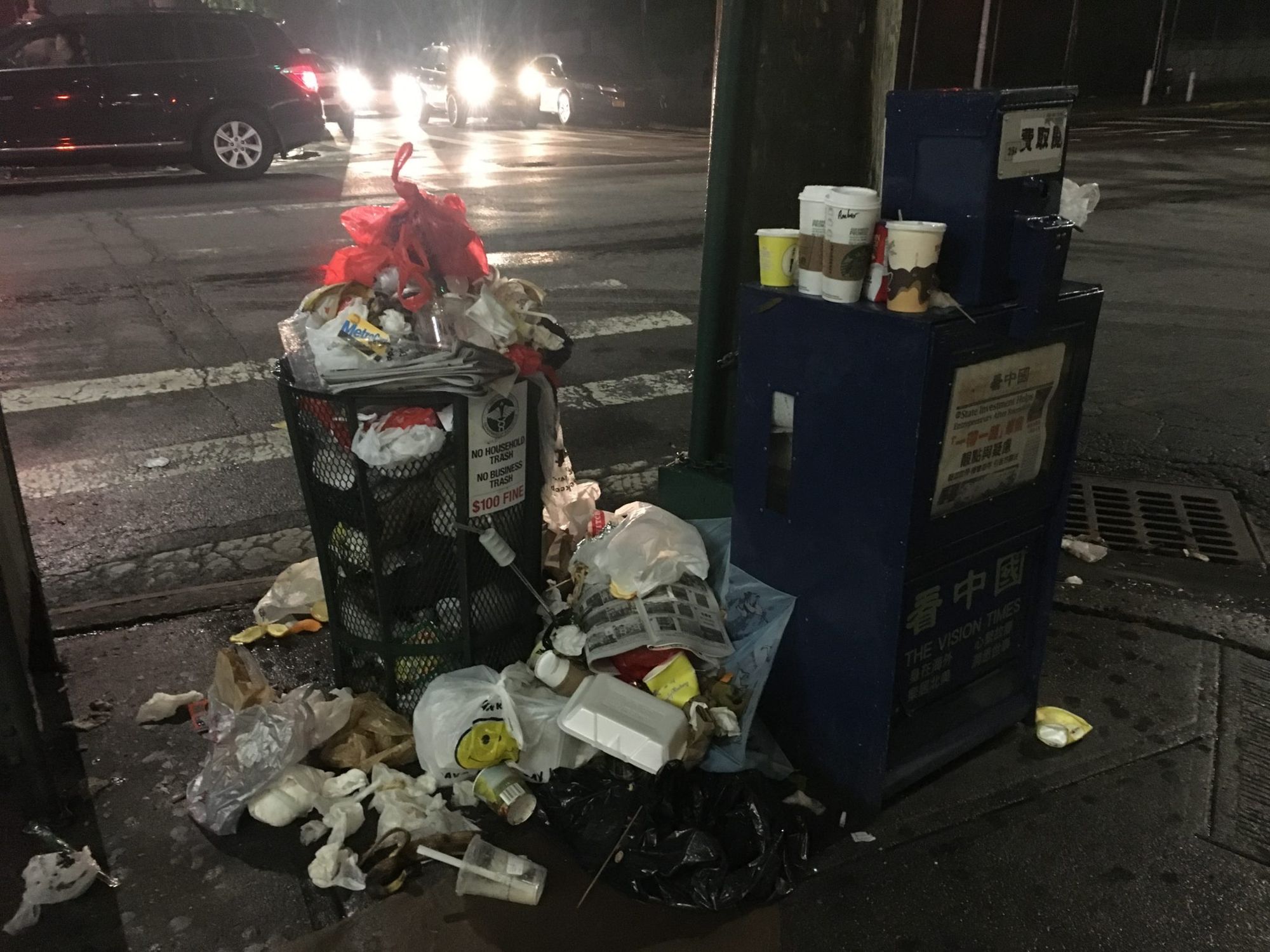 But the issue still has not been resolved, which is why the community decided to take matters into its own hands. The Department of Sanitation supplied the volunteers with tools, gloves, and trash bags. The students also received free refreshments and community service hours.
This clean-up event was the first of the year, and future dates are tentative. For anyone interested, they can email Kenny Zheng, the president of the Young Democrats of South Brooklyn, at kenny1zheng@gmail.com.