Social Service Centers Coming to New Bushwick Location Across the Luxury Rheingold Development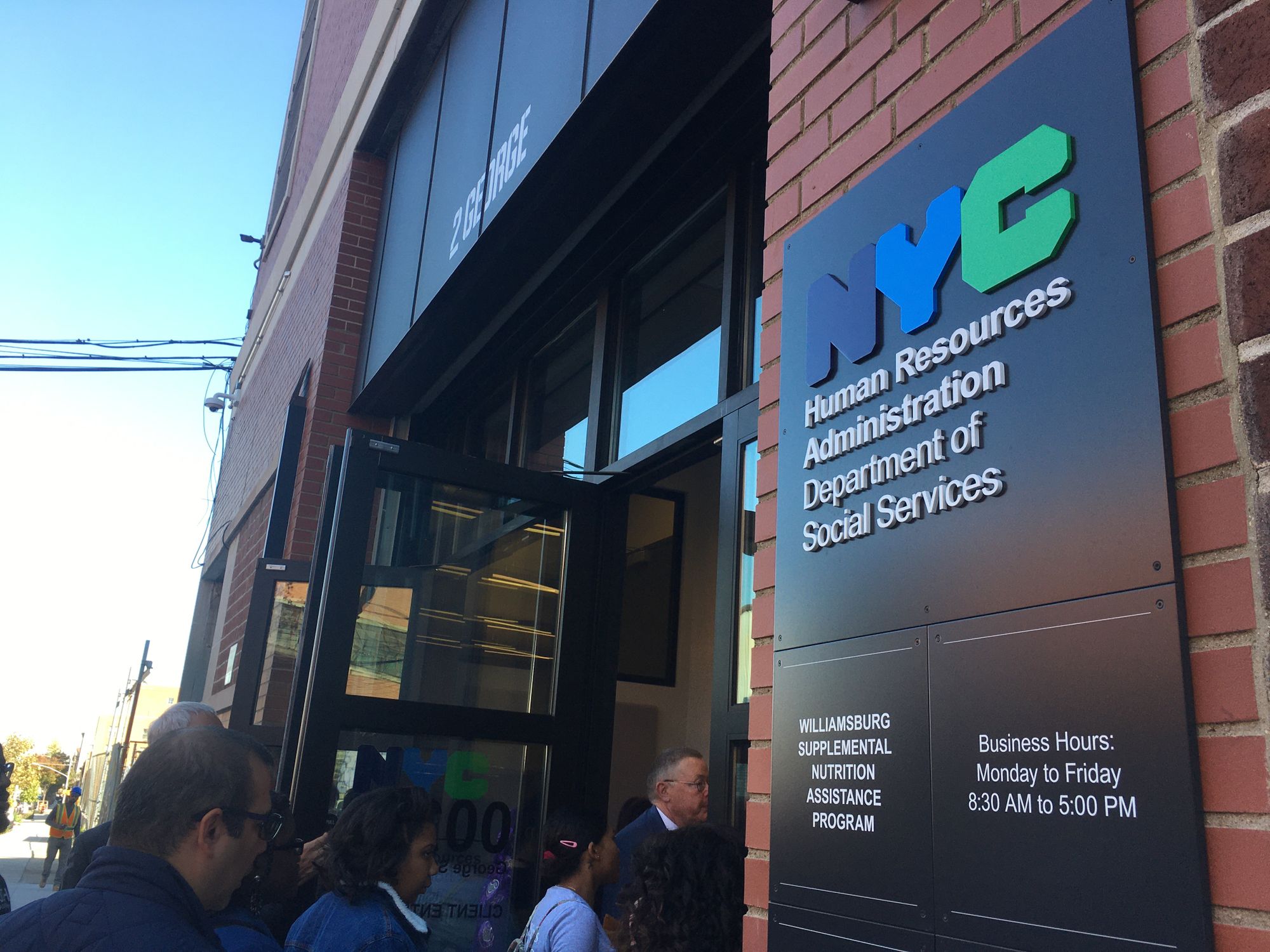 BUSHWICK — A former industrial space in Bushwick has been revamped into a modern development, now housing a new multi-service Human Resources Administration (HRA) Center at 95 Evergreen Avenue (with an entrance at 2 George Street for clients),  off the JMZ stop on Myrtle-Broadway.
The building was sold to Alpine Evergreen LLC for $38.7 million in March 2018, and HRA will pay a starting annual rent of $6.8 million, which will progress in five years to $7.4 million. Across the street is the newly renovated luxury Rheingold Brewery Development, with an estimated market value of almost $57 million. Apartments in the complex start at $2,400 for a studio.
The plan for the Bushwick HRA has been in the works for four years and the center will open to the public on November 15, 2019. The new center will consolidate the services provided by the Williamsburg SNAP Center and Bushwick Job Center, both currently located at 30 Thornton Street, and the Brownsville Center.
"Thorton Street, Dekalb, Fulton in Downtown Brooklyn are all going to shut down," Councilmember Antonio Reynoso told Bklyner. "Everyone's moving in here." HRA clarified that the Dekalb facility will remain open, and Thornton center will be repurposed, but not yet announced to the public for what.
Reynoso noted the Thorton Street center had some issues, "it's an old building, that just doesn't accommodate people in the right way, there's no dignity walking into those buildings."
The North Brooklyn SNAP Center closed permanently in September 2018, and the Dekalb Job Center moved to 275 Bergen Street in October of the same year. The building housing the two centers at 500 Dekalb Avenue was sold for $23 million before the year was out. The building is currently marketed as office and retail space in a friendly neighborhood.
The new Bushwick center will serve the residents of Central and North Brooklyn and will offer SNAP services, cash assistance, a job center, and a large staff training facility.
"This is a welcoming building, it's a modern building, it's part of what we are transforming our agency to be," said Department of Social Services Commissioner Steven Banks in his opening statement. "An agency, in which people can interact with us, just like we interact with other entities in the outside world in our own lives."
The new facility offers self-service stations, as well as a traditional window service, and there will be interpreters available in a variety of languages, accessible via a phone line and diverse staff. They expect to serve approximately 700-800 clients per day.
The state-of-the-art facility blends in with the new developments surrounding the area.  The HRA center will benefit the economic development of the area by bringing 600 employees who will seek services from local businesses.
HRA Administrator Grace Bonilla told Bklyner they brought the center to where they saw the need for assistance. "When we make these kinds of decisions, [we] see the Zip Codes where people are coming from, and that really showed we needed a presence in this neighborhood."
Bushwick has a poverty rate of 27.1%, which is higher than the citywide rate of 18% and Brooklyn's overall 19.8%, as well as an unemployment rate of 7.2%, also higher than the city's 4.9% and Brooklyn's 5.1% rates. An increase in Bushwick's real estate prices also puts many into a financial burden; in 2017, 31.2% of renter households in Bushwick were severely rent burdened, spending more than 50% of household income on rent.
When asked if there's any correlation between the 12th proposed homeless shelter in Bushwick, and the increased need, she continued to explain that 350,000 people citywide receive cash assistance, and a fraction of those people are homeless, but the facilities are driven by where they see pockets of poverty.
The new center will service these Brooklyn Zip Codes: 11206, 11207, 11208, 11210, 11211, 11213, 11215, 11217, 11222, 11225, 11237, 11249.