So Many Dreamy Bronies, So Little Time: Ponycon 2016 At The Grand Prospect Hall [VIDEO]
When entrepreneur and developer John Kolle built his "temple of music and amusement" in 1892, little did he know who would be roaming his Grand Prospect Hall (263 Prospect Avenue near 5th Avenue) roughly 125 year later.
Then again, he may not have expected Al Capone to be holding court at the venue's speakeasy during Prohibition either.
The fourth annual Ponycon was held Saturday, February 13-Monday, February 15 – a weekend marked with brutally cold weather and capped off with a snowy Monday. That didn't stop almost 2,100 fans from digging in their hooves (sorry, we gave ourselves one, just one) and engaging in a communal exchange unlike many that we traditionally see around these parts.
As the Bronies, Pegasisters, kiddies, and others enthusiasts ascended the opulent staircase to set up an ode to My Little Pony (MLP) fandom this past weekend, the flourish of equestrian delights didn't seem so out of place at all.
And as that GPH commercial does to so many locals, the place made MLP fandom's dreams come true.
Call the building's design what you want — a little Victoriana here, a little Louis XIV Versailles there, with flashes of rococo thrown in — the Grand Prospect Hall wore the saturated colors of Ponycon 2016 rather well.
When we met up with the organizers a few weeks ago, Co-Executive Director Keith Butler told us that the goal of the event was simple: "We're here to spread the pony joy."
And joy was evident just about everywhere. At times it felt like a summer-camp reunion as warm salutations, hugs — and of course the bro-hoof exchanges (watch our video) — created an environment of collegiality and warmth.
For those not indoctrinated, the presence of many grown men dressed as My Little Pony characters may be cause for a double-take. But ask these Bronies what connects them to the MLP community, and you'll get thoughtful answers.
The fandom is also a diversely talented group: musicians, animators, graphic artists, game developers … and the list goes on.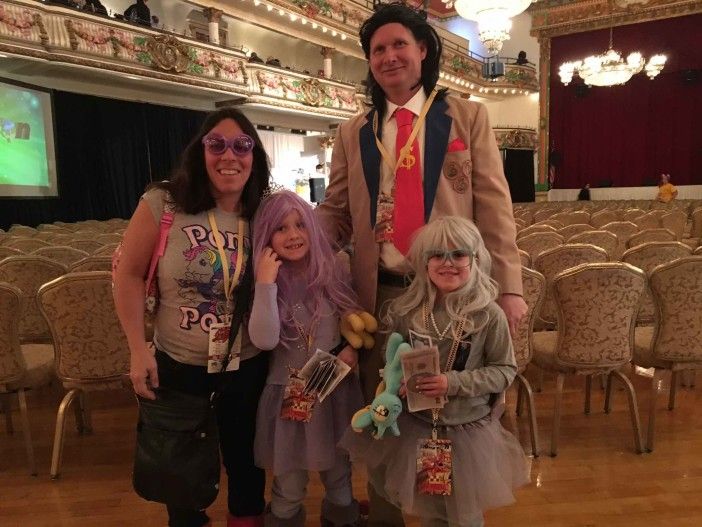 And of course there are the families, too. They came in droves — some packed a room set up for a communal gaming experience to play Legends of Equestria.
And the MLP "stars" came out as well. The sheer amount of workshops, programs, and entertainment that took place over the three-day event was impressive. My Little Pony: Friendship Is Magic creator Lauren Faust was in high demand, as was the original MLP creator, Bonnie Zacherle.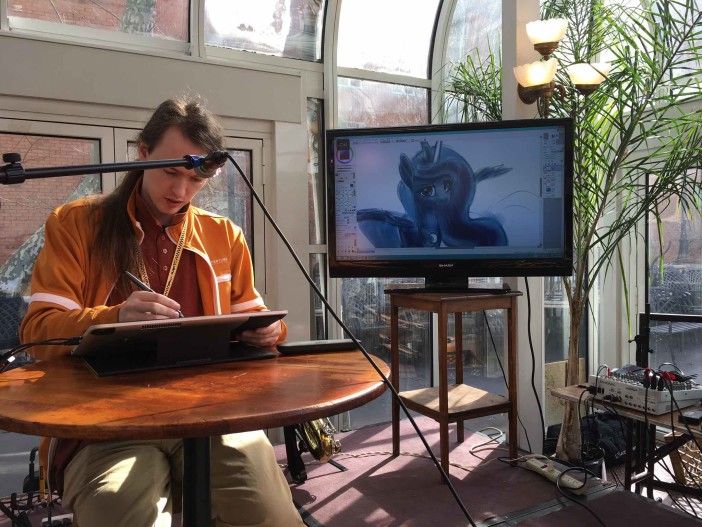 One of the main draws for Ponycon is the immense amount of creative merchandise. While vintage MLP dolls and Ponycon t-shirts were for sale, it was the fan-based art and creations that took up a lot of the vendor halls. Items available included stuffed animals, comics, jewelry, crafting, and illustrations. And woah, did some of those items cost a bundle.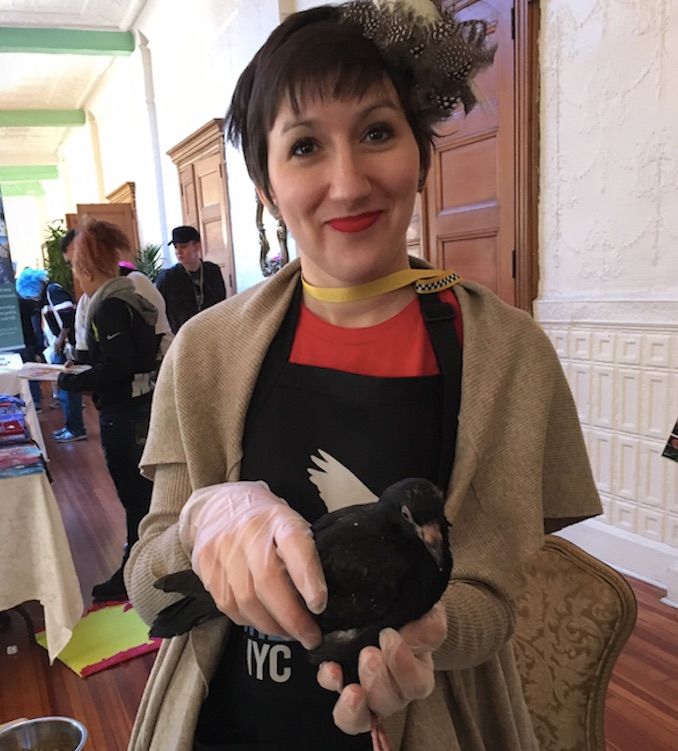 In addition, Ponycon set aside vendor space for organizations involved in various causes. The Wild Bird Fund was present, an organization that "provides the necessary medical and rehabilitation services for injured, sick, and orphaned wildlife that call New York City home, or a mere stop over on their journey," according to their website. Volunteer Julia Lapinska told us they've recently rehabilitated a swan that had been injured in Prospect Park.
The Brony Thank You Fund is an organization that fundraises and donates to a variety of charitable organizations. James Turner of BTYF told us they recently donated $33,000 for cancer research to the Jimmy Fund. You can purchase their 2017 Brony Thank You Fund Calendar with proceeds going to charity.
Throughout the day, the Ponycon faithful began to spread throughout the neighborhood for a brief respite. Lenny's Pizzeria (594 5th Avenue) was packed with Bronies having a few slices.
The clientele looked a bit different than your usual Lenny's folk. Applejack asked for the red pepper flakes. Rainbow Dash wanted some oregano. Fluttershy folded her slice and ate quietly.
You know…business as usual.
The video was filmed and edited by Jeff Bush.