Slope Weekend Events Spotlight: October 21-23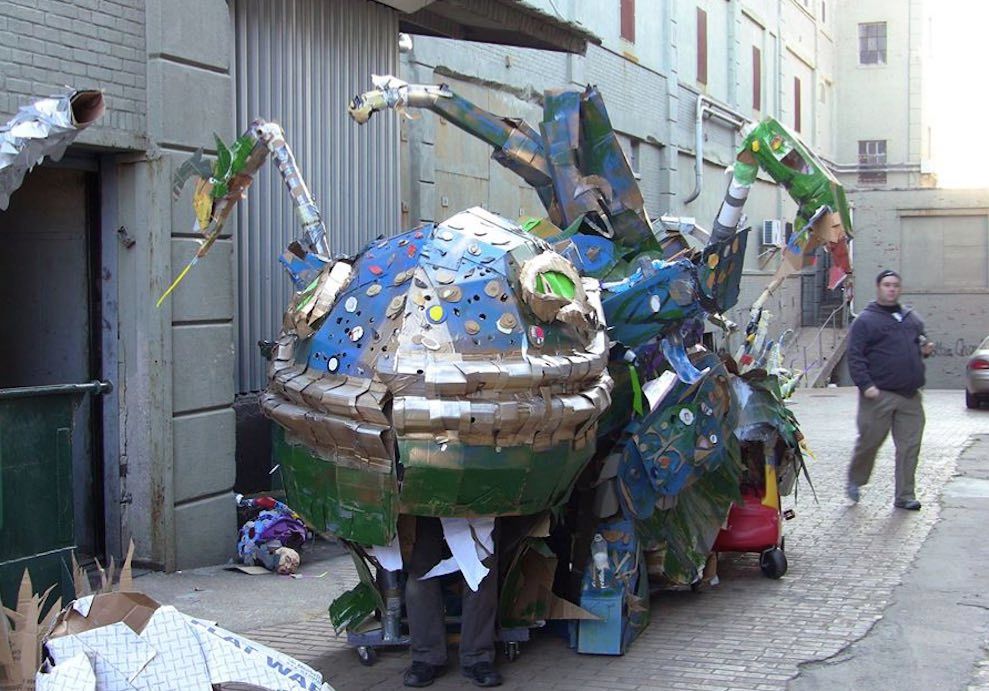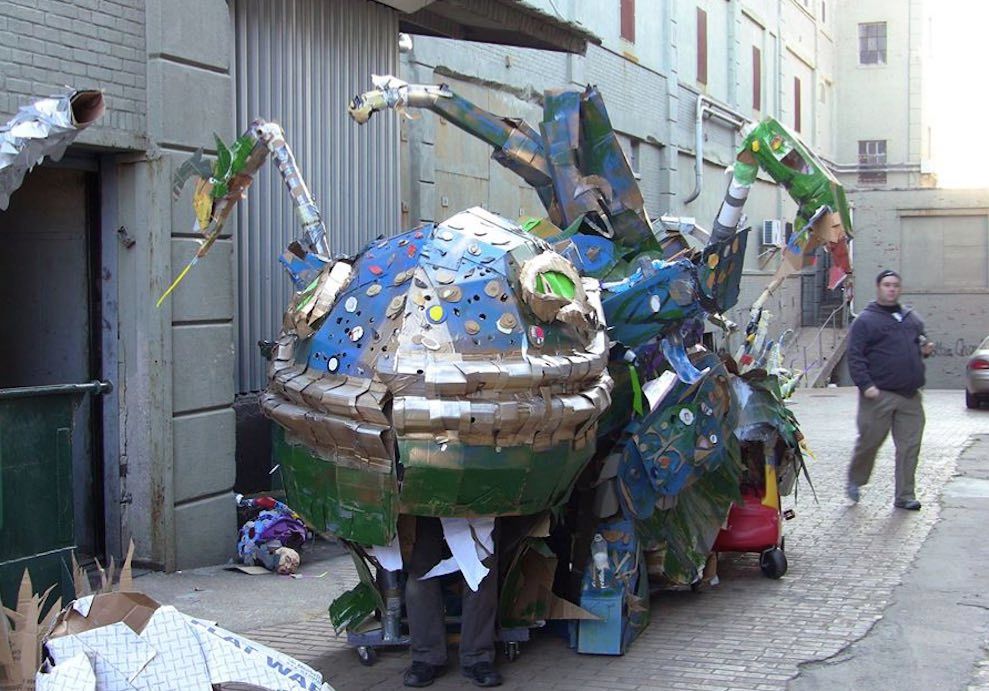 ROCKTOBER is rolling! Weekend events include digitized figures, titanno beasts, classical music, and more!
Midnight at the Masquerade (Sponsored)
When: Satruday, October 22, 6pm-11pm
Where: Aviator Sports and Events Center, 3159 Flatbush Avenue
What: Just in time for Halloween, Aviator Sports and Events Center is set to host a second murder mystery dinner. Following the fantastic success of the first dinner in May, Midnight at the Masquerade is a fresh story with just an amazing surprise twist at in the end!
How much: $60-70, tickets available online.
Digitized Figures
When: Friday, October 21 – Sunday, October 23; times vary.
Where: Gowanus Loft, 61 9th Street #C8 (between 2nd Avenue and the Gowanus Canal.
What: Digitized Figures is an immersive installation that incorporates video, text, and live dance to conjure a richly textured and fluctuating landscape at the intersections of nature and technology. The installation elements surround and interact with the viewer, inviting them to play in and co-create the performance environment. Digitized Figures is totally immersive experience that you roam through, interacting with the text, the projections, and the dancers. Sunday shows are kid friendly and interactive!
How much: Purchase tickets online here. Advance tickets are $15 for kids/students/seniors and $20 for general admission (plus fees). Tickets at the door are $20 for kids/students/seniors and $25 for general admission (cash or credit)
Wasapalooza
When: Saturday, October 22, Doors at 8:30pm; Show at 9:00pm
Where: The Bell House, 149 7th Street (at 2nd Avenue)
What: Travel back to 1990 with The World's Greatest Burlesque Show! On Saturday October 22nd, the women of Wasabassco shred the Bell House stage with a one-night tassel-twirling celebration of angst, alienation and apathy. Just in time for the 25th anniversary of the original alternative music festival, these bump-and-grind Gen-XXX superstars will pay tribute to the music, fashion, and disenchantment of the grunge movement.
How much: $20-35, purchase advance tickets online.
Literati: A Comedy about the Greatest American Novels Never Written
When: Saturday, October 22, Doors at 7:00pm, Show at 7:30pm
Where: Union Hall, 702 Union Street (near 5th Avenue)
What: Literati is a night of comedians in character performing hilarious readings. Sophisticated, satirical, and sometimes wigs. Do you ever leave a comedy show saying "Hmm that was pretty funny but not enough reading.." Well then this is the show for you!
How much: $6, purchase advance tickets online. $8 at the door.
Sasha Chavchavadze and Eva Mela: Excavations
When: Exhibit through October 31. Thursday and Fridays, 3pm-7pm, Saturdays and Sundays, 11am-7pm
Where: Gowanus Souvenir Shop, 567 Union Street between Nevins Street and 3rd Avenue (note new location)
What: Eva Melas and Sasha Chavchavadze sift through layers of sediment and time as they explore the disappearance of culture through images of artifacts and the natural world. Melas' mixed media installations and ceramics focus on water as a fragile natural element, suggesting environmental degradation and the natural underground streams that still flow below the Gowanus.  Chavchavadze's mixed media paintings and drawings document found objects and artifacts, touching on forgotten history and urban decay in an area that is experiencing the trauma of rapid change.
How much: Free, art available for purchase.
Concerts on the Slope Presents: Wandering Through The Music
When: Sunday, October 23, 3pm
Where: St. John's Episcopal Church, 139 St. John's Place at 7th Avenue
What: Performers: Eric Umble, clarinet; Benjamin Larsen, cello; Jeong Hwa Park, piano.
How much: Free
Night of Jazz and Hip-Hop Chamber Music for Strings
When: Sunday, October 23, 7pm
Where: ShapeShifter Lab, 18 Whitwell Place (between 1st and Carroll Streets)
What: Benjamin Sutin's Big String Band and J.Etzine
How much: $10, purchase tickets at the door.
Korra Jeans Pop Up Event
When: Sunday, October 23, 12-6pm
Where: Yami-Ichi Noodle Izakaya, 206 Garfield Place (near 7th Avenue)
What: Meet – Mia Morikawa Co-founder of Korra Jean and get deep into denim and discover custom made – single tailor sewn denim jeans!
i Collective: Once Upon Unfolding Times [closing weekend]
When: October 1-22, Thursdays-Saturdays, 2:00pm-6:00pm. Open reception is October 1, 7-9pm.
Where: Open Source Gallery, (306 17th Street at 6th Avenue)
What: The steady writing on the sand produced by time is the starting point for a hypnotic tour through a fictional city, in which the individual and the collective merge in order to imagine the possible, enjoy the unpredictable, and write history. With the help of a hypnotist, on weekends throughout Once Upon Unfolding Times i Collective will invite visitors to submerge into parallel universes and take pleasure in envision a city that is constantly being re-shaped by the forces of each community member. Casualties, causalities, futures and pasts compound a history that is not based on the fear of the Other but on the joy of sharing with the others. Hypnotic Tours: October 22 (6pm). Please arrive on time. Visitors will not be able to join after the tour has begun.
How Much: Free
Victoria Behm, 1000 Drawings of NYC
When: Opens Saturday, October 22 with a reception from 12pm-4pm. On view through November 27. Thursdays and Fridays, 4:00-7:00pm; Saturdays and Sundays, 11:00am-7:00pm.
Where: 440 Gallery, 440 6th Avenue, between 9th and 10th Streets
What: 440 Gallery is pleased to present 1,000 Drawings of NYC – a solo exhibition by Victoria Behm. Consisting of 1,000 5" x 5" black-ink drawings and collages on hand-made paper, Behm's presentation captures fragments of daily life, past and present, in unexpected, idiosyncratic ways. Beam's wanderings in the five boroughs of her city are the inspiration for this new body of work.
How much: Free.
Taxidermy: Art, Science & Immortality featuring Walter Potter's Kittens' Wedding
When:  Through Sunday, November 6, 12pm-6pm everyday. Closed Tuesdays,
Where: Morbid Anatomy Museum, 424 3rd Avenue at 7th Street
What: This exhibition seeks to illuminate the strange and profound human connection to preserved animals through the exhibition of seldom-seen taxidermied treasures from private collections. The centerpiece of the exhibition will be The Kittens' Wedding, the final and perhaps most unforgettable of all of the works of Walter Potter, completed in the 1890s. Equal parts perverse and adorable, and utterly spellbinding, The Kittens' Wedding transcends kitsch through its tenderness and sensitive attention to detail. The Kittens' Wedding was created by Walter Potter, a self-trained British Victorian country taxidermist best remembered for a series of anthropomorphic tableaux in which he posed stuffed animals such as kittens, rabbits and squirrels as if engaging in human activities. These works were exhibited for nearly 150 years until the museum he founded was divided at auction in 2003. The pieces then moved the homes of private collectors around the world, most of them never shown since.
How much: Admission to the exhibition & library is $12. Seniors and students are $8, and children 12 and under are free.
PS 321 Flea Market
When: Saturdays and Sundays, 9am-5pm
Where: 180 7th Avenue between 1st and 2nd Streets – in front of PS 321
What: This market is considered a Park Slope institution by many, and plans to be open year round. The flea is under new management this year.
Smorgasburg at Prospect Park
When: Sundays, 11am-6pm, through October 23 [closing weekend]
Where: Prospect Park, Breeze Hill (Located near Lakeside and the Lincoln Road entrance)
What: Smorgasburg begins its warm weather months in our beautiful backyard. Find 100 vendors and food from all over the world every Sunday at Breeze Hill, located near Lakeside and the park's Lincoln Road entrance.  Find the market on Google Maps here. Presented in partnership with Prospect Park Alliance. Dog friendly.
The Old Stone House: Witness to War – An Exhibit Exploring the Battle of Brooklyn and the Occupation, 1776-1783
When: Permanent Exhibition
Where: Old Stone House & Washington Park, 336 3rd Street (between 4th and 5th Avenues)
What: View the new permanent exhibit at the Old Stone House exploring the Battle of Brooklyn,
as well as family life in Brooklyn during the Revolution and Occupation. View our exhibition review.
Cost: Free
More information: 718-455-5300