Slope Weekend Events Spotlight: March 18-20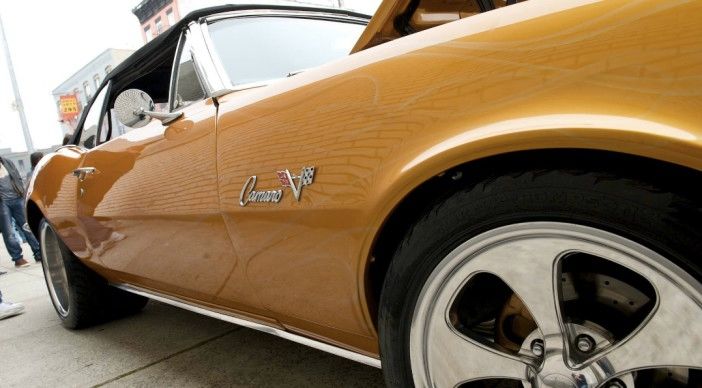 Welcome to the weekend, which features many events: The St. Patrick's Day Parade, a naked detective, a garage tour for a good cause, and a lot more! Don't miss some of our favorite events from around the area:
One Flew Over The Cuckoo's Nest
When: Through March 27. (Check ticket calendar for specific dates and times.)
Where: The Gallery Players, 199 14th Street, between 4th and 5th Avenues)
What: One Flew Over the Cuckoo's Nest is based on the novel by Ken Kesey, and adapted for the stage by Dale Wasserman.  Cuckoo's Nest continues Gallery's 49th Season. Directed by Mark Harborth.
How much: $18, $15 for children and seniors.
Banana Pancakes
When: Friday, March 19 at 9:30am
Where: Please, 557 5th Avenue (at 15th Street)
What: Because the last Friday of this month falls on Good Friday and it's a NYC school holiday, Please knows everyone will be on mom duty. So join Please for a morning of talking through taboos, swapping stories, and sharing advice—as long as we're not discussing our children' sleep habits!
How much: Free!
Videokaffe presents Para-sites & Proto-types, A Participatory Installation
When: Thursdays-Saturdays, 2pm-6pm. Through March 26.
Where: Open Source Gallery, (306 17th Street at 6th Avenue)
What: Videokaffe is an art collective known for occupying spaces for intensive work periods and throughout March will harness their members' skills and the surrounding's materials to create artworks acutely engaged with their place at Open Source. Para-sites & Proto-types will transform the gallery into a 'science-garage-arcade' using the space as a combination exhibition venue, cafeteria, and workshop open to the public. Videokaffe will work on-site at the gallery, scouring and collecting from the local environment to create work by integrating found and recycled materials with ready-made components. They will exhibit their methods of working, encouraging conversation with the public–and inviting interested viewers to participate in various aspects of the project. Para-sites & Proto-types aims to build artwork uniquely formed from and with their environment by recycling objects and testing environmental possibilities. Instead of installing finished work within the gallery, Para-sites & Proto-types will integrate art into the urban architecture surrounding Open Source, celebrating how art nurtures the environment and how the environment nurtures art.
How much: Free.
New Members' Show at 440 Gallery
When: Thursdays and Fridays, 4:00-7:00pm; Saturdays and Sundays, 11:00am-7:00pm. Exhibit closing this weekend on March 20.
Where: 440 Gallery, 440 6th Avenue, between 9th and 10th Streets
What: 440 Gallery presents the work of six new members of the Gallery. The exhibit is curated by veteran 440 Gallery artist Karen Gibbons. Works by new members Jo-Ann Acey, Eric Banks, Richard Barnet, Leigh Blanchard, Joy Makon, and Amy Weil. Read about our coverage of the exhibit.
How much: Free.
House of Wax: Anatomical, Pathological, and Ethnographic Waxworks from Castan's Panopticum, Berlin, 1869-1922
When:  Through May 30. Thursdays-Sundays 12-6pm (open everyday except Tuesdays)
Where: Morbid Anatomy Museum, 424 3rd Avenue at 7th Street
What: House of Wax will exhibit a selection of waxworks once shown as part of Castan's Berlin-based Panopticum (1869-1922). The full collection, never before exhibited in the US, will later be installed at the forthcoming Alamo Drafthouse in Downtown Brooklyn.
How much: Regular admission fees: Admission to the exhibition & library is $5. Seniors and students are $3, and children 12 and under are free.
Awesome Aughts: Music of the Early 2000s
When: Friday, March 18, 10pm
Where: Union Hall, 702 Union Street and 5th Avenue
What: It's been more than 15 years since our radios were taken over by great songs like "Independent Women," "Bye Bye Bye," "Oops I Did It Again," "Everything You Want," "Big Pimpin," "Shake Ya Ass" and "It Wasn't Me." We're bringing those tracks and more back with Awesome Aughts! Join DJ Steve Reynolds (The Bell House's Party Like It's 1999) for a night of the best pop, rock, R&B, hip-hop and dance music from the early 2000s! So stop watching reruns of Who Wants to Be a Millionaire, put down that copy of US Weekly with Bennifer on the cover, avoid the axis of evil and party the night away at Union Hall!
How Much: Free!
The Wasabassco Mystery Hour presents: The Naked Detective in "The Case of The Speakeasy Stiff"
When: Saturday, March 19, Cocktail hour begins at 8:00pm / Show at 9:00pm
Where: Littlefield, 622 Degraw Street (between 3rd and 4th Avenues)
What: Good evening, ladies and gentlemen. We once again invite you to pull up a chair, take off your pants, and make yourselves comfortable, as the Wasabassco Mystery Hour presents another thrilling case straight from the files of The Naked Detective. The Jazz Age tingles with suspense as our Naked Detective grapples with the case of "The Speakeasy Stiff," a brand-new live radio striptease spectacular onstage at Littlefield for one night only.
How much: $15 in advance. Purchase tickets here.
Gowanus Waters: An Exhibition by Steven Hirsch
When: Saturday, March 19, 3pm-6pm. Regular hours Thursdays and Fridays, 3pm-7pm, Saturdays and Sundays, 11am-7pm. Through April 3.
Where: Gowanus Souvenir Shop, 543 Union Street (the entrance is on Nevins Street, and down the alley, and on the left)
What: Gowanus Waters is the result of Hirsch's multi-year effort to capture the Gowanus Canal's toxic water surfaces and render them as abstract compositions. His painterly images swirl in a frenzy of elusive shapes and bright explosive colors. The result is a meditation on the sublime beauty and remarkable abstractions on the surface of the canal that remains fully aware of the noxious origin.
How much: Free
Tour of Lenny's Garage: A Fundraiser for the Brooklyn Free School
When: Sunday, March 20, 10am-2pm.
Where: Lenny's Garage, 304 Douglass Street (between 3rd and 4th Avenues)
What: Lenny Shiller, President of the Antique Automobile Association of Brooklyn, is opening the doors to his 12,300 sq. foot garage in the heart of Gowanus Brooklyn. All proceeds from the tour will benefit Brooklyn Free School, an independent K-12 school in Clinton Hill. Inside the garage is a treasure trove of automobile history and home to over 45 cars and trucks from 1924-1968. What sets Lenny's collection apart from the typical car collection that showcases classic cars is that as a collector, Lenny has an eye for the off beat, rare and unique vehicles that you may not see elsewhere. Lenny works on the cars himself and has a story for each one and will be providing a talk about the collection at 12pm. Watch a short film about Lenny's Garage by Peter Crosby.
How much: $10 for adults and $5 for children 12 and older. Children under 12 are free and will be given a free Hotwheel courtesy of Brooklyn Free School. Refreshments will also be available.
Smorgasburg and The Brooklyn Flea at Industry City
When: Saturday, March 19 and Sunday, March 20, 10am-6pm
Where: Industry City, 241 37th Street (between 2nd and 3rd Avenues)
What: Last Fall, Smorgasburg moved down to the booming Industry City, which may be new territory for you. While the move was announced some time ago, Industry City is housing both Smorgasburg and The Brooklyn Flea every Saturday and Sunday until March 27, 2016. Keep in mind that Industry City is big — the entrance address is 241 37th Street. This is just two blocks from the 36th Street D/N/R subway station—only two stops from Manhattan on the D train!—and a short walk from the B35, B38 and B70 bus stops. The 39th Street exit off the Gowanus Expressway/BQE also takes you pretty much to their doorstep (and to the second-busiest Costco in America next door).  Smorgasburg will be heading back up to Prospect Park on April 3.
41st Annual Brooklyn St. Patrick's Day Parade
When: Sunday, March 20, 12pm
Where: 12:00pm: Bands and marching units will assemble on Prospect Park West between 9th Street and 15th Street. 12:45pm: "Re-Dedication Ceremony" to the Heroes & Victims of 9/11 – WTC At Prospect Park West and 15th Street, before Parade "step-off."
Parade Route: From 15th Street and Prospect Park West > Down 15th Street to 7th Avenue > Along 7th Avenue > To Garfield Place > Up Garfield Place To Prospect Park West > And Along Prospect Park West To 15th Street.