Slope Weekend Events Spotlight: August 26-28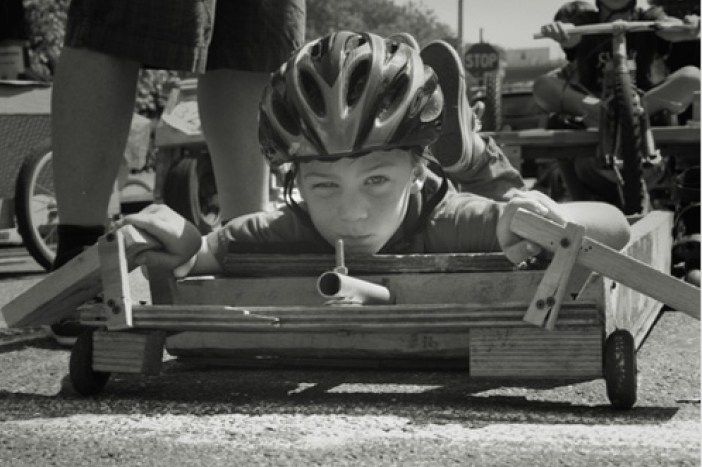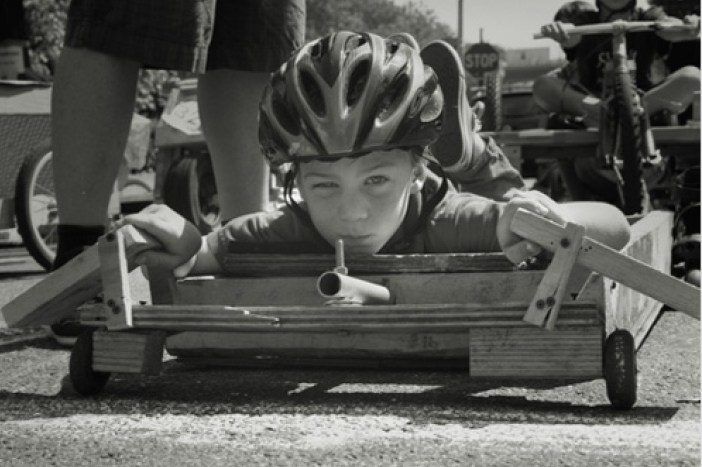 Weekend events to cool you down include Battle of BK events, soapbox racing, a Eutopia tour, and more.
Commemorate the Battle of Brooklyn with events throughout the borough!
The Old Stone House: Witness to War – An Exhibit Exploring the Battle of Brooklyn and the Occupation, 1776-1783
When: Friday, August 26, 6pm
Where: Old Stone House & Washington Park, 336 3rd Street (between 4th and 5th Avenues)
What: View the new permanent exhibit at the Old Stone House exploring the Battle of Brooklyn,
as well as family life in Brooklyn during the Revolution and Occupation. Join us for colonial cocktails and snacks from our wood-fired oven. View our exhibition review.
Cost: Free
More information: 718-455-5300
New York Free Quartet
When: Friday, August 26, 8:15pm
Where: ShapeShifter Lab, 18 Whitwell Place (between 1st and Carroll Streets)
What: Michael Moss (clarinets, flutes, saxes), Steve Cohn (piano, shakuhachi, small instruments & trombone), Larry Roland (bass and words), and Chuck Fertal (drums)
How much: $12, at the door
Taxidermy: Art, Science & Immortality
When:  Through Sunday, August 28, 12pm-6pm everyday. [Closing weekend]
Where: Morbid Anatomy Museum, 424 3rd Avenue at 7th Street
What: Taxidermy: Art, Science & Immortality seeks to illuminate the strange and profound human connection to preserved animals through the exhibition of seldom-seen taxidermied treasures from private collections.
How much: Admission to the exhibition & library is $8. Seniors and students are $6, and children 12 and under are free.
Old Stone House: Appropriating Revolution
When: Fridays 3pm-7pm; or by appointment. Through October 8.
Where: Old Stone House & Washington Park, 336 3rd Street (between 4th and 5th Avenues)
What: A contemporary art exhibition at the Old Stone House & Washington Park, curated by Katherine Gressel.
Cost: Free
9th Annual South Slope Derby
When: Saturday, August 27, 12pm
Starting Area: In front of Open Source Gallery (306 17th Street at 6th Avenue)
How much: Cheering on the racers is free! View our preview article here.
Encampment: Fireside Tales and Tunes
When: Saturday, August 27, 7:30pm-10pm
Where: Green-Wood Cemetery, Details about event are here.
What: By firelight, Susan Kent of TELL IT: BROOKLYN will host an outdoor storytelling program that takes on the battles of body, spirit and mind. Seasoned storytellers will take the stage, but attendees so inclinded to tell their own battle story can throw their hat in the ring too. The songwriting duo, Charming Disaster, will provide musical interludes. Sponsored by Lagunitas Brewing Company. Colonial cooking demonstration by Carolina Capehart.
Cost: $15
Boa Mistura: Spread Love, It's The Brooklyn Way
When: Through August 27 [closing weekend]
Where: Open Source Gallery, (306 17th Street at 6th Avenue)
What: Spread Love, It's The Brooklyn Way depicts lyrics and quotes by Christopher Wallace, aka The Notorious B.I.G., an artist born and raised in Brooklyn. Hip hop in engrained in the history of Brooklyn and this project aims to serve as a connection to the history of the borough and prompt a conversation about the role of residents and neighbors in preserving it and moving their communities forward. Through cooperation with residents of Brooklyn, Boa Mistura generated conversation about what the borough means to its residents and its visitors, providing a catalyst for the neighborhood to explore their identity and celebrate the aesthetic value of neglected aspects of the neighborhood. At the gallery, Boa Mistura exhibits silkscreen prints alongside video of the mural project. The video, created by Mark and Jack Chandler, documents the process of making the mural, including interviews with the artists. Within this exhibit, the community is invited to continue the conversation that Boa Mistura began with their murals. View our article about the South Slope neighborhood murals.
How Much: Free. (This exhibit will be open by appointment. To view, please contact contact@opensourcegallery.org)
Battle of Brooklyn Commemoration at The Green-Wood Cemetery
When: Sunday, August 28, 10am-3pm
Where: Green-Wood Cemetery
What: A variety of free events. See details about the full schedule.
εὖτόπος, (Eutopia), a site-responsive installation by the Vanderbilt Republic
When: Through Sunday, September 11. Wednesdays-Sundays, 10am-5pm.
Where: Snug Harbor Cultural Center and Botanical Garden, 1000 Richmond Terrace, Staten Island.
What: This large-scale, site-responsive exhibition connects artwork and installations by Sabrina Barrios, Sarah E. Brook, Charles Heppner, Carlton Scott Sturgill,TAXIPLASM, TJ Volonis, and Dale Williams to the storied past and bucolic present of Staten Island's historic Snug Harbor — creating a space to present the energy and form of dreams made real. Curation, lighting & technical design by George Del Barrio. From Gowanus-based Vanderbilt Republic. Check out our review and why you should plan a day trip to see this exhibition.
How much: $5 Adults, $4 Seniors/Students and free for kids 12 and under. On Sundays, August 28 and September 11, join artists for a special free tour. Register here.
PS 321 Flea Market
When: Saturdays and Sundays, 9am-5pm
Where: 180 7th Avenue between 1st and 2nd Streets – in front of PS 321
What: This market is considered a Park Slope institution by many, and plans to be open year round. The flea is under new management this year.
Smorgasburg at Prospect Park
When: Sundays, 11am-6pm
Where: Prospect Park, Breeze Hill (Located near Lakeside and the Lincoln Road entrance)
What: Smorgasburg begins its warm weather months in our beautiful backyard. Find 100 vendors and food from all over the world every Sunday at Breeze Hill, located near Lakeside and the park's Lincoln Road entrance.  Find the market on Google Maps here. Presented in partnership with Prospect Park Alliance. Dog friendly.
Murder at the Food Coop, part of the New York International Fringe Festival
When: Sunday, August 28 at 2:45pm [final performance]
Where: Flamboyán Theater at the Clemente, Venue 2. 107 Suffolk Street (between Rivington and Delancey) in Manhattan.
What: The musical by Gersh Kuntzman and Marc Dinkin is a "whodunnit" set in you know where. See our review of the production here.
How much: $18, Purchase tickets online. (Note: No late seating)
Space Captain and Friends
When: Sunday, August 28, 8pm-11pm
Where: Threes Brewing, 333 Douglass Street between 3rd and 4th Avenues.
What:  Space Captain is a Brooklyn based psych-soul band signed to Brighton's Tru Thoughts and includes members Maralisa Simmons-Cook (vocalist/lyricist), Alex Pyle (bass and production), Gray Hall (guitar and production), Mike Haldeman (guitar), Joey Ziegler (drums), Joy Morales (keyboard) and Lessie Vonner (trumpet). The group has appeared with BADBADNOTGOOD, Ghostface Killah, J. Viewz, Dresses, Chris Turner, and more. Lauren Laverne of BBC Radio 6 Music calls them "really interesting…a sound of their own."
How much: $8