Slope Weekend Events Spotlight: April 15-17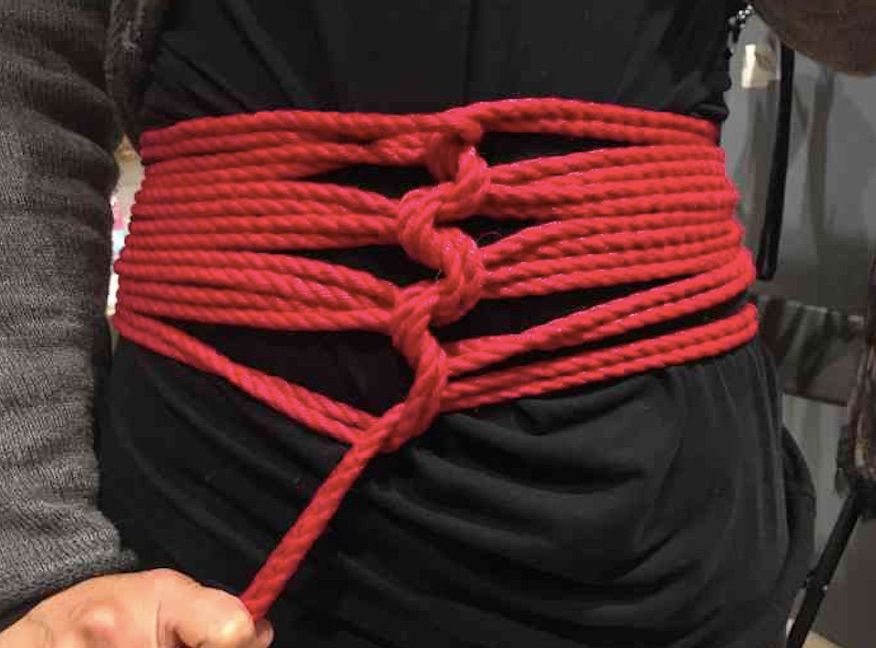 Welcome to the weekend, which features many events: Spring clean those streets, see amazing exhibits, and learn all you need to know about rope bondage, and more.
Ellen Chuse: Theme and Variations
When: Through April 24. Thursdays and Fridays, 4:00-7:00pm; Saturdays and Sundays, 11:00am-7:00pm.
Where: 440 Gallery, 440 6th Avenue, between 9th and 10th Streets
What: Ellen Chuse's fifth solo show at 440 Gallery, Theme and Variations, reflects an exploration of hyper-saturated color along with natural forms that have been part of the artist's vocabulary for decades. Moving between representation and abstraction, Chuse explores landscape and the body in deeply intimate ways all while creating an ambiguity that encourages the viewer to bring personal associations and experiences to each piece.
How much: Free.
the skint presents: Dancing On My Own 80s-00s Prom
When: Saturday, April 16, 10pm
Where: Littlefield, 622 Degraw Street (between 3rd and 4th Avenues)
What: It's prom season, but bury high school in the past where it belongs. You're older, wiser, and better now. You've learned the magical skill of not giving a f*ck what other people think. And that, friends, is the key to having a good time. Come show just how good you are at life at the skint's Dancing On My Own 80s-00s Prom Saturday, April 16th. It's prom without the pressure, and without added expenses like limos and limo cleaning expenses (because you drank waaay too much). And no need to ask your lab partner, next-door neighbor, or cousin to be your date at the last minute. Come dance on your own, with a few hundred of your new best friends, and live the prom you never had. Or bring a date if you must….We won't judge.
How much: $5-8, tickets available online.
Spring Civic Sweep
When: Saturday, April 16, 10am-2pm
Where: 2 Locations: 5th Avenue between 3rd and 4th Streets by The Old Stone House and
Brooklyn Colony, 274 4th Avenue (at Garfield Place)
What: Join the Park Slope Civic Council and take your Spring cleaning to the streets! Volunteer for the neighborhood's beautification, recycling, and clean-up event. For more details, read our article here.
Friends of The Park Slope Library Book Sale
When: Saturday, April 16, 11:00am-4:00pm
Where: Park Slope Library, 431 6th Avenue at 9th Street
What: It's that time of year again when the Friends of the Park Slope Library team up with librarians and staff to bring you our blockbusting, price-chopping, mega book sale extravaganza! We have received tons of donations this year and will be offering a wide array of adult fiction, children's books, non-fiction, and books written in every conceivable genre and on every imaginable subject all at discount prices. You don't want to miss this massive and massively important sale. All sales go straight to the Park Slope Library and are vital in allowing us to offer you, the public, top notch programs and events.
How much: Free
Rope Bondage Intensive Series With Yin Q
When: Sunday, April 17 from 10am-12pm, and Wednesday, April 20 from 7pm-9pm (Tickets are available for both dates or for the Wednesday class only).
Where: Please, 557 5th Avenue at 15th Street
What: Are you interested in playing with teasing and restraint while holding your partner captive? Or perhaps you'd like to struggle for freedom yourself? Rope bondage can add some kink to your fantasy, or can be practiced as an artform all its own. Please is excited to offer this hands-on, two-part series for novices who are interested in learning and practicing the basic ties of rope bondage. We're a big fan of this class. And we know what we speak of because we took it.
How much: $63-$155 (depending on single or couple). Purchase tickets online here. Tickets may also be purchased in-store. For any questions, please contact us at 718-788-6969 or email workshops@pleasenewyork.com.
Hai: Sole Exchange
When: Through April 29. Regular hours: Thursdays-Saturdays, 2pm-6pm.
Where: Open Source Gallery, (306 17th Street at 6th Avenue)
What: Healing Arts Initiative and Open Source Gallery present Sole Exchange, a participatory art installation curated by Francis Palazzolo. Sole Exchange explores the intersection between live performance and representational form, utilizing social practices that enhance intersubjectivity. Paintings and drawings by HAI studio members included in Sole Exchange aim to disrupt cultural polarization and destigmatize mental health issues. Participation in this exhibit not only makes the viewer an active participant, helping to increase understanding between individuals, but also increases the visibility of the HAI studio members. To negotiate unspoken and unrealized spaces between people, HAI studio members pictured kinship upon the Open Source walls, creating artwork for the exhibit that explores collaboration and community. Exhibited work validates the input of marginalized communities and encourages a position of strength and stability for the artists.
How much: Free.
House of Wax: Anatomical, Pathological, and Ethnographic Waxworks from Castan's Panopticum, Berlin, 1869-1922
When:  Through May 30. Thursdays-Sundays 12-6pm (open everyday except Tuesdays)
Where: Morbid Anatomy Museum, 424 3rd Avenue at 7th Street
What: House of Wax will exhibit a selection of waxworks once shown as part of Castan's Berlin-based Panopticum (1869-1922). The full collection, never before exhibited in the US, will later be installed at the forthcoming Alamo Drafthouse in Downtown Brooklyn.
How much: Regular admission fees: Admission to the exhibition & library is $5. Seniors and students are $3, and children 12 and under are free.
Smorgasburg at Prospect Park
When: Sunday, April 17, 10am-6pm
Where: Prospect Park, Breeze Hill (Located near Lakeside and the Lincoln Road entrance)
What: Smorgasburg begins its warm weather months in our beautiful backyard. Find 100 vendors and food from all over the world every Sunday at Breeze Hill, located near Lakeside and the park's Lincoln Road entrance.  Find the market on Google Maps here. Presented in partnership with Prospect Park Alliance. Dog friendly.