Slope Weekday Events Spotlight: July 11-14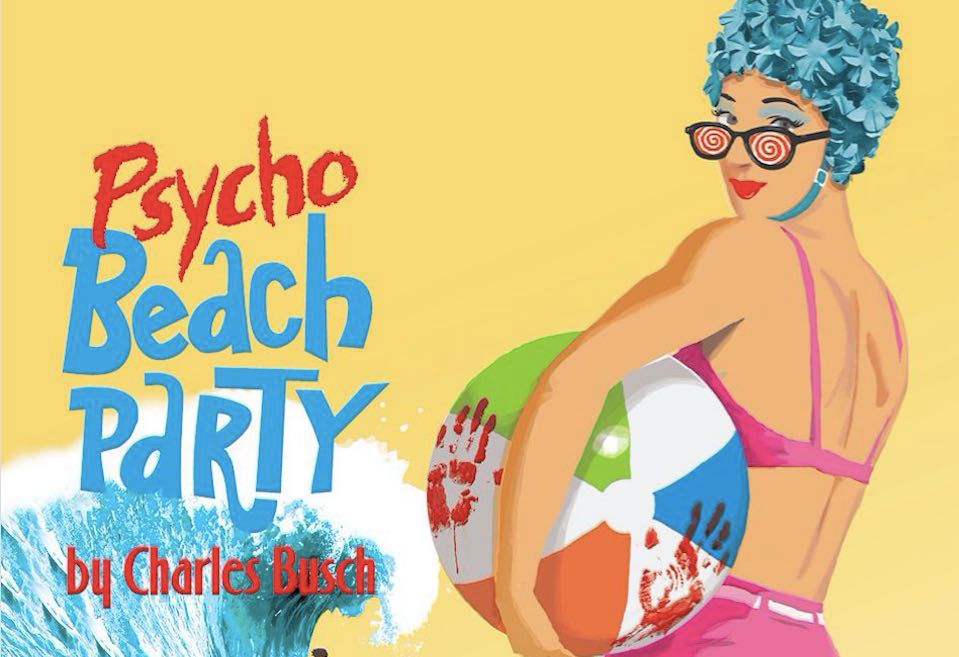 Weekday events heat up with the thermometer. Check out a Mindful Monday, theatre openings, Goth 101, and more.
Mindful Mondays (Sponsored)
When: Monday, July 11, 7pm
Where: Baba Cool, 64-B Lafayette Avenue (near S. Elliott Place)
What: Enjoy a restorative gong bath and reiki offerings with mindfulness practitioners: Nechama Karp, Cathy Towle & Justine Parker. Afterwards, there will be tea from baba cool.
How much: $20, RSVP online.
Running Late with Scott Rogowsky
When: Monday, July 11. 7:30pm — doors; 8pm — show
Where: Union Hall, 702 Union Street (near 5th Avenue)
What: A live comedy talk show featuring celebrity guests. Drawing on the late-night tradition from Carson to Cavett to Conan, host Scott Rogowsky and his sidekick/dad Marty welcome an eclectic mix of comedians, musicians, authors, actors, and local celebs to the couch for a unique live talk show experience that needs to be experienced to be experienced. With Cristin Milioti, Ilana Becker, The Best Show's "Half Hour of Power" Crew, Anna Drezen, Todd Dakotah Briscoe, Dan Van Kirk, and Scott Rogowsky
How much: $8, tickets available online. $10 at the door.
JY-17 at The Lab and Jon Irabagon/Julian Labro Duo
When: Tuesday, July 12, 8:15pm
Where: ShapeShifter Lab, 18 Whitwell Place (between 1st and Carroll Streets)
What: Led by Trombonist, composer and conductor John Yao, the 17-piece ensemble features Yao's compositions, which explore form and structure while combining serial and 12-tone techniques with swing, latin and funk grooves.  Yao seeks to stretch the limits of big band jazz all while staying connected to traditional big band style.  JY-17 @ The Lab is monthly residency featuring John Yao & His 17-piece Instrument with opening bands led by JY-17 members.
How much: $10, at the door
Not Quite Midnight: Almost 2-Year Anniversary Show
When: Wednesday, July 13, 7:30pm (door), 8:00pm (show)
Where: Littlefield, 622 Degraw Street (between 3rd and 4th Avenues)
What: Hosted by Chris Calogero & Courtney Maginnis. Chris Calogero is a comedian & Writer who used to live in New Jersey, but now lives in Brooklyn. Everyone seems pretty jazzed about this. He has been featured in the Brooklyn & Jersey City Comedy festival and is the creator of the Web Series "The Outdoor Show". He makes the best pancakes in comedy. Courtney Maginnis is a comedian & actress living in Bushwick,Brooklyn since before it was cool ok? Courtney runs a monthly stand up show called "Youth Group: A Comedy Show". She performs all over NYC including Caroline's, NY Comedy Club and The Stand. She has also been a part of the Brooklyn Comedy Festival, Channel 101 and College Humor. You might know her better as the "Rihanna" of comedy.
How much: $5-8. Tickets available online.
Bastille Day Party, hosted with New Directions, NYRB Classics, and Archipelago
When: Thursday, July 14, 7:00pm
Where: Community Bookstore, 143 7th Avenue (between Garfield Place and Carroll Street)
What: Please join New Directions, NYRB Classics, and Archipelago Books for a French Poetry Party this Bastille Day. You'll find us rejoicing in great, lusty, and revelatory French verse in the courtyard on what we hope will be a hot summer's night. Light refreshments and drinks will be served.
How much: Free
Psycho Beach Party by Charles Busch presented by Piper Theatre at The Old Stone House
When: Thursday, July 14 – Saturday, July 16 (and then July 21-23), 8pm
Where: The Old Stone House, 336 3rd Street (between 4th and 5th Avenues)
What: Psycho Beach Party is a wild mishmash of subversive summer fun with hot beach bunnies and surfer dudes ready to ride the waves!  Meet Chicklet as she tries to be one of the cool kids, while battling her dangerous multiple personalities.  Charles Busch's classic comedy parodies the 1960's beach blanket movies of Annette Funicello and Sandra Dee and spoofs the psychological, suspense films of the 1950's.  Join us for Psycho Beach Party this July as Piper brings the beach to the park this summer.  
How much: Free, however donations are encouraged.
Richard III by William Shakespeare
When: Thursday, July 14 — Sunday, July 31, schedule varies.
Where: The Gallery Players, 199 14th Street, between 4th and 5th Avenues)
What: Richard III is the final play in Shakespeare's first attempt at history plays, the four part story of the Wars of the Roses. Its title character, Richard Duke of Gloucester, emerged grinning and bragging from the chaos of those wars in the third part of Henry VI where he announced "I can smile and murder whiles I smile." Shakespeare gave Richard, Duke of Gloucester, his own play Richard III: a one-man show, presided over by one of Shakespeare's unforgettable characters, the 'poisonous bunch-backed toad", Richard. The play was Shakespeare's first blockbuster combining in Richard the ruthlessness of the Godfather with the charm of Dracula. Four centuries later the play continues to be one of Shakespeare's most popular.
How much: $18, $15 for children and seniors. Purchase tickets here.
Goth 101: A History of the Postpunk and Goth Subculture, 1978 – 1987, An Illustrated Lecture with Andi Harriman
When: Thursday, July 14, 7pm
Where: Morbid Anatomy Museum, 424 3rd Avenue at 7th Street
What: From its DIY beginnings in the late 70s to its demise at the end of the 80s, the postpunk and goth subculture flourished for over a decade with its dark and dramatic aesthetics. Goth's DNA is a diverse and complex one with roots in nostalgia and imagined realities, mainly derived from the macabre and uncanny. Influenced by an androgynous Bowie, the dramatic romance of Victorian literature and B-movie horror films (just to name a few), the progenitors of the scene generated the perfect concoction of atmospheric sounds, haunting lyrics and spooky visuals. This lecture will address pressing questions such as "what is goth?" and explore the extensive timeline of the scene's history. Join us in this illustrated survey of goth and postpunk – a lecture for diehard fans and newbies alike – spanning the bands, places and influences that contributed to the birth and longevity of the subculture.
How much: $12, purchase tickets online.
Site:Lab: Nothing Is Destroyed
When: Exhibit runs through July 30. Regular hours: Thursdays-Saturdays, 2pm-6pm.
Where: Open Source Gallery, (306 17th Street at 6th Avenue)
What: Nothing is Destroyed is part of a larger conversation that began in Grand Rapids, Michigan. This exhibit contains objects extracted from and related to previous projects surrounding the church that trace the trajectory of interventions at and with the desanctified Rumsey Street Church. Nothing is Destroyed includes architectural artifacts and work by Paul Amenta, Lora Robertson and Nick Kline. The title of the exhibition, taken from Lorenzo Fusi's essay on the work of Gordon Matta-Clark nothing is created, nothing is destroyed, everything is transformed, references Matta-Clark's idea of "anarchitecture," which described his interest in voids, gaps and leftover spaces related to architecture. Nothing is Destroyed focuses on these concepts, creating, like Matta-Clark, an expanded vision of space and its representation over time. Each recontextualization of the Rumsey Street Church adds a new history, creating new collaborations and connections which contribute to the project through both additions and subtractions.
How Much: Free
Personal Is Political Is Personal
When: Through August 6. Thursdays and Fridays, 4:00-7:00pm; Saturdays and Sundays, 11:00am-7:00pm.
Where: 440 Gallery, 440 6th Avenue, between 9th and 10th Streets
What: A national juried exhibition about the personal effects of politics, curated by celebrated artist and animal-rights activist Sue Coe. In this intensely political year we hear sound bites and promises that can seem abstract unless it affects us personally. Black Lives Matter. Gender Equality. Gun Control. It's all just words until we see a child's body washed ashore, a routine traffic stop becomes deadly, or a family home is destroyed at high tide. 440 Gallery's theme show this year is centered on the personal effects of politics. Artists selected for the exhibition: Max Alper, Hannah Barnhardt, Lynn Benson, Eva M. Capobianco, Gordon Carlisle, Patricia Denys, Elise Dodeles, Richard Ferrari, Igor Gnedo, Mary Hood, Ibn Kendall, Katrina Majkut, Spencer Moore, Harry Newman, Steve Savitz, Nancy Siesel, Nomi Silverman, Stephen Spiller, Ann Stoddard, Bethany Taylor, Doug Turetsky, Divine Williams, Dale Williams.
How much: Free.
Free Yoga in the Park presented by Bend + Bloom Yoga
When: Thursday, July 14, 7pm-8pm
Where: Prospect Park's Long Meadow, 7pm-8pm. Enter the park at Grand Army Plaza, Garfield, or 3rd Street. Proceed to Long Meadow and look for the sea of mats. Bring your own mat and water bottle plus a friend or two!
What: Join Bend + Bloom Yoga, lululemon athletica Brooklyn, and the Prospect Park Alliance every Thursday night from June 2 through August 25 for free, fresh-air yoga in beautiful Prospect Park.  The series draws hundreds of Brooklynites, of all experience levels, each week to celebrate and experience yoga and wellness in our treasured park.
How much: Free, however an RSVP is required to sign the online waiver form.