Candidates For Public Advocate Gather in Brooklyn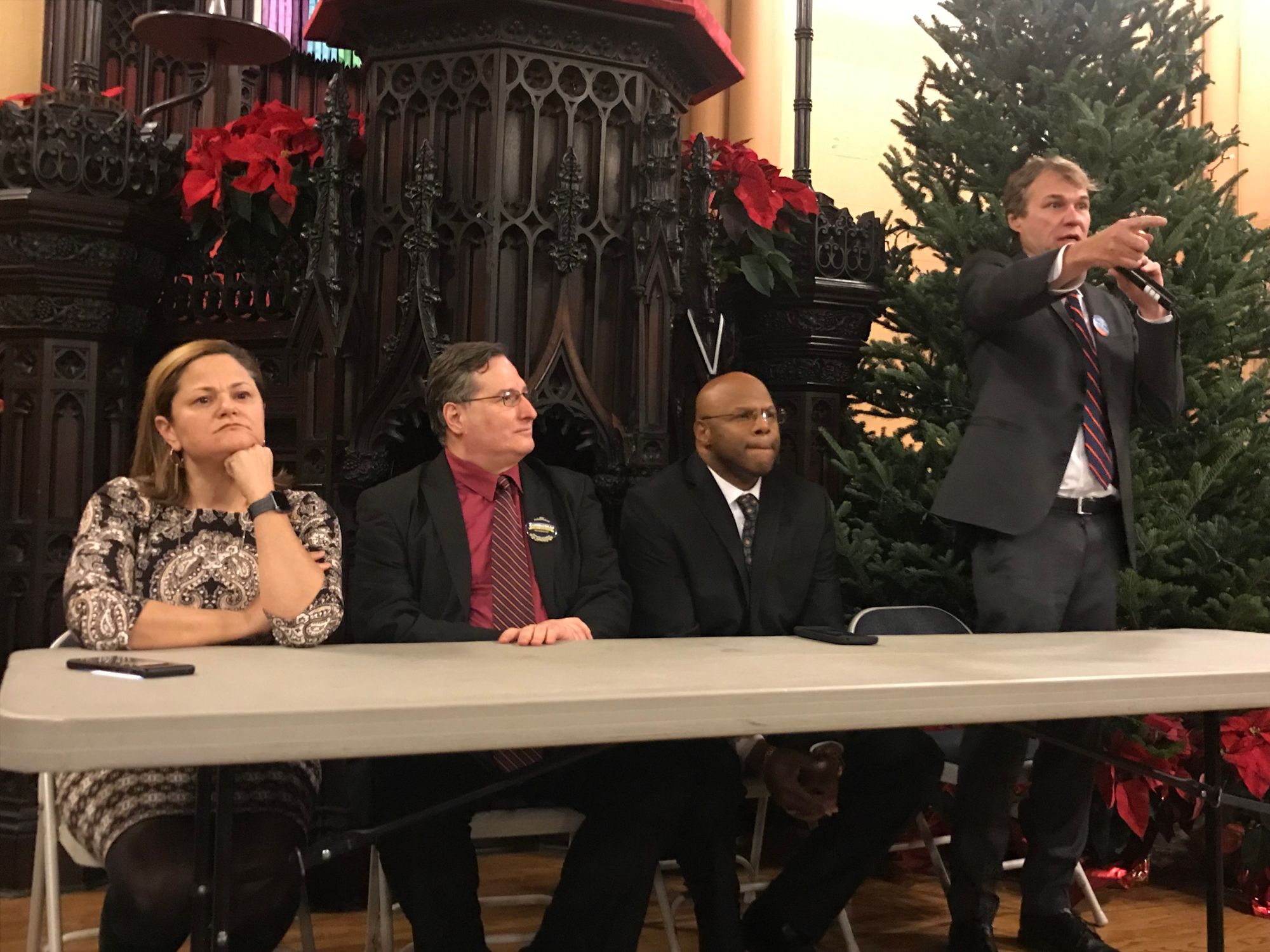 BROOKLYN HEIGHTS — Candidates for New York City's Public Advocate position made an appearance in Brooklyn Tuesday night, jockeying for position as the crowded race lurches along. The race has attracted more than 20 candidates, 16 of whom have registered with the New York City Campaign Finance Board.
The seat opens next year when New York State Attorney General-elect Letitia James transitions into her new position.  On Tuesday, the 16 candidates met at the First Unitarian Congregational Society in Brooklyn Heights which was filled to its 350-person capacity for a 90 minute discussion moderated by Ben Max of Gotham Gazette and Alyssa Katz of the New York Daily News. Candidates addressed the audience in four groups of four, with one minute each for opening and closing statements, and one minute to answer three questions.
By the end of the evening, two local political groups—New Kings Democrats and Central Brooklyn Independent Democrats—endorsed Jumaane Williams. Here's how the night unfolded:
All of the candidates agreed, the office of the Public Advocate needs independence, vowing to hold the mayor accountable. Some candidates feel the position needs to be expanded, incorporating more responsibilities and a larger budget.
Group 1: Activist Theo Chino, attorney Dawn Smalls, City Councilman Rafael Espinal, and housing activist Gwen Goodwin were the first group to speak.
On police accountability in New York City, all four candidates agreed that there needs to be more oversight of the police department. Espinal, whose district has the highest crime rate in the borough (East New York, Brownsville, Bushwick, and Cypress Hills) lauded the abolishment of stop-and-frisk but said, "more needs to be done to hold police accountable when they're doing things that are putting the rights of our citizens at risk".
The councilman referred to the Eric Garner case and said the police officer who administered the illegal chokehold should have been fired and reprimanded.
Goodwin, an East Harlem housing advocate, faced former City Council Speaker Melissa Mark-Viverito — another public advocate candidate — in a 2009 council race. She too voiced concerns about the New York City Police Department (NYPD).
"I think there's something desperately wrong, not just here in New York City but we're murdering black men all over the United States," she said.
Goodwin said police should have less power and referred to the city as a "police state". She also acknowledged the challenges that come with police work.  She suggested mandatory therapy as part of the action she would take as a public advocate.
Chino, on the other hand, responded to the question of accountability with a personal account. "Well, as a Latino, I got stuck, gunpoint, five people around my car just for one little yellow light," he said to describe a 1992 police experience.
Chino promised to push forward the Public Oversight of Surveillance Technology (POST) bill introduced at City Council. The bill is meant to provide information about the surveillance tools the NYPD uses and the safeguards in place to protect the privacy and civil liberties of New Yorkers, according to the Brennan Center for Justice. Former City Council Candidate Garodnick introduced the legislation March 2017. There's been no movement on the proposal since December 2017, just before Garodnick left the council.
Smalls, who served as a New York political director for President Obama, brought up Jazmine Headley, the 23-year-old who was the subject of a viral video which showed police officers yanking her 1-year-old son away from her while she lay on the floor of a Social Services building. She called out the mayor for his delayed response on the matter.
"I understand the need to stand behind police who provide a very important service in keeping us all safe," she said, adding that government when black and brown communities are being targeted.
Group 2: Former City Council Speaker Melissa Mark-Viverito, community activist Tony Herbert, David Eisenbach, and Michael Zumbluskas.
In this round, Mark-Viverito was called out by her fellow panelists when they were all asked what the public advocate's seat should do about a crumbling NYCHA that is presumably heading towards receivership. All three candidates said the former councilwoman either failed to provide oversight over NYCHA's management or is disingenuous in her claims to help public housing residents. None of them offered a solution, however, nor did they answer the question, but Eisenbach suggested an independent audit.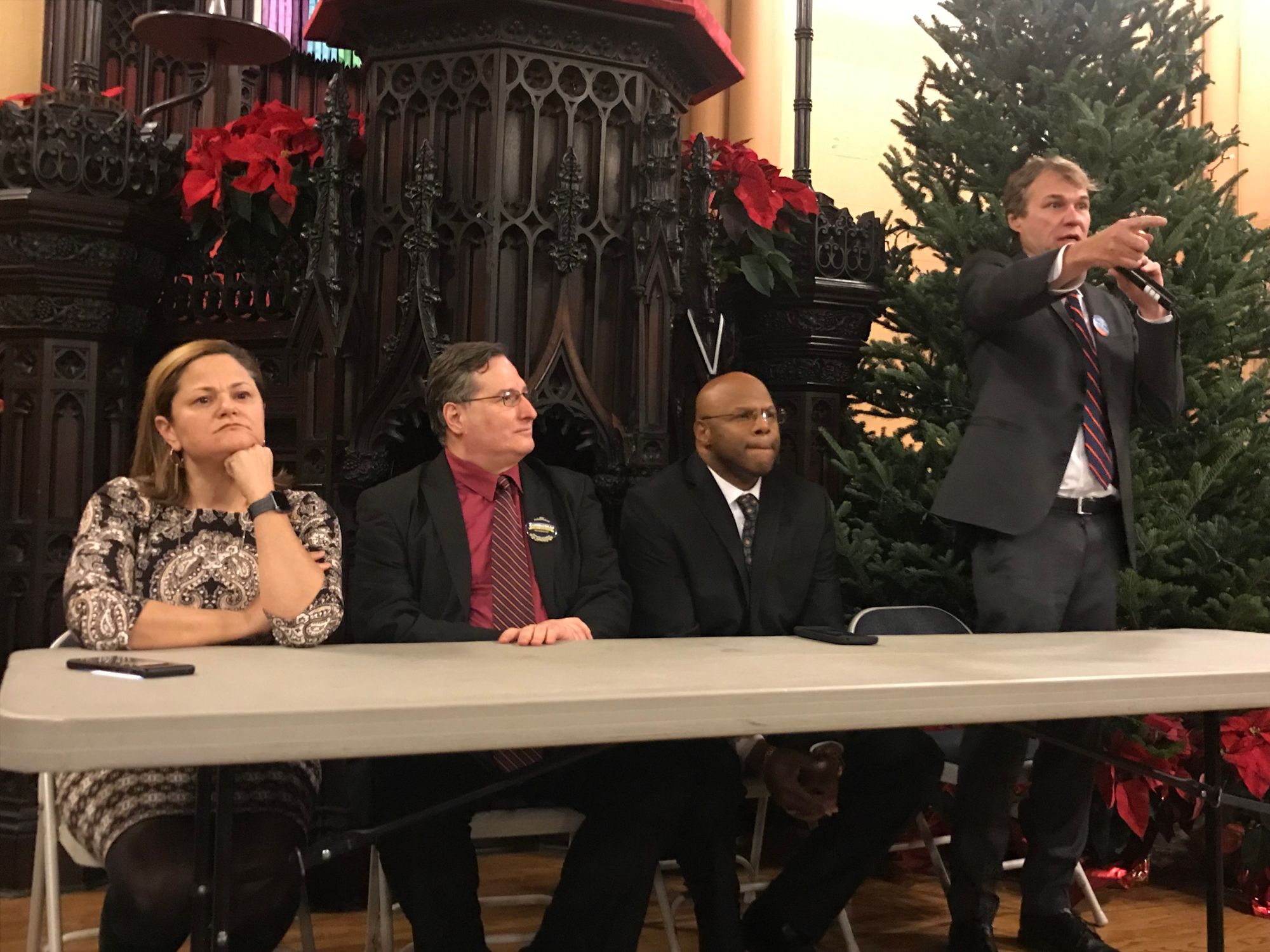 When the four-person panel was asked what they would do with the Fund for Public Advocacy non-profit the last three public advocates have used expand the budget of the office, all agreed  Herbert said he'd hire deputy public advocates citywide to ensure the community has a voice.
"If the mayor can hire 300 special assistants to do who knows what, I can hire 300 people within our community to work to make sure our people have a strong voice," Herbert said.
Zumbluskas swayed towards "defunding" the $3.3 million budget of the office. He disagreed with satellite offices throughout the boroughs claiming it's the borough president's job to be public advocates in their respective borough.
Eisenbach too was conservative about the office's spending and suggested more focus instead. He'd like to see hire "advocates who are activists" to cover animal rights and NYCHA.
Mark-Viverito said she'd structure the office in three divisions: An office of research and investigation, an office of legal aid and an office of civic engagement so that the community can define how best the office can serve its constituents. This includes hiring community organizers.
All four candidates spoke out against Amazon's deal structure.
Group 3: The next panel including Brooklyn City Council Jumaane Williams, radio show host Daniel Christmann, Manhattan Assemblymen Ron Kim, and Michael Blake tackled how top executives within the Board of Elections (BOE) are selected.
As of now, Democratic and Republican county bosses nominate the top BOE officials.  Following the citywide poll site debacle during the November 6 election, there's been an outcry to overhaul the BOE.
Christmann didn't quite answer the question but gave a spirited account of his personal experience on Election Day. You can see the video here. Blake and Kim gave hard no's with Blake focusing on better training for poll workers and Kim calling for fundamental shifts that disrupt the status quo in terms of who heads the BOE.
Williams prioritized changing voting laws that encourage "incumbency protection" and then said then discussed the party bosses influence.
"We absolutely have to look at this board, Williams said. "The way it's set up is problematic."
The final panel included journalist Nomiki Konst, Assemblymember Latrice Walker, attorney Ifeoma Ike, and Ben Yee. Like most of the candidates, the panelist described the role of the public advocate's office as an ombudsman over the Mayor.
Moderators asked a specific question about a possible scenario involving the Immigration and Customs Enforcement (ICE). What do you do when a constituent comes to you and says their breadwinner has been arrested by ICE?
Walker said she would use the office as a third-party intervener in any ICE proceedings. For Konst, deputizing public advocates in neighborhoods to address families who "do not trust officials," is how she would address the issue. Ike went proactive and suggested proposing legislation to put a moratorium on "traps" at courts that render immigrants vulnerable.
"People are getting caught up in the courts," Ike said.
On juggling the homeless crisis versus the affordable housing crises, Williams said she'll continue to fight for resources so that affordable and low-income housing is built.  Walker also said she'll fight for more eviction protections services as well. Ike addressed the criminal justice and mental health connections which contribute to the city' homeless population.
"This city actually needs to not just hashtag mental health, and actually get serious about how to get to work with different communities, especially communities of color in a culturally sensitive and culturally relative way," she said.
The following groups sponsored the event: Bay Ridge  Democrats, Brooklyn Young Democrats, Central Brooklyn Independent Democrats, Ernest Skinner Political Association, Indivisible Nation BK, LAMBDA Independent Democrats, New Kings Democrats, North Brooklyn Progressive Democrats, Independent Neighborhood Democrats, Shirley Chisholm Democratic Club, Southwest Brooklyn Democratic Club.