Ballot Scanners Down Throughout Brooklyn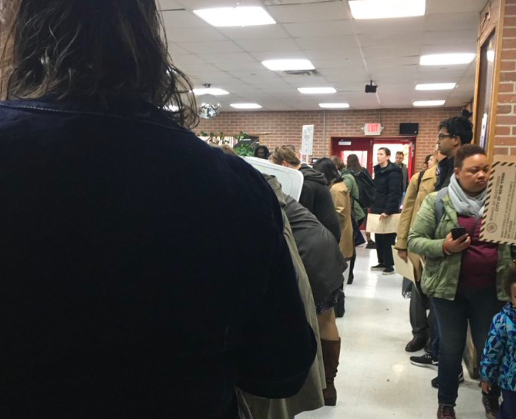 BROOKLYN – Voters were in a well-deserved tizzy this morning around 9:30 am when all of the scanners at one Crown Heights polling site went down.
A long line of voters was instructed to drop their ballots into boxes at PS 22 inside 443 St. Marks Ave. this morning because all of the scanners went down.  This, in addition to lines that were at least 45 minutes long.
"Made it inside and PS 22 is a madhouse," read one Twitter post. "Totally disorganized and overcrowded, and not a single scanner is working."
https://twitter.com/jazzedloon/status/1059821041483214848
According to the thread, some of the machines began working a little after 11:10 a.m.
Meanwhile, at the Marlborough Road polling station a few miles away in Ditmas Park, long lines preceded two scanner malfunctions. The same goes for the polling site at PS 217.  Residents took to Twitter to complain that 50 percent of the scanners at the location were not working at 8:00 am.
Brooklyn Borough President Eric Adams also chimed in on Twitter to spread the word about broken scanners.  He has since sent a press release to say he will be visiting the Ingersoll Community Center polling site to "inspect" the polling sites.
Bklyner is participating in the Electionland coalition of newsrooms around the country covering problems that prevent eligible voters from casting their ballots during the 2018 elections. If you see or have a problem, please notify Electionland through:
SMS: Send the word VOTE, VOTA (for Spanish) or 投票 (for Chinese) to 81380 (standard text message rates apply).
WhatsApp: Send the word VOTE, VOTA (for Spanish) or 投票 (for Chinese) to 1-850-909-8683.
Facebook Messenger: Go to m.me/electionland.