'Sing For Hope' Pianos Return To NYC Streets June 4 -24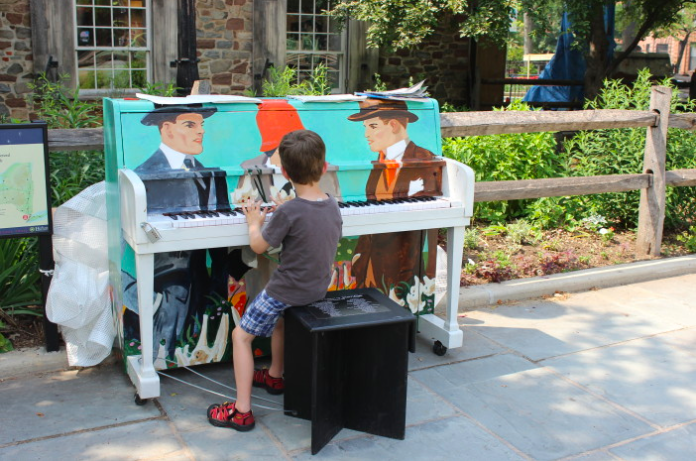 Sing For Hope returns to NYC for three weeks in June, parking 50 colorfully decorated pianos in parks and public spaces across the five boroughs to give New Yorkers a chance to tickle the ivories.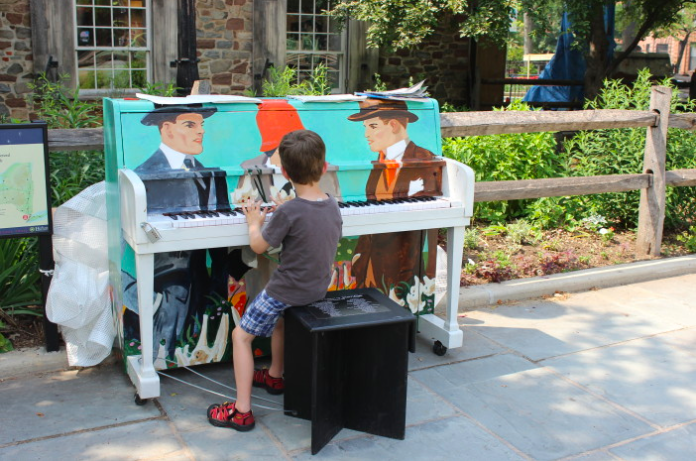 The nation-wide, non-profit, public art program was founded by Monica Yunus and Camille Zamora. "We founded Sing for Hope with one goal: making the arts accessible to everyone in every community. The arts enable neighborhoods to thrive by positively impacting those who live there and enriching the community as a whole," the pair said in a statement announcing this year's program.
"These 51 one-of-a-kind Sing for Hope Pianos will not only provide music for three weeks in June; they will also, in alignment with our mission, serve 15,000 New York City students annually after the pianos are delivered to their permanent homes at our 'Citizen Artist Schools,' sparking inspiration as a tool for future artists for years to come," they added.
The 2018 Sing for Hope pianos were designed by various visual artists as well as the casts of Broadway shows including Kinky Boots, Dear Evan Hansen, The Play that Goes Wrong, and Wicked. The piano collection will be unveiled Monday at noon at an event at 28 Liberty Plaza in Manhattan featuring the Broadway cast of Wicked, Sarah Dash, Lucky Chops, Daphne Rubin-Vega, students from the Harlem School of the Arts choir, and more. A performance of Bach's Minuet in G will be played on the 50 Sing for Hope Pianos simultaneously.
The pianos will be out on the NYC streets from Monday, June 4 through Sunday, June 24. This year, Sing for Hope will place its 400th piano in NYC, making the city the host to the most street pianos in the world! The Sing for Hope Pianos reach approximately two million people each year in New York City.
After their time on the streets, the instruments will be donated to local schools, healthcare facilities, and community-based organizations. Go to singforhope.org to learn how to submit an application for a chance for your school or organization to receive one of the 2018 pianos.
Want to practice Chopsticks or rock out to Rachmaninoff? Click here to find a Sing For Hope piano near you or see our list below of a few of the locations in Brooklyn.
Bay Ridge, Shore Road & 90th Street – "Raindrops In New York" designed by artist Daika (Diana Jaworowski)
Brooklyn Bridge Park, Granite Prospect – "Art For All" piano designed by artist Patrick Freeman
Brooklyn Bridge Park, Pier 6 – "Connected" piano designed by artist/illustrator Gilly Gil-Lugo
Brooklyn Children's Museum, 145 Brooklyn Avenue, Crown Heights – "House of the Rising Sun" piano designed by artist Myla Seabrook
Brooklyn Navy Yard, BLDG 77, 141 Flushing Avenue – "Encounters" piano designed by artist Callie Hirsch
Coney Island Boardwalk (Boardwalk & Stillwell Ave) – "Grabbing The Brass Ring" piano designed by artist Christopher Spinelli
The Old Stone House, 336 3rd Street (between 4th & 5th Ave) – "Serving Each Other" piano designed by members of NYC Civic Corps and graphic designer Jennifer Kakaletris
Prospect Park, Grand Army Plaza, "Community Hope" piano designed by graphic designer and lettering artist Alyson Fraser Diaz
Williamsburg, Lilia Restaurant Plaza, 567 Union Avenue – "Mixtape" piano designed by Brooklyn-based artist Rob Baird
Willoughby Plaza (corner of Pearl & Willoughby St), Downtown Brooklyn – "I Have A Dream" piano designed by Shanghai-born artist/illustrator/author Tango
This year, Sing for Hope has collaborated with MINI USA for #DrivingHope, a partnership to bring creativity to communities. MINI USA has created the collection's 51st piano, #MINIPiano, a one-of-a-kind piano on wheels. A specially designed MINI equipped with a keyboard and sound system will travel across the city for pop-up performances.
Learn more about the 2018 Sing For Hope piano locations and pop-up performances at singforhope.org.