Shouting, Shoving and Epstein Accusations Break Out at Park Slope Town Hall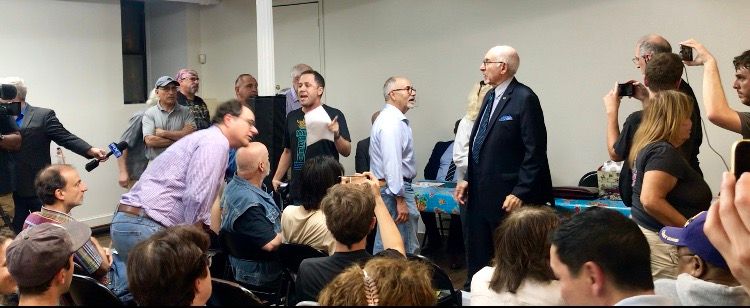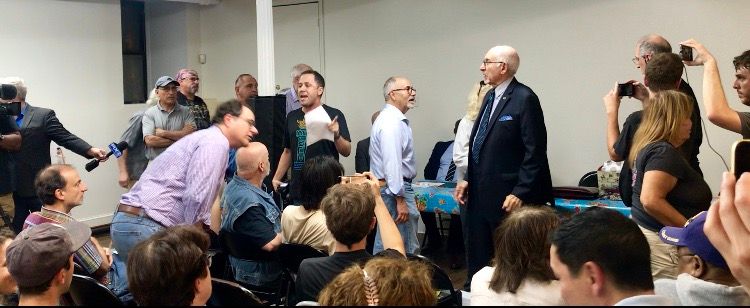 PARK SLOPE – A Park Slope meeting on bike safety erupted into chaos, with attendees screaming and one man being shoved on Wednesday night.
"If I can just ask everyone to take a deep breath," said Myra Manning, the moderator and founder of Citizens United for Safety, a local group concerned over bike lane safety, only moments before.
Manning, a Park Slope resident, wants the Department of Transportation to rip out protected bike lanes along Park Slope's Ninth Street. Following the deaths of two children in Mar. 2018 on Ninth Street and Fourth Avenue, where a car plowed through a red light, the city installed protected bike lanes — along with pedestrian safety islands and turn restrictions — after mounting pressure from transportation advocates. Manning, however, is afraid that bike lanes slow down emergency vehicles.
"What would you do if your house were on fire and the ambulances and fire trucks couldn't get to you in time because of narrowed streets caused by bike lanes?" asked at the top of her flyer in red, ominous font that floated around Twitter days before Manning's Inside Bike Lanes Town Hall, prompting anger from cycling advocates.
"The people of Transportation Alternatives are not as alternative as they want to present themselves," said John Halpern, a documentary filmmaker invited by Manning, at the start of the evening. "Their funding comes from the likes of billionaire Steve Ross, a crony of Jeff Epstein, and an elite group of backers," he said, receiving howls of laughter from half the crowd. Steve Ross is not a backer, said Joe Cutrufo, TransAlt's spokesperson. A moment later, Halpern stood on a chair yelling, "you want to clown with me?"
Shouting ensued between bike advocates and those opposed to bike lanes, with one man threatening another. "Shut the f — up," yelled someone from the crowd. Representatives for local politicians sat by silently.
Halpern's documentary received snickers from the crowd. Bizarrely shot footage of rogue bike riders and anti-bike crusaders permeate the 15-minute short, attempting to link bike lanes with increased emergency service rescue times. "Thank God," said a woman when the film ended. "Jesus," said another.
Doug Gordon, who co-hosts "The War on Cars" podcast, stood in front of the room reading the names of those killed on Ninth Street. "Where is your flyer about the babies who were killed?" he asked. Then Halpern shoved Gordon.
Manning's moderating abilities appeared to slip away. "I am brand new to this," said Manning. "I have never done anything like this before."
A defeated Manning handed off moderating duties to former Bay Ridge District Leader Ralph Perfetto. The crowd calmed and attendees expressed concerns somewhat amicably — at least towards the end of the night. But most of the frustrated crowd dissipated.
Ed Ravin, a Park Slope resident, expressed annoyance with organizers. "It was very disappointing that they claim they were open to dialogue."