Shorefront Y Shares 8,000+ Toys With Sandy Kids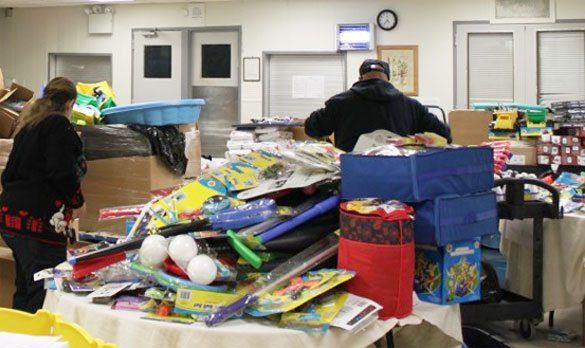 The following is a press release from the Shorefront Y (3300 Coney Island Avenue):
Over 8,000 toys have been distributed by the Shorefront Y to go directly to children who have been affected by the wrath of Hurricane Sandy in south Brooklyn.
On December 20, 2012 a huge tractor trailer arrived at the Shorefront Y filled with children's toys. Thousands of toys for children of all ages were donated to the Shorefront Y by Jezreel International, with sponsorship of UJA Federation of NY.
As the Shorefront Y's disaster relief efforts have been done in collaboration with many local organizations, Shorefront Y reached out to more than 30 local community leaders and organizations offering to share this incredible resource of holiday gifts. Within one day, 17 organizations from Sea Gate, Coney Island, Brighton Beach, Manhattan Beach, Sheepshead Bay, Gerritsen Beach and Canarsie each came to pick up hundreds of toys to distribute to children and families with whom they are engaged. All packages included books, stuffed animals, wall posters, toy trucks, & much more.
"To be able to so quickly and effectively share this incredibly generous donation with families living in all of our south Brooklyn impacted neighborhoods has been incredible and inspirational." says Sue Fox, Executive Director at the Shorefront Y.
The diversity of the groups who received these donated toys also reflected the diversity of our communities; civic groups, faith based organizations from the Christian, Muslim, & Jewish communities and local immigrant community leaders from the Latino, Haitian, Russian, Filipino, South Asian and Turkish communities all benefitted from the generosity of Jezreel International's wonderful donation and the Shorefront Y's collaborative spirit.  "We all need to continue to work together to make sure that all of our south Brooklyn communities and our families continue to recover," says Fox.