Sheepshead Station Escapes Irene's Cleaning Powers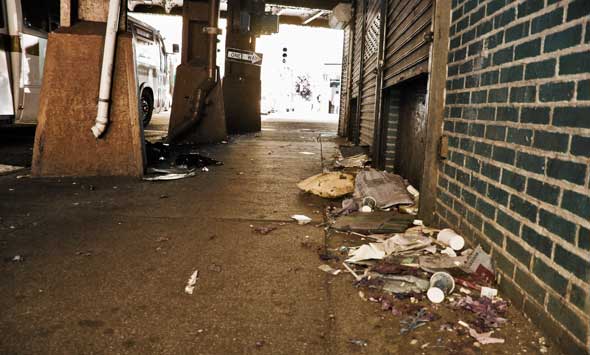 There's no doubt that Hurricane Irene caused a lot of mess in a lot of places. But walking down normally hazmat-worthy commercial corridors like Sheepshead Bay Road, Avenue U and Coney Island Avenue, one can also get a sense of appreciation for the storm's cleaning powers.
A lot of garbage was swept off by winds, and the sidewalks themselves seem noticeably cleaner after the heavy rains. Areas in front of markets even smell better as the decaying bits of fruit or fish have also been washed away. Walking down some of these streets almost seems like it could be pleasant!
Except for the Sheepshead Bay Road subway station. The same pile of garbage has been there for months, to the point that I think someone super-glued it to the ground. Pillows, newspapers, cups and other gunk grip to the wall in front of the former florist shop. Homeless people continue to congregate there, and on more than one occasion have I seen a person outstretched on the sidewalk, garbage as pillow, blocking pedestrian traffic. I have sympathy for people who find themselves in such situations, but enough is enough.
After all these years of writing about garbage in this location, how do we get this MTA-owned property cleaned up?