Sheepshead Native Son Swims East River For Autism… Again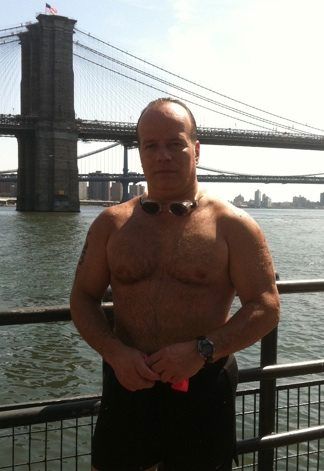 For the fourth year in a row, Sheepshead Bay's own Jack Spadaro will once again flex his aquatic muscles and swim across the East River to raise funds and awareness for autistic children.
Battling the trenches of the East River, the big-hearted neighborhood activist will don his swim skivvies July 15 for the Brooklyn Bridge 1K Swim Event. Spadaro, 49, is teaming up with Hempstead, Long Island's Doug "Iron Man" Rebecca to form Team Block Swim in support of the Block Institute's efforts in continuing to provide quality services to individuals with intellectual and developmental disabilities.
Battling the trenches of the East River, the two iron men — joining scores of other swimmers from across the tri-state area — will begin their journey at Pebble Beach in Brooklyn, swim towards the Brooklyn Bridge, continue their course underneath the bridge, and then finally cross the East River to the dry land of Manhattan. A combination of buoys, support boats, and kayaks will mark/monitor the swim route to help swimmers remain on course.
The Brooklyn Bridge Swim, an annual event organized by the non-profit Bridge to Youth, serves the special needs children and their parents with programs and activities to raise awareness, offer support and build self-esteem.
Spadaro, a St. Mark School alum, also volunteers with Bay Improvement Group, Foundation for Children with Special Needs, the American Cancer Society and the Cystic Fibrosis Foundation. He is hoping to inspire others to help support the Block Institute's mission in assisting individuals with special needs.
If you are interesting in making a donation in Spadaro's name, click here, or go to nycswim.org and select your swimmer.