Sheepshead Bay H.S. Included On Yet Another Closure List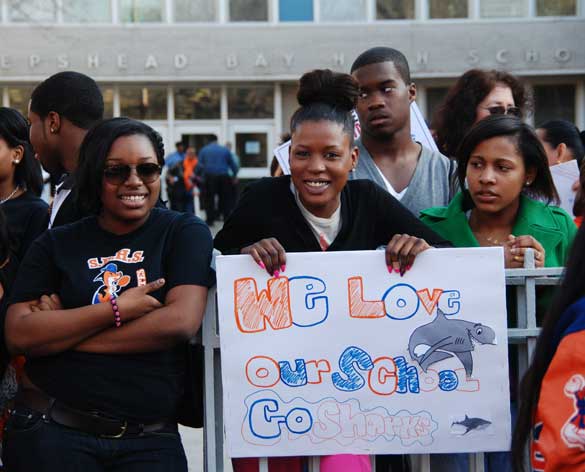 We reported in November that the New York Department of Education was once again looking to close Sheepshead Bay High School, including it on an "early engagement" list. This week, the school popped up on yet another list of low performing schools targeted for closure, according to an article in School Book.
The planned closing of Sheepshead Bay High has been fought for some time, and teachers and administrators have thus far been successful at keeping the school open despite mounting pressure from city officials. This time around, though, the DOE doesn't appear to be pushing an immediate closure at the end of this school year, but "phasing out," meaning no new students can enroll at the school.
According to School Book, the High School's closing hasn't shocked its staff:
Robin Kovat, a social studies and law teacher at Sheepshead Bay High School, said the announcement Monday did not surprise her.
"The D.O.E. has been trying to close us for nine years. They are finally succeeding. Even though we knew it was coming, it is still so sad," Kovat said.
Sheepshead Bay was one of the high schools the city wanted to "turn around" this year. Despite a new principal and additional support systems, Kovat said one year was not enough time to demonstrate results.
"A lot of us put our hearts and souls into the school and into the kids and really know that we made a difference in their lives. You know, maybe the numbers aren't reflecting that," she said. "At the same time as our statistics are going down, we have rising stars. Seriously."
Despite the disappointment from teachers and administrators, Deputy Chancellor Marc Sternberg and the DOE are taking a hard stance against struggling schools.
"We expect success," he said in a statement. "After a rigorous review of academic performance, we're proposing to phase out a select number of low-performing schools. We've listened to the community and provided comprehensive support services to these schools based on their needs. Ultimately, we know we can better serve our students and families with new options and a new start."
UFT President Michael Mulgrew, though, called shenanigans on the idea that DOE provided comprehensive report, noting to School Book, "Large comprehensive schools like Lehman and Sheepshead Bay have been further undermined by DOE policies that led to increased concentrations of high-needs students, but with no increase in the services such students need."