Sheepshead H.S. Track Team A Success, Despite Odds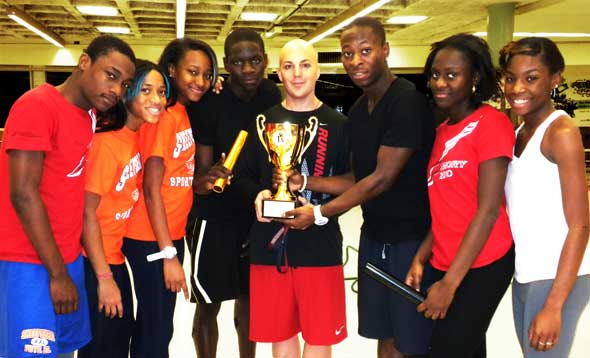 Sheepshead Bay High School is under fire for what the city considers to be lackluster student achievement, but the school is more than graduation rates and Regents scores.
The school (3000 Avenue X) boasts the best track and field team in the country with 12 All-American athletes.
"We won the national championships four years in a row," said John Padula, who is one of three coaches leading the co-ed team.
The team practices running and weight training until 5:30 p.m. every day to prepare for Saturday meets against teams from all over the country.  At those competitions, the Brooklyn squad generally comes in first place.  These accomplishments make the students feel like rock stars.
"It's great to be part of the team and being an All-American is a big accomplishment," said Richmond Ahadzi, a hurdle jumper who is a 10-time All-American, which means he placed in the top five in the country.
The track team isn't just about athletics.  The coaches work with academic subject teachers to ensure that students stay on track and have access to any necessary tutoring.  To remain on the team, students must pass five classes and maintain an 80 average.  The hard work has clearly paid off, as many students have earned scholarships to prestigious universities, such as Stanford and Notre Dame, and competed in previous Olympic Games.
"We're teaching them how to be leaders," Padula said.  "We teach them that winning is not about being the best but doing your best.  With that attitude, they'll do well.  Some of these kids have come in with low reading scores but worked hard to improve and we even had three kids who became valedictorians."
By remaining focused on their classes and participating in after-school training sessions, the track team's members are staying off the street and out of trouble.
"If I wasn't on the team right now, I would probably be in a gang, but instead, I'm the team captain," said Rolyce Boston, who is considered the best long jumper in the country for clearing 23 feet.
"There are a lot of kids on the team who would have joined gangs but when you join the track team, the coaches encourage you to be positive," said Khadijah Cudjoe, an All-American in hurdles and sprinting.
The team's success is all the more impressive considering that the school is facing an extreme restructuring. The city Department of Education (DOE) believes the school's four-year graduation rate isn't up to par and, as a result, is considering removing the principal or half of the teaching staff.  While the DOE plans to announce those changes in the spring, Sheepshead Bay's principal is trying to raise the graduation rate by next June, thereby preserving her job, saving teachers' positions and keeping the school running as is.
"The people who work here are loving and give you all the attention you need," Cudjoe said.  "There's no need for any changes or for the school to be shut down.  It's a good school."
Here are accomplishments and photos of the 2009 – 2010 track team, provided by the team's coach:
Sheepshead Bay HS Track team 2009-10