Sheepshead H.S. Student Named NY1's Scholar Athlete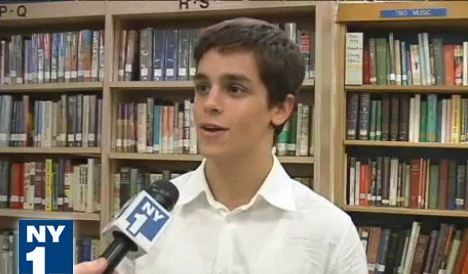 Sheepshead Bay High School's powerhouse track team is once again in the spotlight: this time for the on-field and in-class performance of teammate Michell Kun.
NY1 chose the Sheepshead Bay senior as the focus of its weekly Scholar Athlete feature, which celebrates student athletes who excel in academics, athletics and community service.
Kun was chosen for his leadership on the field and his scholarly commitment to the school's specialty sports science program.
Mitchell's dedication and drive are immediately evident when you meet him. He's the Public School Athletic League's 5,000 meter record holder. He's also an "A" student, but he's quick to credit others for his considerable success.
"My guidance counselor, my coaches, my family, my teammates, my friends, they're all here to support me every day, and that's what really motivates me to keep on going, because you know I can't do this alone," says Mitchell.
"What separates him from everybody is he wants to do everything that he does great, it's not like once in a while he wants to be good. Some kids are good students, some kids are good athletes, some kids do anything. Everything that touches his hands, he does well," says John Padula, track coach and sports science teacher.
It's not the first time the school's track team has been in the news. We interviewed Padula and members of track his team a year ago, noting that the coach and other schools officials have been helping kids translate their athletic successes to the classroom.