Same Old Answers, No Relief From Sewage Backups And Flooding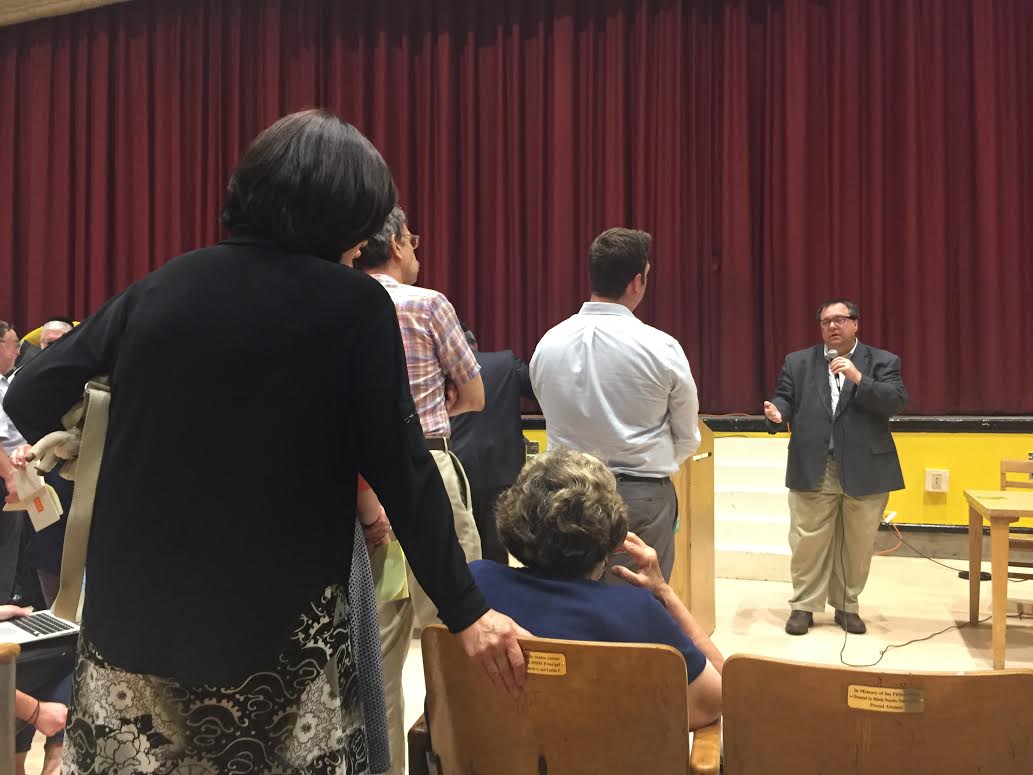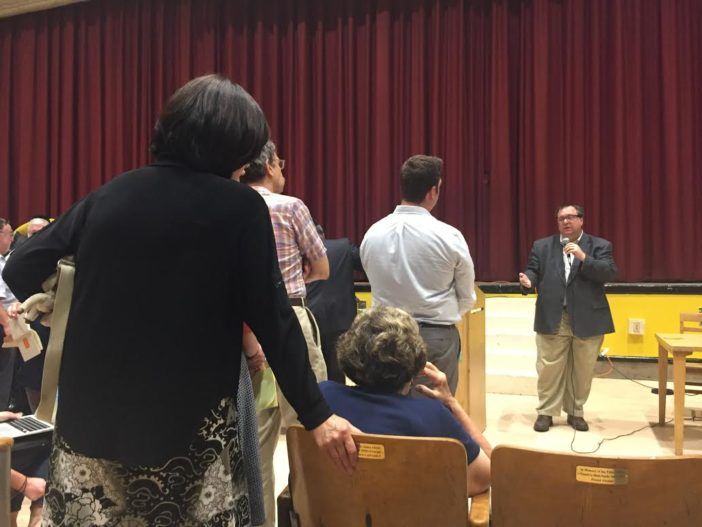 Councilman Chaim Deutsch held an open community forum last night at James Madison High School to address the flooding and sewage backups that tend to follow heavy rainfall.  "We should not live in fear every time there's rainfall. We need to make sure that whatever preventative measures we can take, we should take," said Deutsch.
The councilman was joined by Mario Bruno and Charles Sturcken from the City's Department of Environmental Protection, Beth Malone from the Neighborhood Housing Services, and Katherine Reilly, a representative from City Comptroller Scott Stringer's office. Leon Goldenberg of the Council of Jewish Organizations of Flatbush was also in attendance.
Around 50 neighbors filled the hall to participate in the forum. The meeting started by the speakers addressing the preventative measures that can be taken by homeowners, and then moved on to addressing individual concerns.
"We have done it all. A homeowner can only do so much," one woman shouted.  Community members formed a long line to ask the speakers questions about flooding and sewage backups in their homes. Several residents lamented that they had been taking preventative measures, at great personal cost, and were still dealing with floods every time it rains. Many complained that they were told years ago, after Superstorm Sandy, that their sewer lines were insufficient, but never received the new lines they were promised.
Last November we wrote about the buildup of frustration in the community over endless delays in starting capital improvements that would prevent sewage backups into homes, and this February there were more meetings with no answers. The catch basin law that was signed last summer took effect July 1st, and hopefully will brig some relief:
Specifically, the law mandates that the city Department of Environmental Protection inspect catch basins — a type of storm drain that's meant to keep large objects out of the sewers but which can often become clogged with refuse and debris, leading to flooding — on a yearly basis. Currently, the 148,000 catch basins maintained by the DEP are inspected about once every three years — and those basins are frequently plagued by problems, with the Mayor's Management Report stating the city received 53,350 catch basin complaints from 2010 through 2014.
Additionally, the DEP will be required to unclog or repair clogged catch basins within nine days after inspection, and the agency will have to report twice a year to the mayor and Council speaker about inspections, maintenance and repairs.
Here are the suggestions heard yesterday from the public officials, in case you may find them useful:
Get flood insurance.
Beth Malone, the Insurance Risk Management Program Director of the Neighborhood Housing Services, covered the ins and outs of flood insurance. Basic home insurance policies almost never include insurance for floods, according to Malone. Flood insurance has to be bought separately. "Everyone knows what they're paying for insurance, but not everyone knows what they bought for that amount of money," she said.
Whether or not a homeowner needs flood insurance depends on their location on the City's flood maps. Knowing where the water is coming from is an important deciding factor. Malone defines a flood as rising tides or moving ground water that enters a home. This is covered by flood insurance. If a home has a cracked foundation that saturated water seeps into, that is a maintenance issue, and is most likely not insurable.
There are 480 buildings in the flood zone in the Sheepshead Bay area, according to the Department of City Planning. Many of these homes were not included in the flood zone prior to Sandy and therefore were not built in accordance with the current flood resilient construction standards. Homeowners may need to bring their homes up to these standards in order to meet the requirements set by the National Flood Insurance Program.
The Center for NYC Neighborhoods released a report called, "Rising Tides, Rising Costs" about the rising costs of flood insurance and the rising risk of flooding. It found that only 55 percent of homeowners in New York's floodplain have flood insurance. Average premiums are around $1,000 for newer "post-FIRM" homes, which refers to homes built after the Floor Insurance Rate Map was created. For those homes built before 1983, when this map was created, the average premiums are around $1,800. These rates are subject to change over time, with potential increases of up to 18 percent a year.
Obtaining an elevation certificate can affect the rate. An elevation certificate compares the lowest level of the building to the base flood elevation level. An insurance agent will use this information to determine the cost of insuring the house.Councilman Deutsch has hosted insurance information workshops at his district office to help homeowners work through the insurance process.
File a claim within 90 days
Katherine Reilly, Deputy Director of Settlements and Adjudications at City Comptroller Scott Stringer's office, informed the community on how to file a claim with the comptroller's office if a home was damaged. A claim must be filed within 90 days of the incident. Claims can be filed online or sent by registered or certified mail, check the details here. The forms must also be notarized before being brought to the comptroller's office. Any photos, bills, or estimates can be included to help determine the storm damage. "We have staff that is exclusively dedicated to doing investigations on these types of claims, so we are going to try to resolve them as quickly as possible," said Reilly.
Call 311
Mario Bruno, the Assistant Commissioner for Intergovernmental Affairs at the DEP and a Brooklyn native, stressed the importance of calling 311. The data from the calls is organized in a method similar to that of CompStat, a management tool for data utilized by the NYPD, and the information is then used to determine which areas need improvement. "Our engineers use that information to plan where they're going to replace sewers, put in new sewers, or put in new water mains," said Bruno.
Clean sewer lines and purchase sewer line protection
Bruno called for an increase in preventative measures, such as regularly cleaning catch basins and installing check valves that can prevent water backups and also boost home value.  In addition to flood insurance, home owners may also want to purchase service line protection for around $13 a month that insures the underground water and sewer lines.
Do not flush grease down the drains
Homeowners were urged to do more by way of prevention by several speakers at the forum. Local business owners are not off the hook, though, either. Charles Sturcken, the DEP Director of Economic Development, called attention to the problem of grease clogging the pipes.
"Grease is a very big problem in the city sewer system. We spend about $3 million a year flushing out 7,500 miles of the city sewer system," he said. Sturcken urged both businesses and individuals to be mindful of the way grease is disposed. Instead of pouring it down the drain, pour leftover grease into containers, allow it cool, and then throw it in the garbage to help prevent further clogs.
Deutsch ended the meeting with a call for action. "We need to make sure that we hold the City responsible for our homes. The City wants to raise our water and sewer taxes. I spoke out today in City Council asking them to not only not increase it, but to reduce it. And maybe we shouldn't pay anything. If we don't have the proper infrastructure, then why should we have to pay?" he said.
Deutsch sent a letter earlier this week to the DEP Commissioner asking for a study to be conducted so that his district can be better prepared to weather future storms. We are eagerly awaiting their response.
CORRECTED 8/12/16 to reflect that a system similar to CompStat, is used to track issues.