Sheepshead Bites Sponsors Grillin' On The Bay!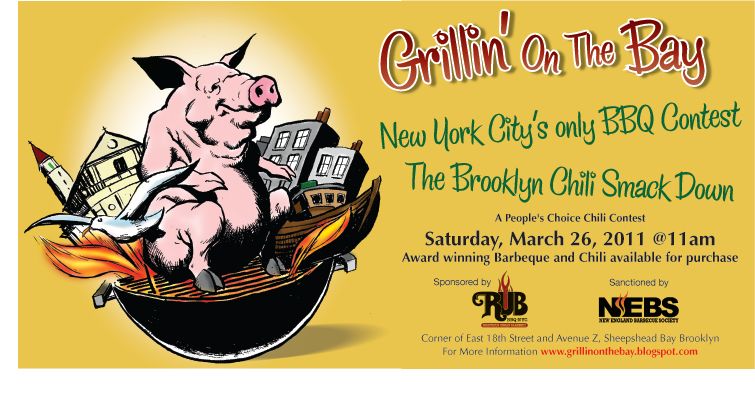 I'm a huge fan of Grillin' On The Bay. It's not just that I've become good friends with the event organizer, Robert Fernandez, or that Robert is now a writer for Sheepshead Bites. It's for one really simple reason.
Grillin' On The Bay and The Brooklyn Chili Smack Down is a thriving event that recognizes Sheepshead Bay for the lively and joyous neighborhood it is. And we need more events like that.
It's popular, it's attention-grabbing, it's gluttonous, and every year – though it gets bigger and draws enthusiasts from across the tri-state area – Fernandez & Co. never forget to reach out to locals.
Grillin' On The Bay, taking place this year on March 26, got its start as a fundraiser for St. Mark Catholic School, playing off of Famous Fernandez' connections in the competitive barbecuing world, and continues to rake in thousands for the  institution. Since it launched, it's become a major draw for amateur and professional chefs from Maine to Ohio. It also brings in a number of backyard grillers from as nearby as Gerritsen Beach and the Rockaways.
As a newly-announced sponsor of the event, Sheepshead Bites wants to beef up the local contingent even more. All you neighbors who think you know how to grill a piece of meat – now is your chance to prove it. Get in on New York City's only New England Barbecue Society-sanctioned contest, and go head-to-head with award-winning teams and restaurant chefs. And don't get discouraged by the so-called "pros" – Fernandez says that amateurs and first-timers usually rank damn well.
And remember, we've got neighborhood pride. So teams from Sheepshead Bay will be given stickers and other items to let other readers know who to root for. We'll also be taking photos of local teams, interviewing them during the event – which we'll be live blogging – and profiling the highest ranking team from our area.
We're giving you your spotlight. All you need to do is enter.
To sign up or get more information, e-mail Robert Fernandez, call (917) 763-5062 or visit the event's website.