Sheepshead Bites Accused Of Cheating In First Annual Cupcake Eating Contest!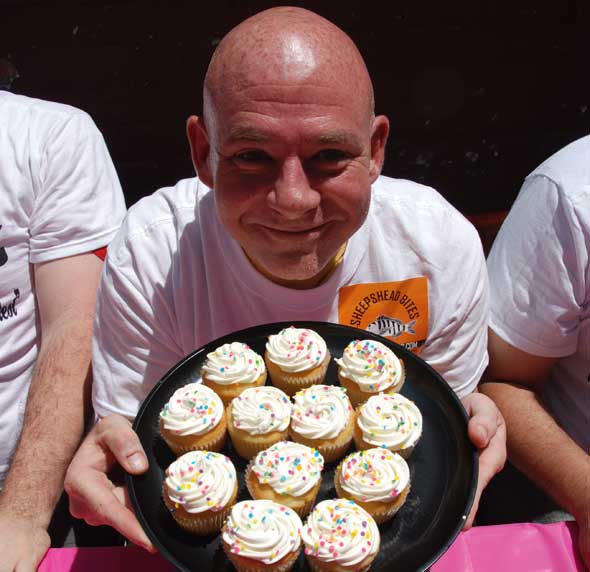 Cupcake Kings (1613 Voorhies Avenue) capped their first annual cupcake eating competition on Saturday with an outrageous and dastardly claim: Sheepshead Bites brought in a ringer!
After a cancellation left them with an empty seat at the competitors table, Cupcake Kings owners Dennis Roitman and Larry Kopylov turned to the crowd demanding a volunteer. A lone challenger stepped forward: Sheepshead Bites' marketing assistant Jobana Soto. Clad in the golden insignia that is the Sheepshead Bites t-shirt, Soto claimed the top prize in the women's category.
Of course, it didn't hurt that she was the only woman at the table. And that there was no woman's category. But that didn't stop the accusations of cheating.
But regardless of these facts and falsities, Soto kept pace with the men, cramming 14 cupcakes in her mouth in the 10-minute competition, besting others, but not all. She joined our other representative at the table, competitive barbecue chef Jim Ryan (above), in making the site proud for their notable capability to jam sugary dough puffs in their pie-holes.
Ryan took third place in the competition, scoffing down 17 white-frosted and sprinkle-covered vanilla cupcakes. Ryan was also the first at the table of eight to finish a cupcake, taking the whole thing in one fell chomp just seconds after an air-horn kicked off the contest.
Ryan was only bested by two others: Rob Blatt, founder of the League of Amateur Competitive Eaters, came in second with 18 cupcakes. Sheepshead Bay native son Alex Mamutin came in first, with 19 cupcakes, taking home a big ol' trophy, a $100 gift card, gift certificates to Cupcake Kings and a box of moist towelettes. Blatt and Mamutin tied with 18 in the initial competition, but in a one-minute death match, Blatt tapped out, gripping the waste bucket underneath the table, delivering the win to an unphased Mamutin, who gobbled down one more for good measure.
About 100 people braved the hot sun to watch these Athletes of Appetite, cheering the contestants on in their Olympian efforts.
And there were other winners that day, too. As the event came to a close, and dozens of uneaten cupcakes were scattered across the table like so many wounded soldiers, a crew of elderly women set upon the remains like magpies, before retreating into the crowd. Now that is winning.