Sheepshead Bay's Skyline Has Changed Forever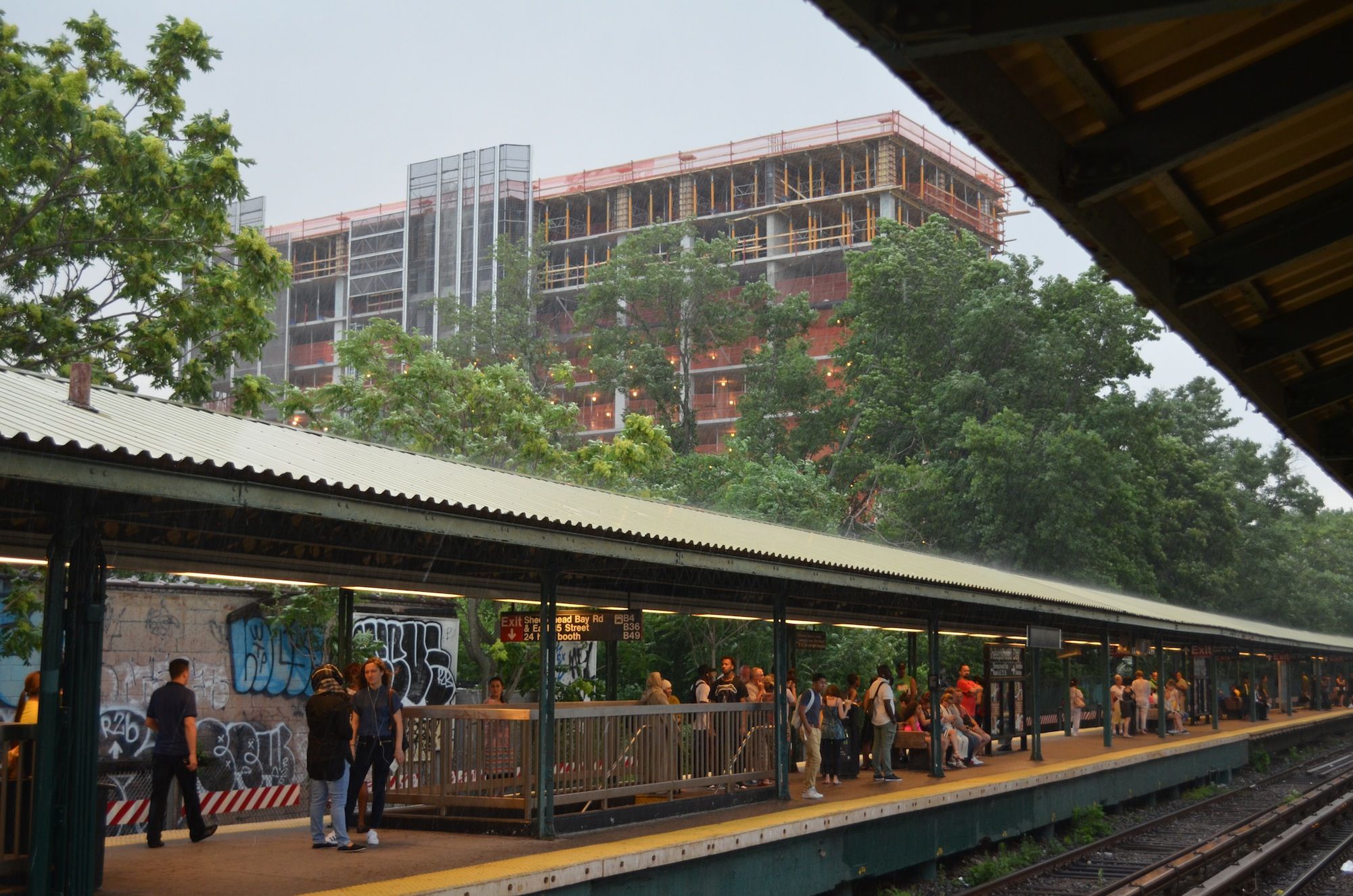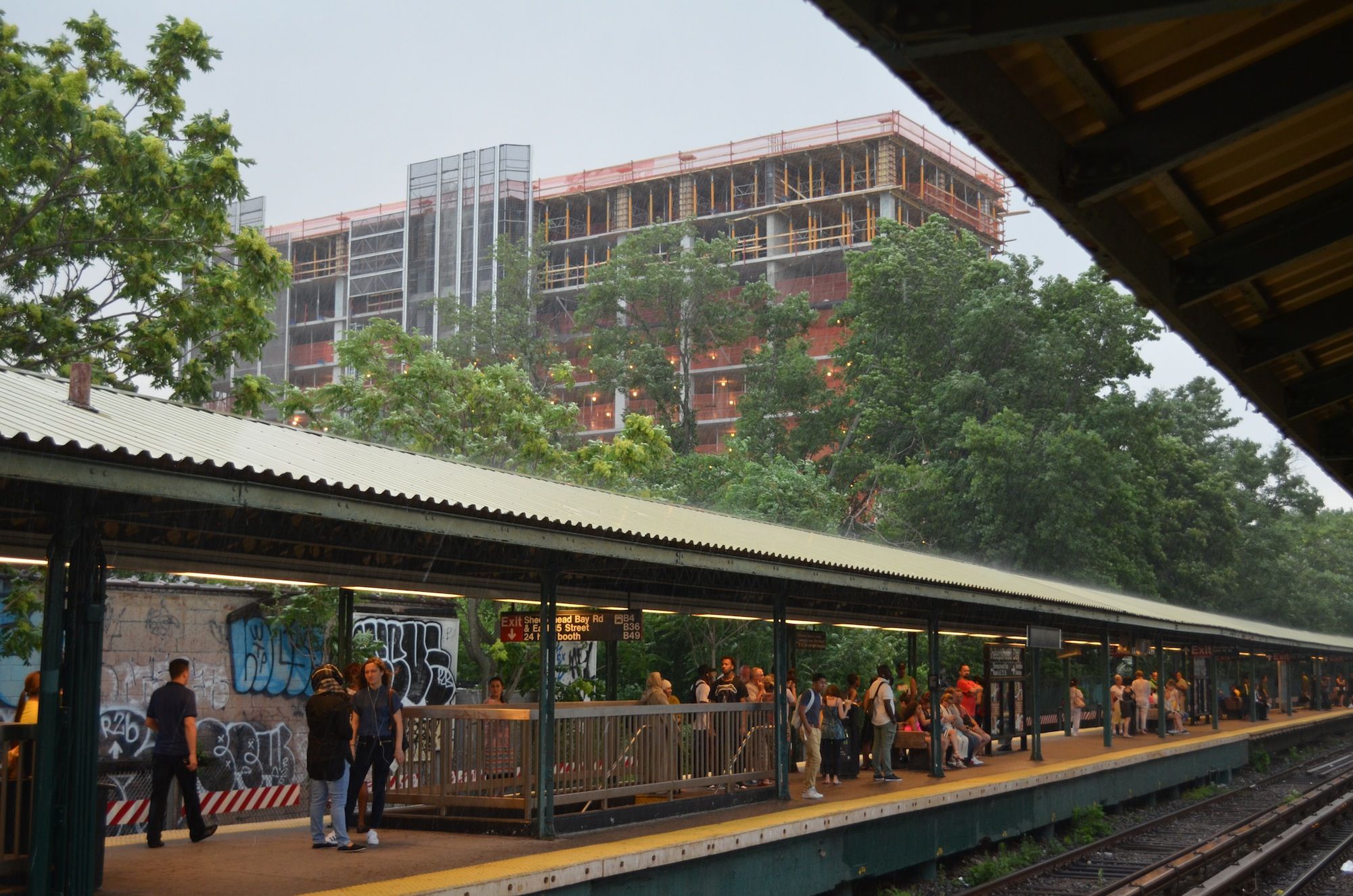 The topography of Sheepshead Bay — like almost every other New York neighborhood — is rapidly changing. What was once a sleepy fishing village characterized by low-slung bungalows and seaside diners is being overtaken by medical offices and luxury condos. Yet rarely, if ever, has one building so completely altered the neighborhood's skyline, or symbolized the community's rampaging real-estate boom, as the 28-story residential tower being constructed alongside the Sheepshead Bay subway station.
The tower, located at 1501 Voorhies Avenue, is finally starting to peek over the horizon. It can be seen climbing above the neighborhood from surrounding subway platforms, as well as the Ocean Avenue Footbridge, and rivals the Saint Mark Church bell tower as one of Sheepshead Bay's most distinguishing features. When the colossus reaches its full 321-foot height, it will be four times higher than most of the surrounding buildings.
When developers submitted plans in 2014 for the sky-scratching tower, which replaced a proposed 22-story residential building at the same site, some neighbors fretted the audacious project would overburden local infrastructure — leading to clogged streets and sewer lines. However, because Muss Development and AvalonBay, who scooped up the property for $20.2 million, are constructing the building as-of-right and within zoning regulations, they were able to bypass input from the local community board.
When the building is completed, it will house 236 residential units, according to property records. The first condos, which could sell for $700 a square foot, are scheduled to hit the market as early as next spring and construction is expected to wrap up sometime in 2018. The building's foundation was completed in mid-Spring and construction crews appear to have already added the first 10 stories. (Eighteen more to go!)
Besides the residential units, which will be a mix of rented apartments and condos, there will be 13,530-square-feet of commercial space on the lower floors. The building will also include outdoor and indoor recreation areas, a pool, and a "sky lounge," as well as 168 parking spaces and a storage room for 118 bicycles, according to plans filed with the Department of Buildings.
The Voorhies Avenue tower is hardly the only headline-making development project near Sheepshead Bay's waterfront. Rybak's swanky seven-story condo building, located on the site formerly occupied by El Greco Diner, appears on track to open in the fall of 2017. Meanwhile, another developer is demolishing three buildings on Sheepshead Bay Road to make way for a lightning bolt-shaped residential building. Neither come close to the scale of the Voorhies Avenue project, but considering Albany might lift a 1961 density cap on residential development, perhaps this is just a teaser of things to come?
Who knows? Given the real-estate industry's enthusiasm for neighborhood rebranding, maybe Sheepshead Bay will even get a new name? How does DoBSo (Downtown Brooklyn South) sound to you? I'm sure the marketing wizards at REBNY can come up with something more appealing, but our readers might be able to give them a hand. What name would you give to the new Sheepshead Bay?