Sheepshead Bay Road Restaurant Closes For Good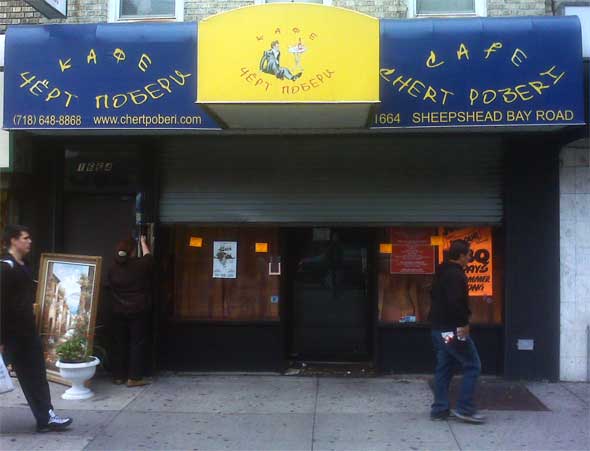 One of the best Sheepshead Bay restaurants you've never been to has closed.
Chert Poberi Cafe, which occupied 1664 Sheepshead Bay Road for several years, is finished. The woman bringing down the gate, who did not own the business, said that it hadn't gotten the popularity needed to keep it going.
I went to Chert Poberi once for lunch, and discovered one of the better meal deals in the neighborhood. For $8.00 you received three courses, plus a glass of compote. It was good food (I believe I had the schnitzel, with roasted, dill-slathered potatoes), and the only thing that stopped me from returning was the time investment involved in three courses. I regret that.
I also wanted to try the summer BBQ that they've been advertising, and I just checked their website, which advertises. "With guest speakers such as musicians, writers, artists and celebrities, Ch. P. Nights aims to expand the café's appeal, by giving South Brooklyn what it needs: a place for recreation."
I don't think that was ever true – and if it was it was so poorly advertised that one can begin to understand why they closed.
If we had it all to do over again, we'd patronize Chert Poberi Cafe more often. Best of luck to the former owners.