Sheepshead Bay Is Open For Business!
A spate of business reopenings in the last few weeks has seen some key shopping and eating destinations return to Sheepshead Bay for the first time since Superstorm Sandy. In contrast to recent news reports that have said as many as 40 percent of Sheepshead Bay businesses remain closed, the vast majority of businesses on Sheepshead Bay Road and Emmons Avenue are now open, sending a clear message to would-be visitors: Sheepshead Bay is open for business.
Here's a rundown, in photos, of the latest businesses to reopen, some newcomers altogether, and what we're still waiting for.
As the photo above indicates, Delmar Pizza and Italian Eatery (1668 Sheepshead Bay Road) reopened, with the first slices served last Friday.
Below, we see that the corner of Sheepshead Bay Road and Emmons Avenue is making a comeback, with the three water-facing businesses – all of which were obliterated by Sandy – are making a comeback.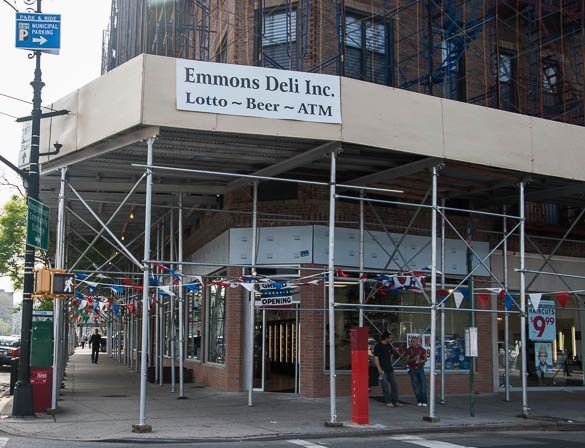 Emmons Deli (1729 Emmons Avenue), better known to locals as Zephyr's, home of many lottery winners, is totally redone, with a bright new interior that makes it seem much more spacious.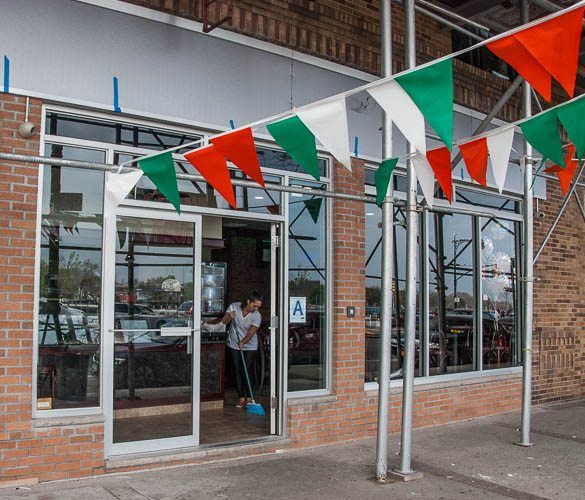 V & S Pizza (1723 Emmons Avenue) next door also reopened. Both V & S and Delmar have modernized their interiors, giving customers sleek new atmospheres to enjoy the famed grandma slice (V &S) and white slice (Delmar).
Next door, Istanbul Restaurant (1715 Emmons Avenue) is coming along. We're told they'll be open in the next week or so, if not sooner, and we're looking forward to some tasty liver cubes.
Munchinette (1738 Sheepshead Bay Road) is back with a real beautiful renovation. Their signage is coming soon, and I've already been there to slurp down some smoothies.
Caution: Seaport Buffet (2027 Emmons Avenue) is open. Why caution? This.
Baku Palace (2001 Emmons Avenue) opened up fairly quickly after the storm, but a few weeks ago they shut down this patio section, ripped it all out, elevated it and reopened. We hope it saves them a headache in the case of future flooding.
Jewelry store Golden Door (1726 Sheepshead Bay Road) recently reopened, giving passersby a nice glimpse of bling.
Momoyama (1901 Emmons Avenue), the hibachi joint, is one that we get asked about a lot. Well, we haven't heard from the owners, but we know they got a late start to rebuilding. We've seen them at work since and a peek into the window this week shows the hibachi tables are in place and work is progressing. But when will they open? Luckily, the wooden boards on their door have turned into a message board between customers and management:
So there you have it.
Aside from all these reopenings (and soon-to-reopenings), a few newcomers altogether have come to Sheepshead Bay.
This International Food Store replaced a florist at 1703 Sheepshead Bay Road. The owners were very friendly, and very insistent that we try their (Eastern European) foods.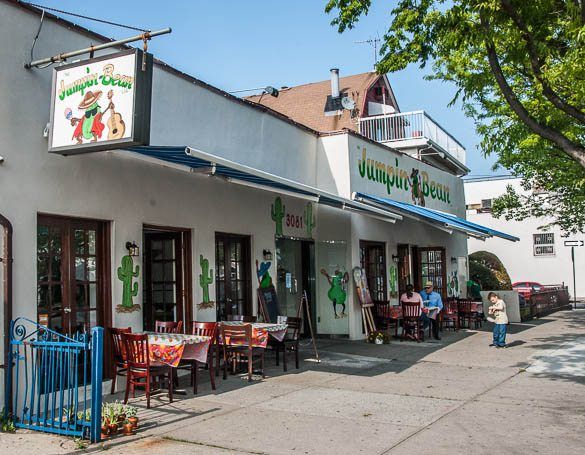 And Jumpin' Bean, a long-awaited Mexican restaurant that was set to open just as Sandy's waves rolled through the 3081 Emmons Avenue storefront, is now open and serving up tacos, burritos and fajitas.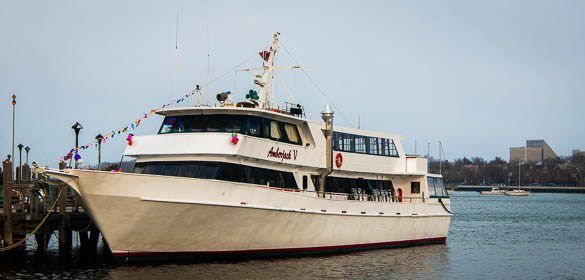 The Amberjack V (Pier 10, Emmons Avenue) also opened recently, turning a former dinner cruise boat into a full-fledged dockside restaurant. Try the octopus salad!
All that being said, there are still a number of empty storefronts. Many of them, like the set below, have simply moved elsewhere in the neighborhood. Here are a few of those: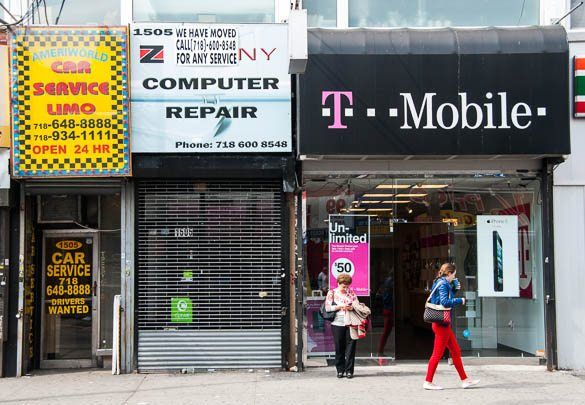 And the bunch on this corner below are pretty much all open, but have moved elsewhere or are in the process of moving elsewhere as the landlord seeks to redevelop the property. Most have simply moved down the block.
There are a few business that just don't seem to be coming back at all.
It does not appear any work has been done at Top Brgr (2267 Emmons Avenue) since the storm. Where will I get my fried oreos?!
Mambo Sushi (2005 Emmons Avenue) is also not coming back. As for Tzar and Fusion, which shared ownership, we've yet to hear anything definitive, but work was occurring inside Tzar on Monday.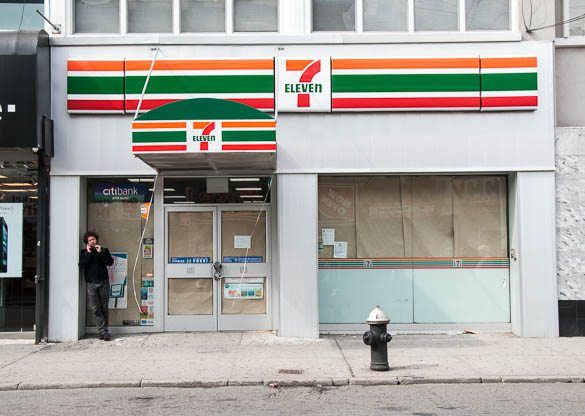 7-Eleven (1509 Sheepshead Bay Road) is taking its sweet time. In fact, very little seems to have gone on there since Sandy, although we noticed that the windows were recently re-papered. The franchisee of another local 7-Eleven location told us that this is a corporate store. I guess the 7-Eleven corporation can stand to lose a couple of bucks, even if it means leaving our neighborhood looking abandoned. This is a perfect example of why local ownership matters, folks.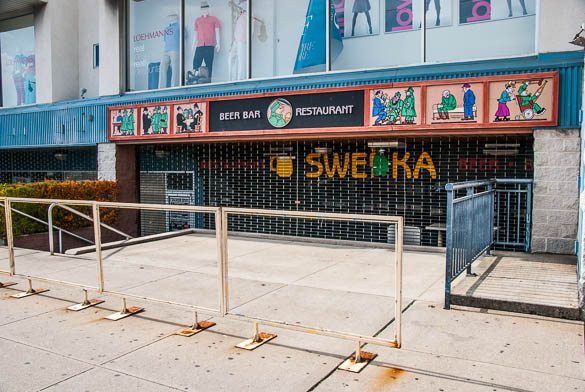 R.I.P. U Sweika (2027 Emmons Avenue). Potato pancakes. Potato… pancakes…
Still the businesses that remain closed – whether they're not going to reopen or will reopen soon – are in the clear minority. If we didn't mention a business here, you can bet it's most likely open and has been for some time.
With the warm weather only getting better, pedestrian traffic is returning and local businesses are finally hearing their registers ring again. So tell you friends and family – Sheepshead Bay is open for business, so support Sandy recovery and shop local!