Sheepshead Bay H.S. Teachers Feel "Turnaround" Plan Is A Wrench In The Works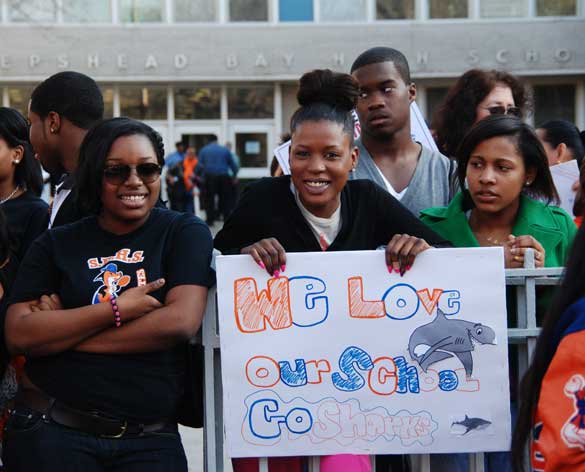 The plan to reform Sheepshead Bay High School using a "turnaround model" – which requires firing at least half the staff – has spurred condemnation from parents, teachers and students as we've previously reported.
It's not a matter of whether the school needs work or not – most agree it does – but rather that the school was already enrolled in a reform process and had made great strides. Now the change in direction is wreaking havoc on the progress made, and teachers are losing faith in a system that has already pulled the rug out from under them.
Such undermining of teacher morale is setting any future reforms up for failure, one teacher told Gotham Schools:
Robin Kovat, social studies teacher at Sheepshead Bay High School
What changes have the School Improvement Grants brought to your school so far?
"Well, they instituted [the "restart" reform model], and we started it, and then they threw this wrench into our works, so the morale now is really going down because part of it involves a buy-in for the staff but nobody knows if they're going to be here next year. I think dividing it into academies would really be wonderful if we keep the people here who can actually make a difference, who have been shown to make a difference, who have already made a difference."
Gotham Schools has been asking a set of questions of teachers and students at some of the 26 high schools slated for closure. Here's what another Sheepshead Bay High School teacher had to say about how the additional funds from reform have helped in the past year:
Alona Geller, English teacher and Cheerleading coach at Sheepshead Bay High School
What changes have the School Improvement Grants brought to your school so far?
"I started here when I was 22 years old. And I've been teaching for seven [years]. I think a lot of improvements have taken place. Any money granted to us is used for trips and programs and supplies, the kids have everything tha they need, and I know friends of mine in other schools don't have those things.
This year in particular, we have City Year in the building, the ninth graders have a lot of support, and they're thriving in away I haven't seen before. City Year greets the kids at the door, they provide tutoring services, they're in our classrooms, they follow the kids all day long and see what subjects they're struggling with. They really keep up the morale for the students and for the teachers."
Those funds will continue to flow while half the staff that have helped find the most efficient use for them will be dismissed if the turnaround model gets approved, as is widely expected.The Department of Education will decide whether to close the schools on April 26.