Sheepshead Bay H.S. Student Rocks International Moot Court Competition In The Hague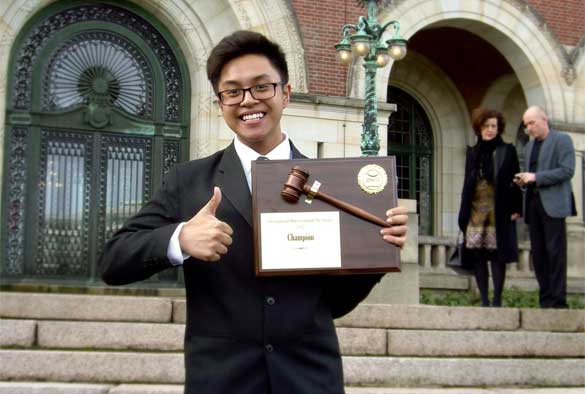 Chris Llego, a junior at Sheepshead Bay High School, stood before a tribunal of five international criminal court chief justices at the Peace Palace in the Hague, the Netherlands, this past February. In front of an audience of students, teachers, international attorneys, judges and other dignitaries, he delivered an argument in a mock International Court Case (ICC).
The judges, according to Llego, were imposing.
"They looked so wise, advanced and skilled; they were in a whole other league," he said
Llego was a member of one of two select teams of 16 New York City public high school students in an International Moot Court competition that was held this past February, in the Hague, The Netherlands. Team One from New York City prevailed over teams from around the world, including teams from Russia, Poland, Argentina, The Netherlands, and the home of the eventual second place team, Venezuela.
Llego was a key member of the New York contingent, and was one of three New York City students who participated in the final round.
The Moot Court competition, a simulated appellate trial using international law to try a fictional accused war criminal was judged by accomplished lawyers and actual judges. It was the brainchild of Debra Lesser, executive director of the Justice Resource Center, a not-for-profit organization that coordinates law related education in schools throughout New York City, who worked for several years to put the competition together.
"I wanted the students to develop knowledge of international law. I wanted them to work with students from other schools. I also wanted them to have the opportunity to interact with judges. And I wanted them to have the time of their lives," Lesser said.
When the judges announced that the New York City team won, Llego was "euphoric" and said that "try[ing] to define [his] feelings of happiness would be a disgrace to that moment."
Lesser said that while she was not partial to any on team in the competition, she was "ecstatic that such a diverse team had won."
Robin Kovat, law teacher and advisor to the Mock Trial and Moot Court teams at Sheepshead Bay High School, said, "I could not have been more proud of Chris had he been my own son."
The outcome, according to Llego, was far from a sure thing.
"I believed that Caracas had won," Llego said. "After all, their speeches were brilliant. Their articulations were superb. Their professionalism was top-notch."
According to Lesser, the final jurists said of the New York team that their arguments were "better than most lawyers" and that their style and precision made them the winning team.
When asked about Llego, Lesser praised him as a "superstar," and lauded his "knowledge of the law, clarity of arguments, and style." Kovat called Llego "a leader," praising the way he worked with his teammates.
Winning the event was the result of a tremendous amount of hard work from students and coaching attorneys from Clifford Chance. To prepare for the competition, Llego said he had to read and "re-read the case book a million times," in "search of any facts that might have been glossed over." The team had to "read thousands of pages of outside research." They then had to develop their arguments and commit them to memory. All the while the students had to keep on top of their school work.
When asked how Llego was able to do all of this work, Kovat quipped, "Coffee."
In the end, all of the hard work paid off. When Llego began addressing the five jurists, he was understandably nervous.
"My stomach was in a knot, and I could feel my palms, my forehead, my armpits sweating," he said. "I could feel my insides growing numb, and a draft chilled my bones."
Kovat asked him how he dealt with the pressure, looking up at jurists who had judged actual cases of war crimes, with such a large audience, with a camera mere feet from his face, all in the esteemed Peace Palace in the Hague, and he told her, "I just ignored them and focused on the argument."
Llego presented his case, adroitly answering the questions posed to him, and Kovat could see all of his hard work with Sheepshead Bay High School's Mock Trial and Moot Court teams and in preparation for this competition had paid off.
"You could see his training," Kovat said.
Photo and story provided by Sheepshead Bay High School.