Sheepshead Bay H.S. Principal Vows Fight For Job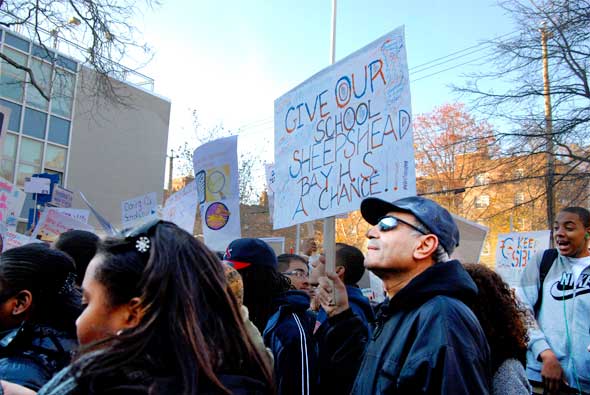 By Michèle De Meglio
Sheepshead Bay High School is in danger of losing its respected principal and half of its teaching staff, but the school isn't going down without a fight.
Although the city Department of Education (DOE) is now considering those restructuring options, which would come with a $500,000 windfall from the federal government, Sheepshead Bay's principal says she's working to raise the four-year graduation rate, thereby taking the school out of contention for the money and staffing changes.
The school recorded a 62.8 percent four-year graduation rate this past June, which exceeded the city's standards, and is on track to reach 68 percent by the end of the current school year, Principal Reesa Levy told Sheepshead Bites.
"I'm very positive that we will meet our goal this year," Levy said. "We're working closely with the students through peer tutoring, Saturday academies and after-school programs.  The kids really do understand that we're fighting for our lives."
Sheepshead Bay H.S. (3000 Avenue X) has faced challenges in improving its four-year graduation rate because the school has a large population of transfer students, many of whom are learning English as a second language.  These language barriers often result in students requiring a fifth year of high school studies, which the DOE considers unacceptable.
City Councilman Lew Fidler has long been a supporter of Levy, who increased Sheepshead Bay's four-year graduation rate from 59 percent when she became principal in 2005, and sees no reason to destabilize the school by removing her.
"I actually think pretty highly of the principal at Sheepshead and I understand that she is well thought of by the school community," Fidler said. "I am not sure that a change in administration is either called for or would be productive."
In hope of securing the federal funds, the DOE is currently deciding which restructuring model – replacing the principal or 50 percent of the teachers – to propose for Sheepshead Bay H.S., according to department spokesman Jack Zarin-Rosenfeld.
"We will submit our application to the state – with an identified model for [Sheepshead Bay] – in the next few months," Zarin-Rosenfeld said. "April is the technical deadline, but we want to get this work moving as quickly as possible.  Changes would begin at the beginning of next school year."
Even if Sheepshead Bay H.S. is ultimately successful in avoiding these "changes," it could still remain a target for educrats eager to restructure this so-called struggling school.  That's because the DOE has a tendency to close large high schools that fail to consistently improve their graduation rates and boost student achievement on standardized exams.  This was the case at Canarsie, South Shore and Lafayette high schools, each of which was replaced with several small schools.
"I have said all along that I believe that DOE will close every large traditional high school it can get its hands on as a matter of their policy," Fidler said.  "So, no, I would not be surprised if DOE took that step even if the high school improved by measures of DOE's own standards."