Several Northern Brooklyn Neighborhoods Will Be Sprayed For Mosquitoes 8/22-8/23
Several northern neighborhoods in Brooklyn will be sprayed with mosquito-killing pesticides on Tuesday, August 22 through Wednesday, August 23 to prevent West Nile Virus and other mosquito-borne diseases, the NYC Department of Health announced late last week.
The NYC Department of Health and Mental Hygiene (DOHMH) will be conducting ground-based spraying of very low concentrations of Anvil® 10+10. When properly used, this product poses no significant risks to human health.
The spraying will take place in numerous Brooklyn residential neighborhoods beginning tonight, August 22 at 9pm, through August 23 at 6am. [Rain date is scheduled for Wednesday, August 23 through Thursday, August 24 from 9pm to 6am.]
The pesticide will be sprayed from a truck in portions of the following zip codes (11201, 11205, 11207, 11211, 11216, 11217, 11221, 11222, 11233, 11237, 11238, 11249, and 11358).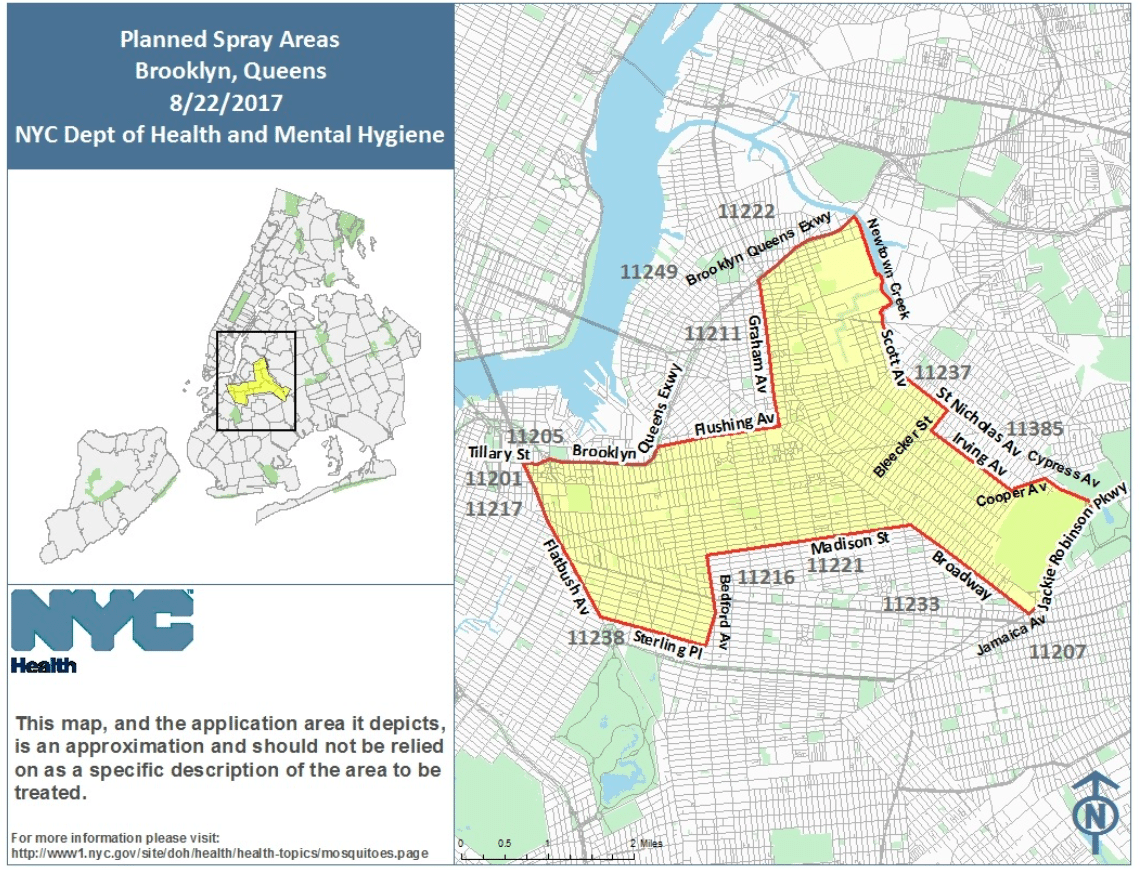 This includes parts of Bedford-Stuyvesant, Boerum Hill, Broadway Junction, Bushwick, Clinton Hill, Crown Heights, Downtown Brooklyn, East Williamsburg, Fort Greene, Northside, Ocean Hill, Prospect Heights, Ridgewood, Stuyvesant Heights, Southside, and Williamsburg, according to NYC Health.
To avoid any discomfort and direct exposure to the pesticide, the DOHMH recommends bringing in outdoor furniture, laundry, and children's toys. In addition, set air conditioners to the closed position or select the recirculate function. Wash exposed skin and clothing with soap and water.