Several Mayoral Candidates Sign Pledge Opposing Gravesend Bay Waste Transfer Station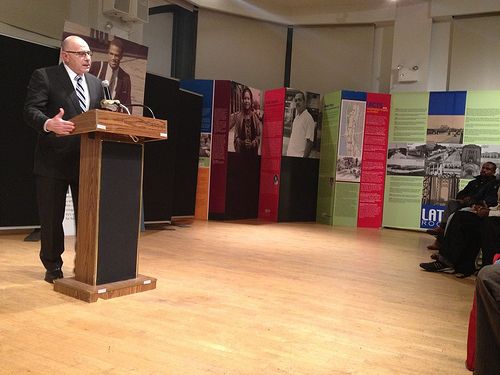 The proposed construction of the Gravesend Bay waste transfer station (1640 Shore Parkway) is becoming a local talking point for numerous candidates running for mayor. According to a press release, Democratic candidates Sal Albanese  and Erick Salgado, Green Party candidate Tony Gronowicz and Republican candidate John Catsimatidis all signed a pledge saying they would oppose the waste transfer station.
Last week, we reported that in a visit to the Santa Rosalia Feast on 18th Avenue, Catsimatidis expressed his opposition to station, joining the chorus of other local politicians like Assemblyman William Colton and City Council candidates Mark Treyger and John Quaglione. These politicians believe that dredging parts of Gravesend Bay could bring harmful toxic chemicals to the surface, buried from an incinerator that previously occupied the site.
While the petition, dubbed the Pledge To Stand With Southern Brooklyn, has thus far attracted the signatures of somewhat long-shot candidates for mayor, according to the release, more prominent figures in the mayoral campaign, including Democrats Bill Thompson, John Liu and Anthony Weiner have also suggested support of the goals of the petition. While not every major candidate has gotten behind the opposition to the proposed Gravesend Bay station, the release noted that opposition to the proposed East 91st Street station in Manhattan is robust, possibly leading to greater enthusiasm against the Gravesend Bay station in the future.
Colton expressed optimism that his cause against the proposed station would be heeded by more mayoral candidates:
"Some of the mayoral candidates have announced their opposition to this dangerous garbage station, which will hurt the quality of life of the people of our community in southern Brooklyn. We have also spoken to several other mayoral candidates who have not yet signed the Pledge To Stand With Southern Brooklyn, but who have expressed interest in joining our fight against this toxic garbage plan. I remain optimistic that more candidates will sign our pledge and protect the families of our neighborhoods." Colton continued, "Southern Brooklyn has made their voice loud and clear: we do not want this dangerous garbage station built and operated along Gravesend Bay. The city could not have picked a worse location for this garbage facility, which was proven when the site was severely flooded by the storm surge of Hurricane Sandy. We will continue fighting against this dangerous garbage plan until we are successful."