If Senator Marty Golden Were A Sandwich…
What kind of sandwich would he be?
As a fairly new arrival to this lovely land of Bensonhurst, today I set out to answer that question (among others), and to experience the phenomenon that is Lioni Italian Heroes (7803 15th Avenue) – which offers hundreds of sandwiches, all named after famous Italian-Americans. I am ashamed to admit that the "Italian heroes" pun didn't occur to me until I walked in the door.
Of course, I wouldn't have known the Marty Golden existed if we hadn't written about the sandwich in 2012. When you approach the counter at Lioni Heroes, you are literally boxed in by a dizzying array of menu signs, crammed with celebrities from Frank Sinatra to Robert De Niro to Scott Baio. The Golden, as one of their newer additions, was nowhere to be found. In addition, you are surrounded by piles of fresh breads, olives, tomatoes, and hand-made mozzarella, making for an overwhelming sensory experience before your first bite.
The sandwich shop wasn't too busy when I walked in at 12pm, and there was no line to place an order, but several people were standing around waiting for their sandwiches. It took a while for them to actually make the sandwich, for some reason – at least 20 minutes – but once I sat down to eat, it was worth the wait.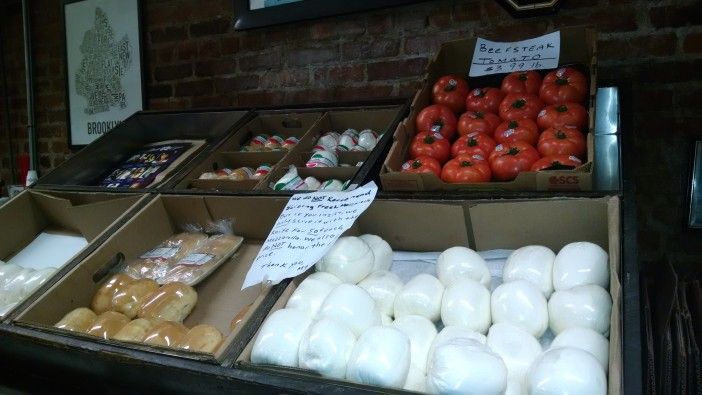 Turns out, the Golden is tender and juicy on the outside, while substantial and meaty on the inside. The sweet and smokey, roasted red peppers and Lioni's famous, melt-in-your-mouth, mozzarella offer a tender contrast to the crusty hero and breaded chicken cutlet. Overall, I was impressed.
But I learned that there is a lot more to dining at Lioni Heroes than delicious sandwiches and fine ingredients. The staff there are friendly and accommodating and many of the customers seem to know each other, greeting each other on a first name basis. The smooth jazz, the quirky signs and photographs that plaster the walls, and the great people all help make Lioni Heroes a neighborhood staple.