Senator Jessica Scarcella-Spanton On Her Plans To Serve The District
Senator plans to focus on public safety, maternal health, and hyperlocal issues along with actively reaching out to residents to consolidate voter support from both parties behind her.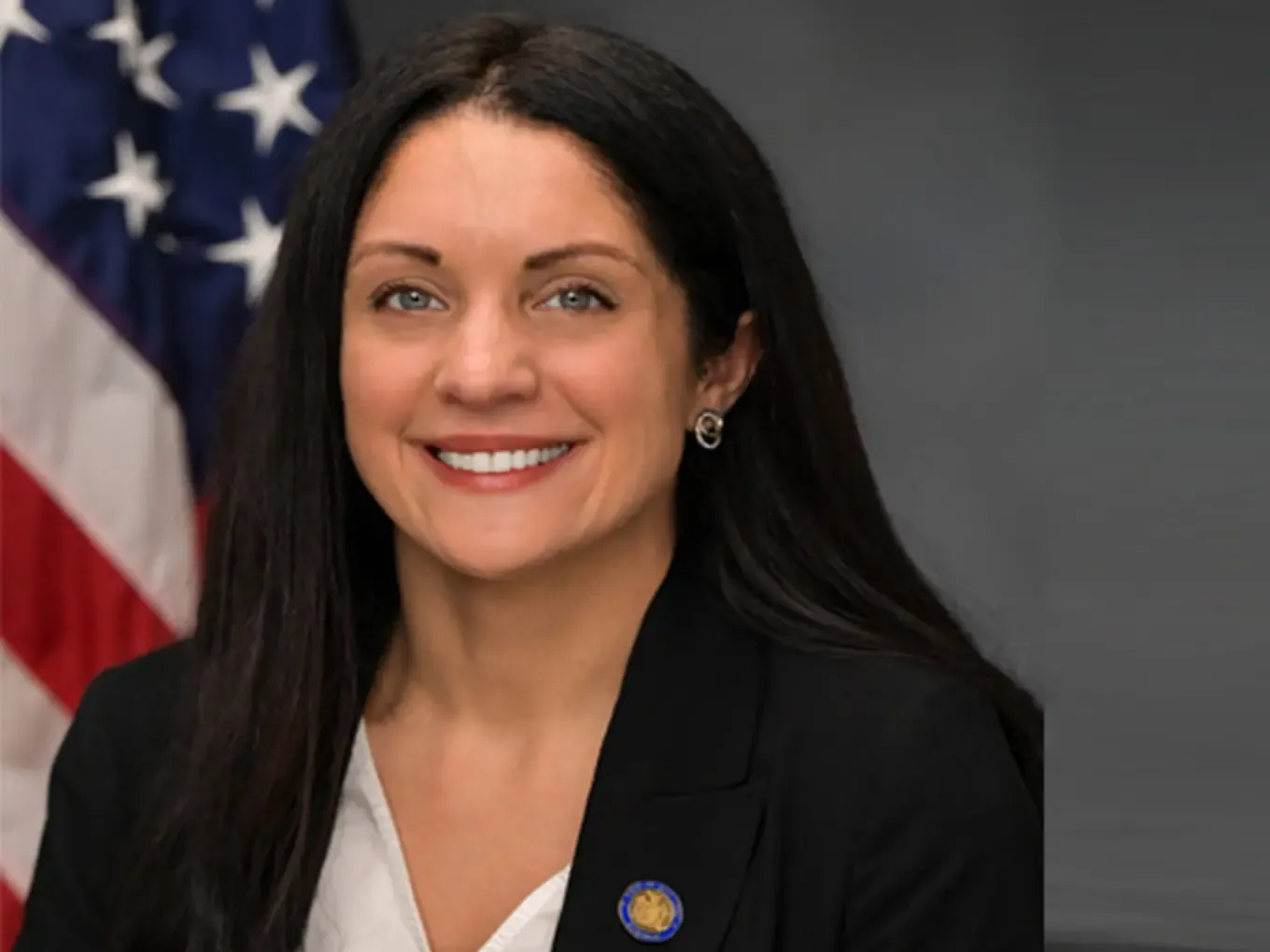 When Jessica Scarcella-Spanton ran for office, public safety was the top concern in her race, followed by housing issues and support for working parents. She won the Senate seat to represent District 23, which includes Coney Island, Brighton Beach, parts of Sheepshead Bay, and Fort Hamilton Army Base, along with Northern parts of Staten Island, by just 1,518 votes with 51.3% of the vote. Her opponent Joseph Tirone, a Republican, received 48.5% of the vote.
For the next two years, Sen. Scarcella-Spanton plans to work on improving maternal health and public safety, investing in the environmental resiliency of her coastal district, and advocating for veterans and their spouses. But her focus is on hyperlocal issues, actively reaching out to residents in her district to help solve their issues and advocate for them, in order to consolidate voter support from both parties behind her.  
We talked over Zoom last week –  there currently is no Brooklyn office – to talk about the new Senator's legislative priorities for the coming year and how she plans to win over her conservative constituents.
While she's only held her office since January, Sen. Scarcella-Spanton is not new to the district, having worked for Sen. Diane Savino, who retired after representing the district for almost two decades, for the last 4.5 years.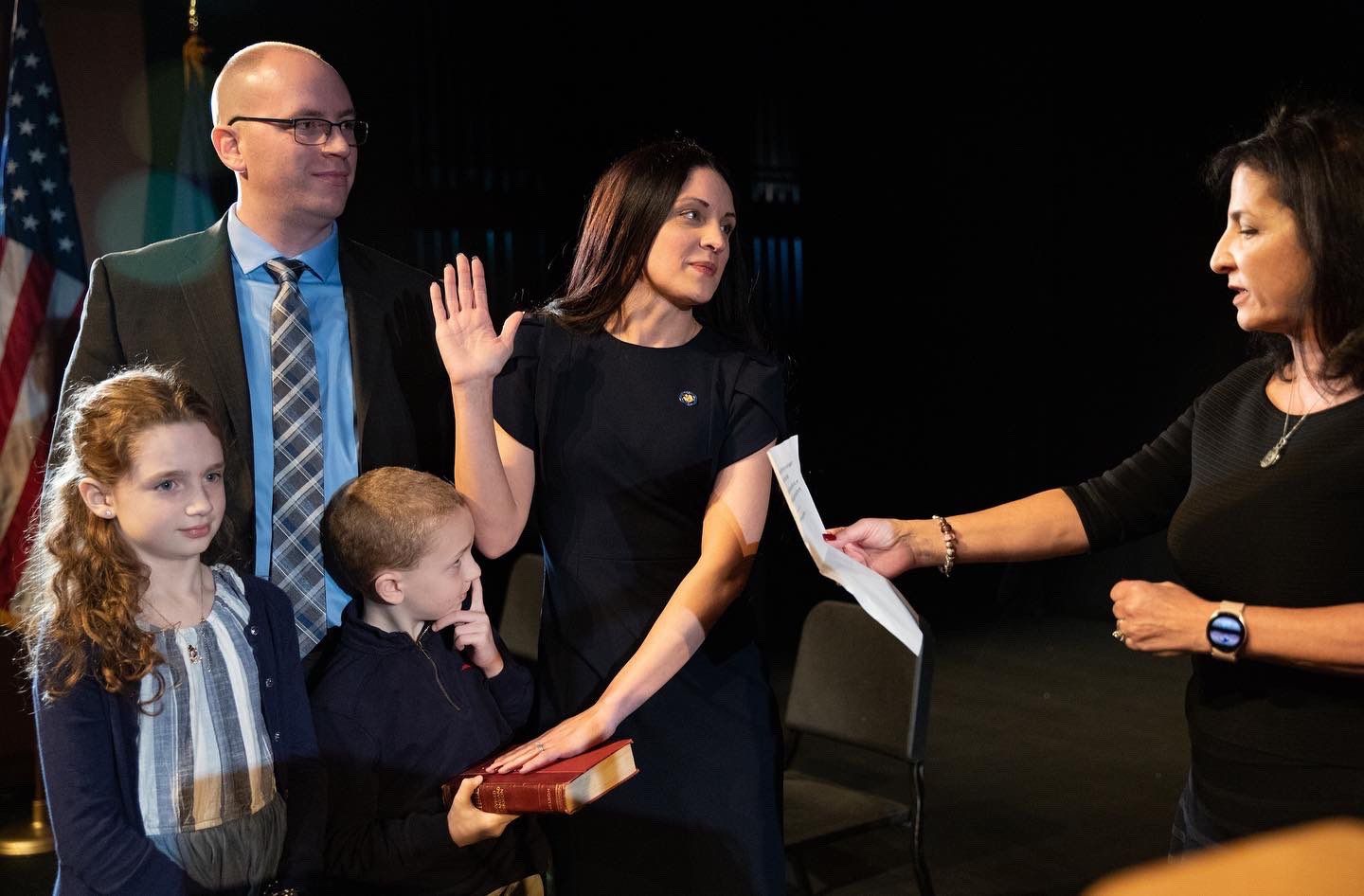 The following interview has been lightly edited for length and clarity.
You had a narrow win, and it can't be easy to step into a role that Sen. Savino held for 18 years. How is that shaping how you approach the issues you're going to focus on?
For me, all politics is local, and we're doing everything we can, especially on the Brooklyn side. We see what's going on right now with the MTA's proposed bus redesign, so we just jumped into action. I don't care if you're Republican or Democrat or somewhere in between. I want you to know that I'm here to help you and advocate for you. The bus service affects everyone, and we're doing our best at every turn to get people to provide their input to the MTA, so we don't have bus service eliminated.
I think elected officials sometimes become this idea in someone's head about, you know, what party you are, and I want you to see me as someone who wants to be there for you. And I think that's how we start to start changing that narrative.
Public safety. Everybody cares a great deal about public safety, which is why we made it a priority to meet with our local precincts, meet with local anti-violence groups, meet with our tenant leaders who can give us input about what's going on in their buildings, to speak with anybody we can to get to the bottom of public safety and do all we can. Our district attorney as well, to make sure that we're doing things and creating policy and investing in things that make people feel safer. I think that's something that people care a great deal about.
I want to ensure that we're working with our partners at every level of government to invest in the resiliency of this coastal district, whether you go across Brooklyn or Staten Island. You see now the flooding that can happen just with a heavy rainstorm and the devastation that can happen with a storm like Sandy. I don't think that Southern Brooklyn hasn't gotten the investments that it really needs. So I'm going to make sure we work with partners at every level of government to start investing more in resiliency as well.
So it's all about the local stuff. And I think that's how you win people over despite their party. I'm focusing on meeting people where they're at, focusing on the things that people really care about, and letting them know what we're doing for them. I think that's my simple recipe.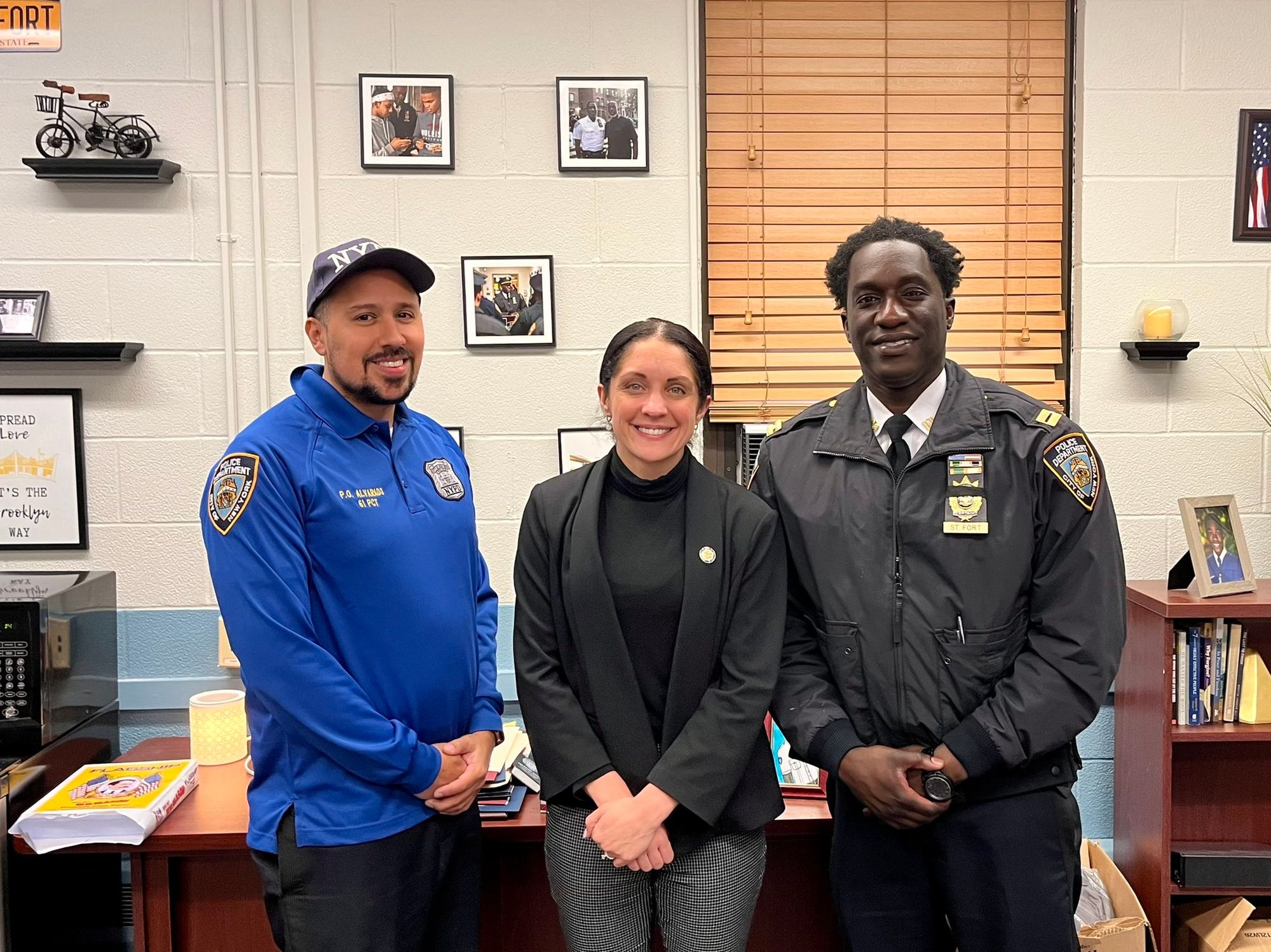 You've been meeting with officers at the police precincts in your district. What are you hearing from them, and how can you best support them?
When I met with the 61st Precinct the other day, one of the things that were very important to them was the Cure Violence program that serves the Sheepshead and Nostrand Houses. Coney Island also has a lot of programming. Unfortunately, we are seeing a big uptick in youth violence in Coney Island. We just had a 17-year-old student from Liberation High school who was killed, and this is something where we need to have a multifaceted approach.
We want to be speaking with our law enforcement, making sure they have the resources they need, and making sure the schools have the resources they need for after-school programs or youth programming. We also have some wonderful organizations in the district, like Operation HOOD and STEP UP, that are doing anti-gun violence work.
But I think the most important thing that we can do for our young people is to have wraparound services. So you know, I think it's a multifaceted approach when it comes to public safety.
The problems are not new. Is there anything different that the law enforcement is looking for or that you can provide?
You know, they can always use more resources. There have been some changes that have been made with regard to some of the reforms that were made up in Albany. I think that there are things we can do to improve upon some of those laws by listening to our district attorneys.
One of the things that I'm interested in looking at regarding bail reform is carve-outs—for instance, violating an order of protection. Victims of domestic violence are something I hear a lot about –  If you violate an order of protection, I do think that that puts the victim in severe jeopardy. Right now, it's only bail-eligible if you threaten that victim's life. So if there's stalking, if there's menacing, someone sitting in their car outside your house ... There are areas we can improve upon.
We also met with the District Attorney in Brooklyn, Eric Gonzalez, and we're looking at maybe some gun buyback events.
You want to have trauma-informed instructors to work with the population. Funding real programming that kids can grow into, you know, from when they're in elementary school all the way up to high school. Because if we just have clinics and volunteer things, they are great, but you need something that keeps them busy year-round.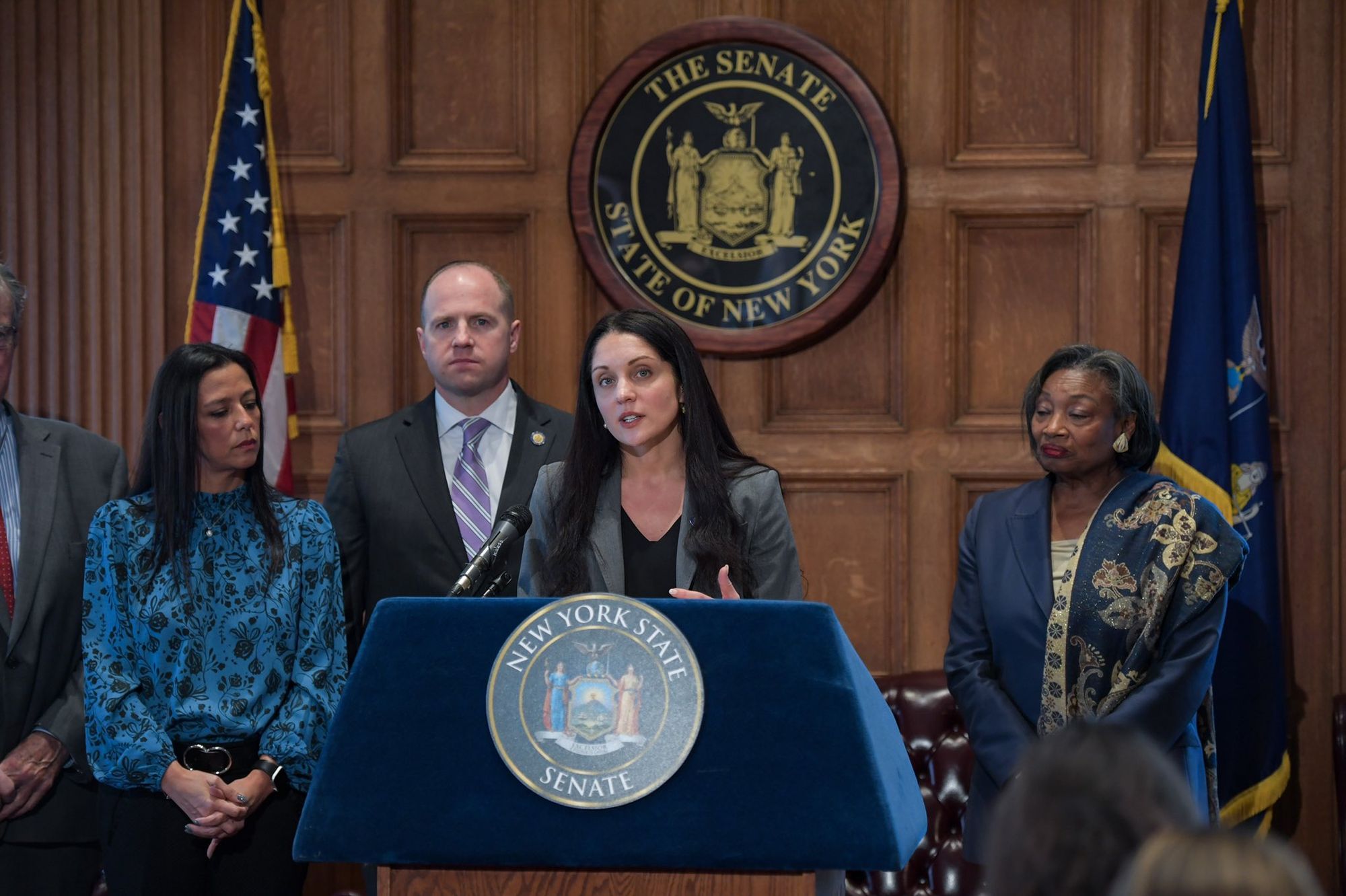 How much does mental health factor into solutions for public safety?
There's a lot more that we can do regarding mental health. There are a few additions to Kendra's Law that we're looking at. I was relieved to hear that there will be a further investment, more beds, and more treatment for people, but mental health is such a difficult issue. You can get somebody off the street who may be acting erratically, get them the medication they need, but then they're back out. So I think we need to have longer-term care for people.
This brings me to something that I have a big focus on, which is maternal health and maternal mental health. A few months ago, a mother from Coney Island drowned her three babies, which is absolutely devastating. I saw that as a failure at every level. Why was it not flagged more appropriately that these children were not in school? Why did she have no help?
She just had a newborn. That was beyond postpartum depression; that was postpartum psychosis, I believe. Maternal health is an issue I'm going to be focusing on greatly. We just had a resolution that passed for Maternal Health Awareness Day and May as maternal mental health awareness month. We're working with local moms in the community to develop a resource fair. Again, this is different than mental health as a whole, but it's something I really wanted to highlight that we're working on.
How do you reach the residents and raise their awareness of all the resources that are already out there?
One of the things that I want to do within our office is to meet people where they're at. It drives me crazy – I go to meetings, and I hear, "Oh, well, nobody's civically engaged."
Nobody has the time to be – a lot of people are working. They're commuting. They're coming back and dealing with their families and, you know, trying to do homework and whatever else. So we want to meet people where they're at. That's why we do mobile offices at churches and NYCHA and libraries, and we try to go into the community as much as humanly possible because most people don't think to call their elected officials.
So if we're in the community, we'll also be handing out resource flyers.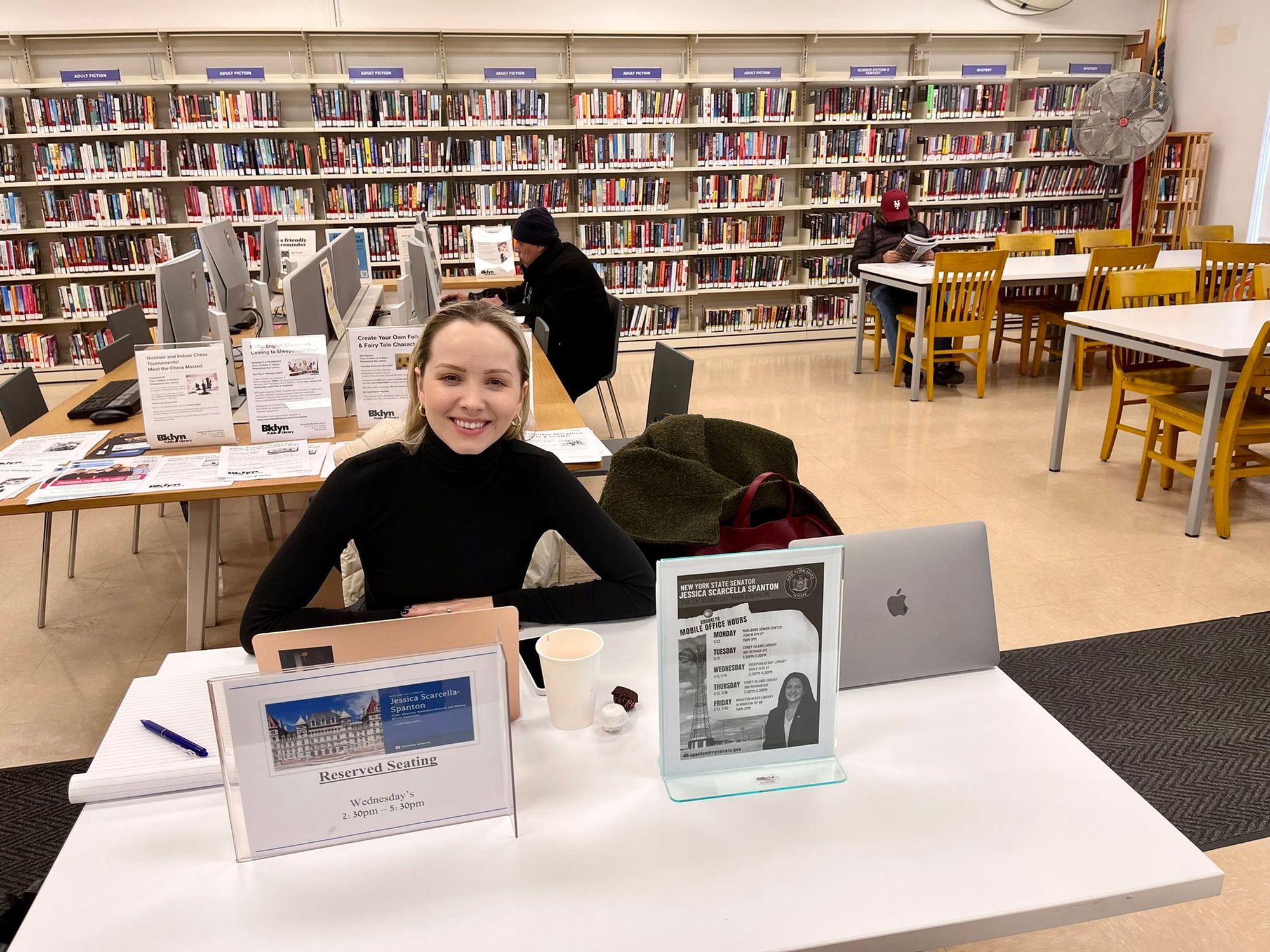 What was the most effective way to reach the community when you were working for Senator Savino?
The most effective was simply going to places of high need. We would go to a building, whether it be an NYCHA or an apartment building, and we would, the day before, put flyers underneath the doors to let people know we were coming. We would do phone calls to people –  "Hey, your state senator's gonna be here" – and people would show up. People said, "Well, I would never have thought to come down."
COVID reshaped my idea of how a government office should be effective. Early on, nobody could get their vaccine appointment. People would be on the phone for 10 hours to get unemployment just to get disconnected. So we started doing outreach. We have access to all these lists, so we were able to start calling people over 65 and say, "Hey, do you need help booking an appointment?"
We did constant outreach. Outreach, outreach, outreach is the most effective thing. If you go down the street, nine out of 10 people don't know who their elected official is. But if you go to a community where you've shown up and helped them, that vastly changes. And then it changes the narrative about how an elected official can help you and what they can do to support you – because they've been helped. I think when we wait around for the phone to ring, that's not an effective way of helping.
Your Brooklyn constituency is also older.
Yes. We have a lot of NORKS in our district, which is very important, aging in place. I think people want to make sure that they can be near their grandkids and family and friends. That's why we're doing mobile office. I'm going to work with JASA to make sure we see if there's anything that the community needs. With the JCC, we've gone to the senior center. So that's another place where we can hold the mobile office to see what the seniors need.
Sometimes they just want to see you, their elected official, and their staff and know that they're there even if they don't need the help themselves. It also changes the narrative. Maybe they call a friend, "Well, you know, so and so stop by the other day." I think changing the narrative about how we can show up is really important.
What do you think you will be able to accomplish in the next two years?
I'm really excited to be chairing the Veterans, Homeland Security and Military Affairs Committee. I'm looking forward to increasing career options for not just veterans but also military spouses. I bring personal experience with me to Albany on that front, and there's a lot that we could do.
I had a hard time finding a job that made sense as a military spouse. Most of the time, military spouses put their own lives on hold. I think we should do more to make it easier to bring skills they develop – say, a cosmetology license in the state where you were stationed – with them.
Nursing is one of the top careers military spouses choose to enter when their significant other has been discharged. I would love to work with our CUNY and SUNY partners to ensure we do more for military spouses.
Again, maternal health, you'll see me doing a ton of work around that, and then – making sure that we're investing in things that we need investing. As I mentioned before, [environmental] resiliency is incredibly important to every corner of this district as we're a very coastal district and making sure we're advocating for funds federal, city, state, and all working together on that.
What are your thoughts on a Casino in Coney Island?
Something that I keep hearing [from people advocating for the casino] is that it makes the tourist season year-long, which benefits the residents, so if this does come to fruition, I'm going to make sure that Coney Islanders have the first bite at the apple when it comes to new careers and their community.
If it doesn't happen, you know, that's okay, too.
Coney Island has a lot of entertainment. They have, of course, Luna Park, there are great restaurants, there's the beach, and there's so much to do, so I'm letting the process play out. I want to make sure that we are listening to the residents of Coney Island first and foremost.
Councilmember Ari Kagan, who endorsed you, recently became a Republican. What does that tell you about the district?
Look, everybody has their own politics that they have to deal with. I focus on working with colleagues in government, no matter the party, to be as effective as we can be.
I really appreciated Ari's support during my race. Everybody has their own politics, so that was his prerogative. I think it was surprising and not terribly surprising, given the nature of the shifts in what's happening in southern Brooklyn. He's not the only one who has switched. We also have Alec Brook-Krasny [former Democrat who unseated Assemblymember Mathylde Frontus].
I'm going to make sure we work with whoever we need to work with to get things done.
Thank you for taking the time!
You are welcome.