See A Pothole? Call… Who?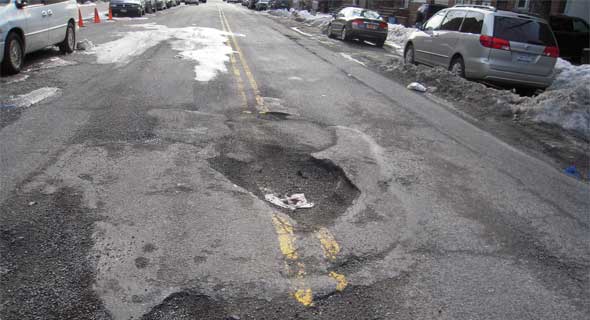 We all know this winter has been brutal, and it left our roads so pockmarked that it's beginning to look a bit like Sarajevo, circa 1993. However, elected officials are coming to our – and our car's – rescue.
Or are they? The cadre of politicians and city services competing for pothole complaints keeps growing, and we've got to wonder if it's helping or hurting.
"Keep a piece of paper handy," Senator Carl Kruger said in a press release. "The next time you experience that familiar bump in the road, pull over and call my office." ((718) 743-8610 / kruger@nysenate.gov)
That's right; instead of shouting expletives, Kruger wants us to think of him. It shouldn't be too much of a shift for many of you.
Marty Markowitz is also accepting pothole complaints. That's in addition to 311 and local Community Boards across the city.
But according to Mayor Bloomberg, these politicians ought to back off. Bloomberg boasts the Department of Transportation has fixed up about 45,000 potholes since the day after the December 26 blizzard, and is slated to fix about 2,000 in February alone, albeit on a delayed schedule (DOT is saying that repair crews will take three to four days, as opposed to the usual two).
So, with work moving forward, we're left wondering if having four people to call – not to mention, you can always give complaints to your city councilman – are duplicative services helping or hurting New Yorkers in their battle against potholes?